Ferrari Reveals Hardcore 488 Pista Ahead Of Geneva Debut
by Nikil
Feb 21, 2018
Views : 7277
---
The latest prancing horse is 90kg lighter and does 0-100kmph in just 2.85 seconds! We want one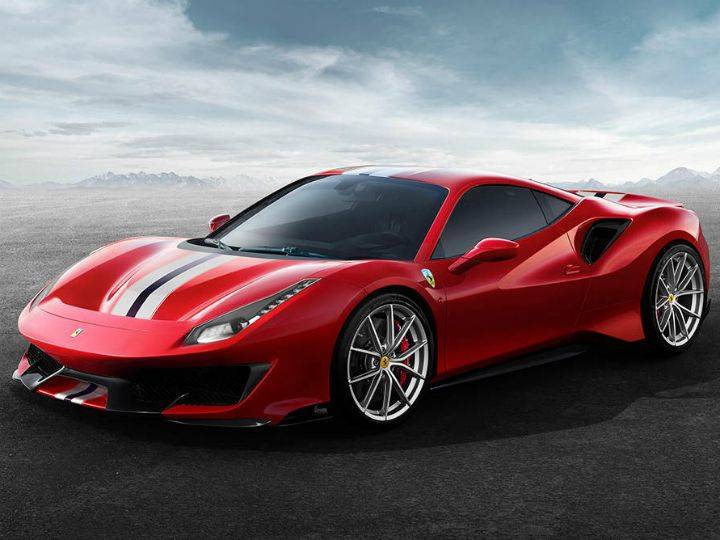 The hardcore version of the Ferrari 488 is finally here! The new 488 Pista (Italian for 'track') features some juicy numbers, provided the boxes for all the optional lightweight goodies have been ticked. The new supercar weighs 90kg less and has a dry weight of just 1280kg and goes up against other lightweight track monsters such as the Lamborghini Huracan Perfomante and the Porsche 911 GT2 RS. While some of the details were leaked online yesterday, Ferrari has gone ahead an revealed the all important power and torque figures today.

A new diet and fitness regime has resulted in the 488 Pista adding 50PS for a grand total of 721PS. Ferrari says this is the largest ever increase in engine power for a special series car. Even the design is quite aggressive when compared to the bone stock supercar it is based on. The F1-inspired S-Duct and the front diffuser have been designed for increased downforce at the front. The blown spoiler at the rear looks quite neat too. And like the 458 Speciale before it, this one features go-faster white and blue stripes too.

The 3.9-litre turbocharged V8, which happens to be the Maranello-based supercar manufacturer's most powerful V8 ever, has received a 10Nm hike over the GTB in torque as well. The total output of 770Nm has lead to a 0-100kmph time of just 2.85 seconds, while the 0-200kmph run is said to take 7.6 seconds. Ferrari says the 488 Pista can go on to achieve a top speed of 340kmph. The 488 GTB, on the other hand, takes 3.0 seconds to hit 100kmph, 8.3 seconds until 200kmph and tops out at 330kmph. The 488 Pista's biggest rival, the Lamborghini Huracan Perfomante, packs a 5.2-litre naturally-aspirated V10 motor and puts out 639PS of power and 600Nm of peak torque. This enables it to complete the 0-100kmph run in 2.9 seconds and breach the 200kmph mark in 8.9 seconds. Lambo claims it has a top speed of "over 325kmph".

Ferrari has claimed that the Pista is faster than its last hypercar, the La Ferrari, around the Fiorano test track. For reference, the La Ferrari covered the almost 3km-long test track in 1.19.70.

Ferrari's vast knowledge in the FIA World Endurance Championship with the 488 GTE and 488 Challenge cars have been put to good use in the Pista. The latest road-going supercar, Ferrari claims, produces 20 per cent more downforce than the GTB version. The Pista is expected to sound a lot more louder and scare the living daylights out of someone who happens to pass by the car at full chat. The Ferrari 488 Pista will be unveiled in the flesh on March 6 at the 88th Geneva Motor Show.
Add Your Comments