F1 Flashback: The Year Heinz-Harald Frentzen And Jordan Nearly Achieved The Underdog Dream
Mar 29, 2020
Views : 3783
---
We turn the clock back to the time when Jordan had its best-ever Formula One season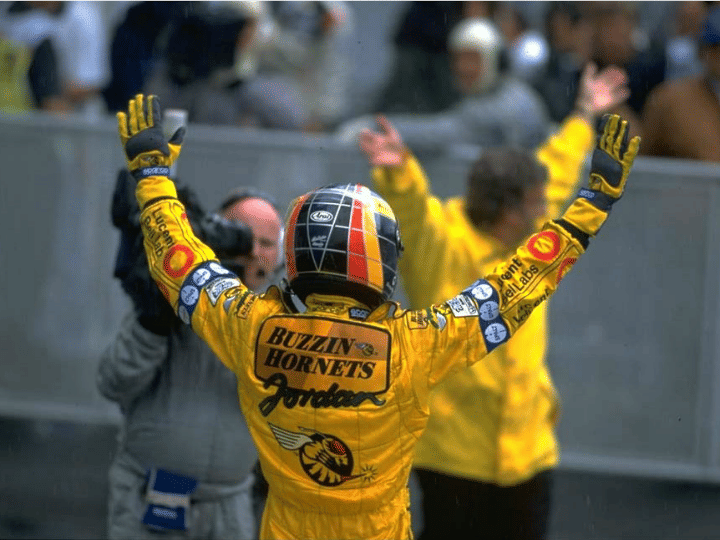 The modern era of Formula One is going through a period of domination by the likes of Mercedes. Not only that, the field spread is so vast between the top three teams and the rest of the field that any hopes of a midfield team grabbing a podium, let alone a win, is only possible via crazy races like Germany 2019 or Brazil 2019. However, that wasn't always the case. Back in the late 90s, despite the difference in resources, the midfield could spring up a surprise podium and even win the odd race. The 1999 season comes to mind but not just for Michael Schumacher's championship-ending accident in Silverstone or Stewart's first race win. This was the season where Heinz-Harald Frentzen and Jordan nearly achieved the midfield dream of a world championship.

Frentzen, born on May 18, 1967, in Mönchengladbach, West Germany, had a pretty competitive rise to Formula One against the likes of future talents like Michael Schumacher and Karl Wendlinger in the 1989 German Formula 3 Championship. It saw Frentzen and Schumacher tied on points at the end of the season. After a few years of competing in the International and Japanese Formula 3000 series, he finally made the step up to Formula One for Sauber in 1994. His consistent results earned him his and Sauber's first podium at the 1995 Italian Grand Prix. That impressed Frank Williams enough to sign him up to Williams for the 1997 season, replacing 1996 world champion Damon Hill and partnering Jaques Villeneuve. His two-year stint at Williams saw Frentzen struggle to match Villeneuve, although he achieved second in the 1997 driver standings thanks to Michael Schumacher's exclusion from the championship. His points tally was nearly 40 off his teammate and 1997 world champion.

Here is where Jordan came into the picture. The Eddie Jordan-owned team was on a steady rise up the Formula One ranks since its debut season in 1991, and also with whom Schumacher made his stunning debut in the Belgian Grand Prix. With the team scoring its maiden win in Spa 1998, expectations were on the up for the upcoming 1999 season. Frentzen, who had already raced for Eddie Jordan's team in International Formula 3000, moved over to Jordan, replacing Ralf Schumacher who took over Frentzen's seat at Williams. And partnering Frentzen was none other than Damon Hill, another ex-Williams racer. With Damon being the only world champion in Jordan's lineup that season, he was expected to have the upper hand on Frentzen. However, Jordan and the entire Formula One paddock were in for a shock.

Frentzen and Jordan's start to 1999 couldn't have gotten any better with a 2nd place finish at the Australian Grand Prix, taking full advantage of both McLarens of Mika Hakkinen and David Coulthard retiring as well as Ferrari's Michael Schumacher having to start from the back of the grid. Frentzen followed that up with a 3rd place finish at the next race in Brazil. Despite having retirements in San Marino and the Spanish Grand Prix, Frentzen was scoring consistent results in the top 5 while Ferrari and McLaren were tripping over themselves in their intense championship fight.

With these steady results, a race win was all but a question of when and not if. And Frentzen delivered at the French Grand Prix due to a clever strategy by Jordan. However, the rest of the season had another twist at the next race in Silverstone, Britain, where Ferrari's Michael Schumacher broke his leg in a horrifying crash that saw him ruled out until the Malaysian Grand Prix in October. This made Frentzen a dark horse in the title race with a barrage of top 4 results, capping it with a memorable win at the 13th Round of the season in Italy where Hakkinen retired from the race. With only three races to go, Frentzen was just 10 points off Hakkinen and Irvine who were joint leaders with 60 points in the driver standings. That was the last positive result from Jordan that year.

At Round 14 in Nurburgring for the European Grand Prix, Frentzen was all set to carry on the momentum and take his first pole position in two years ahead of the two McLarens. But the race turned out to be quite chaotic due to the constantly changing weather conditions. Frentzen was still in control at the front, but an electrical failure forced him out of a crucial race where Ferrari and McLaren were tripping over themselves once again. This race was essentially the end of Frentzen's championship challenge with a 6th place in Malaysia and 4th place at the season finale in Suzuka Japan to seal 3rd in the driver standings. This also gave Jordan its best overall F1 championship standing in 3rd place.

The Nurburgring wasn't the only race that essentially caused Frentzen's championship challenge to wither out, it was also the possible 3rd place in Imola snatched away due to a DNF, another DNF in Spain, and a top 4 finish in Canada thrown away by a crash. Nonetheless, it was a mighty season for not only Frentzen, but also Jordan to come close in achieving the underdog dream. Yes, statistics say this is not Frentzen's highest overall finish in a Formula One season, but it was arguably his best and he was deservedly the driver of the year.

Such was Frentzen's season, that his performance compared to Damon Hill was a thrashing rather than a head-to-head competition. Out of Jordan's 61 points that year, 54 were scored by Frentzen and only 7 by Damon Hill. You could argue that this disappointing season was the deciding factor in Damon finally hanging up his gloves and helmet at the end of 1999.

While Frentzen and the Jordan team were never able to replicate that level of success again, that year proved that if you gave Heinz Harald Frentzen a competitive car, he was a championship-worthy driver. And with better luck, possibly even Germany's second Formula One world champion before Sebastian Vettel.
Add Your Comments