Bentley Unveils The Futuristic Electric EXP 100 GT On Its 100th Anniversary
Jul 12, 2019
Views : 3392
---
The new battery-powered concept looks straight out of a sci-fi flick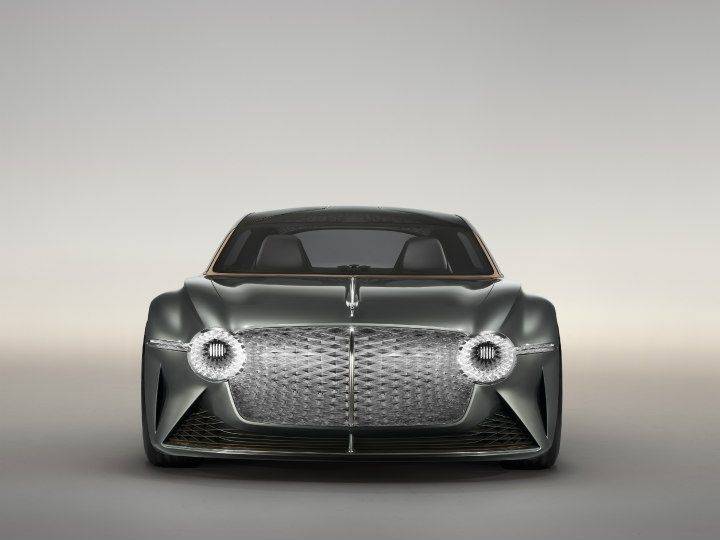 Will be the inspiration for Bentley's vision for future mobility.

Exterior highlights include LED mesh grille, merged headlights, silver-copper inserts and more.

Interior highlights include five autonomous driving modes, premium cabin inserts, personal assistant AI and more.

Will be powered by a quad electric motor making 1,500Nm of torque, and will boast a range of up to 700km.

Unlikely to hit production anytime soon.
Bentley is celebrating its 100th birthday party in great style, taking the wraps off the EXP100 GT Concept. Unveiled at Bentley's headquarters in Crewe, this all-electric beauty showcases Bentley's vision for future mobility in the form of an ultra-posh grand tourer for the year 2035.

The EXP 100 GT looks futuristic, sleek and stunning from every angle on the outside. The grand tourer features a massive mesh grille that features upto 6,000 LED bulbs! Its merged headlights ditch the traditional Bentley dual-headlamp setup for a more streamlined arrangement. However, the hood-mounted 'Flying B' is retained in the grand tourer.

At the rear, the EXP 100 GT shies away from Bentley's current 'double-B' taillight design for a slimmer, more complex style. Another highlight at the rear is the svelte sloping roofline that extends into the rear windshield. Aside from that, the EXP 100 GT gets silver and copper inserts around the window surrounds, windshield, and sections of the 'Active Aero' wheels.
Also Read:

The Bentley EXP 100 GT measures in at 5.8m long and 2.4m wide. Despite its aluminum and carbon-fibre bodywork, the grand tourer weighs a hefty 1,900kg.

Bentley may not have disclosed the power figures for the EXP 100 GT yet but Bentley wants everyone to know that the grand tourer's by four electric motors will develop around 1,500 Nm of torque. This mountain of torque should propel the EXP 100 GT from 0 to 100kmph in a mere 2.5 seconds, slipping through the air onto a top speed of around 300kmph. Its power also comes with efficiency, with a claimed driving range of up to 700km on a single charge. Bentley claims the battery pack (of unknown capacity) can be recharged up to 80 per cent in just 15 minutes through a fast-charger.

The interiors of the EXP 100 GT are luxurious and feature-packed, as Bentley car is expected to be. Some highlights include Bentley's personal assistant AI which can be controlled via an illuminated crystal on the centre console. It controls five distinct autonomous driving modes. "Enhance" draws input from the outside, "Cocoon" envelops driver and passenger in purified air and opaque glass, "Re-Live" replays highlights of past journeys, and "Customize" combines all four, but is interchangeable based on passenger input. Cabin inserts are made of a mix of leather, reclaimed wood with copper inlays, wool, and aluminum to give the EXP 100 GT a ultra-luxurious feel.

At the moment, Bentley has no plans to bring in a production version of the EXP 100 GT. Instead, it is likely to serve as an inspiration for its future cars. Some of its exterior and interior styling ideas could be used before the 2035 theoretical production date of the concept.
Also Read:
Add Your Comments