Ashok Leyland unveils its Stile MPV
---
Developed by the Ashok Leyland - Nissan Motor Company Joint Venture, this multi-purpose vehicle is based on a new-generation LCV platform, and will follow the successful DOST as the second product offering from Ashok Leyland's fast-growing Light Vehicle business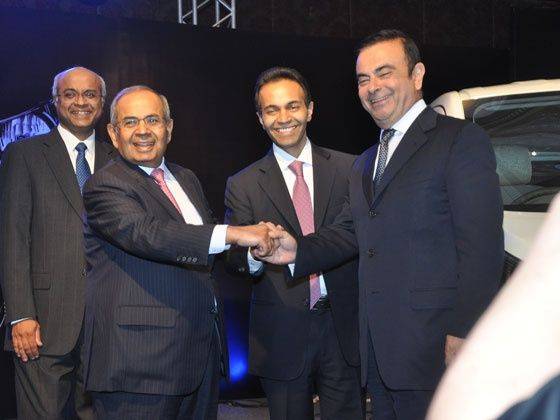 While its pricing as compared to the almost identical Nissan Evalia are yet to be officially announced, the Stile, one must admit is an indication of Ashok Leyland trying to step out of its more conventional CV expertise and offer its customers something that has wider appeal across the industry.
Dr. V Sumantran, Vice Chairman, Ashok Leyland and Chairman, Nissan Ashok Leyland Powertrain Ltd's comment "Our brand-new vehicle reflects our continued focus on offering Japanese Technology and Quality at Indian Cost," in that respect quite aptly describes what this vehicle really stands for.
A product of the Ashok Leyland- Nissan Motor Company Joint Venture, the Stile is a multi-purpose vehicle based on a contemporary award-winning platform, and is the second product offering from Ashok Leyland after the DOST.
Taking full advantage of the Evalia's monocoque body construction, advanced Common Rail diesel engine, the Stile has been further tuned for low NVH (Noise, Vibration, Harshness) and should offer great efficiency like its Japanese counterpart. The interiors as expected are very spacious and offer good ergonomics. The low floor feature makes for easy entry and exit, while sliding doors on both sides allow for easy access in tight parking spaces.
Taking all this into consideration, and the fact that this would priced lower than the Nissan model, the Stile would be ideal for various applications like seating 7-8 people, use in both urban and rural areas, be used as hotel shuttles, taxis, ambulances, panel vans, courier services, inter-city and intra-city travel and so on.
Speaking at the unveil of the Ashok Leyland, Stile, G P Hinduja, Chairman, Hinduja Group, said "Partnership for Growth is one of the five guiding principles of our Group. In this spirit, we are extremely happy with the way our association with Nissan has grown from strength to strength. Our shared vision and philosophies have found expression in both the products that we have engineered thus far – DOST and STILE. I wish both the Nissan and the Ashok Leyland teams the very best and I am certain that they have brought forth another winner."
Commenting on Joint Venture, Carlos Ghosn, CEO, Nissan-Renault Alliance, said "This collaboration has accelerated Ashok Leyland sales and increased Nissan's economies of scale, while providing customers with unique products specifically tailored to Indian preferences. Our partnership with Ashok Leyland is an obvious 'win-win-win' for both companies and the consumer."
Set to hit the roads before the festival season, the Ashok Leyland Stile will roll out from Nissan's manufacturing plant at Oragadam, near Chennai. It will be available in both Diesel and CNG versions, with a wide choice of seating options of 2 and 3 rows.