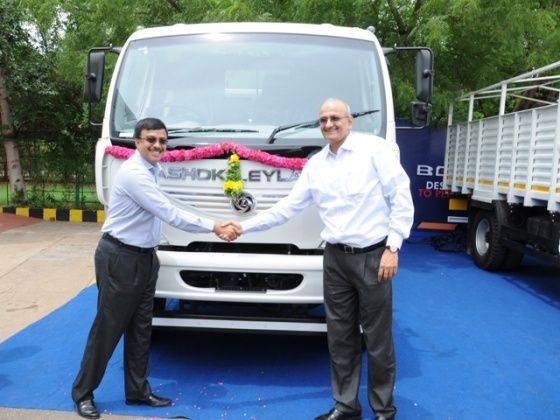 Ashok Leyland has introduced its latest offering called the Boss, into the intermediate commercial vehicle (ICV) segment. Manufactured at the company's largest plant in Pantnagar, Uttarakhand, the Boss is said to be a modern offering that combines the ruggedness of a truck with the comfort of a passenger vehicle. The 2-point suspended cabin with hydraulic cab tilt mechanism has an ergonomically designed dashboard with intelligently placed controls and multi-angle adjustable seats while the steering features tilt and telescopic adjustments.
The Ashok Leyland Boss has been launched in the Haulage segment with 9.6 tonne, 11.9 tonne and 12.9 tonne GVW. There are two variants of the Boss, namely, LE and LX. The Boss LE is fitted with a 121PS H-series BS3 engine with an in-line fuel injection pump and a 6-speed gearbox with overdrive for delivering superior mileage. The Boss LX has an industry-first automated manual transmission that eliminates the need for clutch operation while gear-shifting. The AMT will better driving comfort and fuel efficiency. The LX is powered by a powerful 132PS common rail engine and comes with factory-fitted air-conditioning.
"Specifically engineered to meet evolving customer expectations in the areas of performance, comfort and reliability, the Boss promises to make our customers more profitable by offering them a tailor-made product solution to meet their needs and certainly will be a game-changer for them," said Vinod K. Dasari, Managing Director, Ashok Leyland.
The Ashok Leyland Boss is designed to provide world class trucking at an affordable cost. It comes with a best-in-class service interval of 40,000 km, a hydraulic power steering system, a best-in-class turning radius of 15.3 mtrs, a 3-year anti-perforation warranty for the cabin and a 5-year replacement guarantee on the rear LED lights. It has undergone 9,20,000 km on road trials and 24,00,000 km of endurance testing.
"Manufactured on a modern and efficient chassis line and a state-of-the-art cab line using robotic processes and with unmatched comfort-features, we have made every investment to ensure that the BOSS delivers on quality, durability and reliability. We are confident of making significant headway in the fast-growing ICV market with the new Boss," added Dasari.
Ashok Leyland offers a 3-year full vehicle warranty and an additional 2-year warranty for driveline on the Boss and the product will be supported by the company's extensive network of over 450 full service outlets.
To strengthen accident support, the company has set up new cab repair facilities at select authorised dealer and service outlets. This will allow customers to get their cabs repaired quickly and cost efficiently. Dealers can also order spare parts online through an electronic parts catalogue so that the parts reach customers faster and more efficiently.