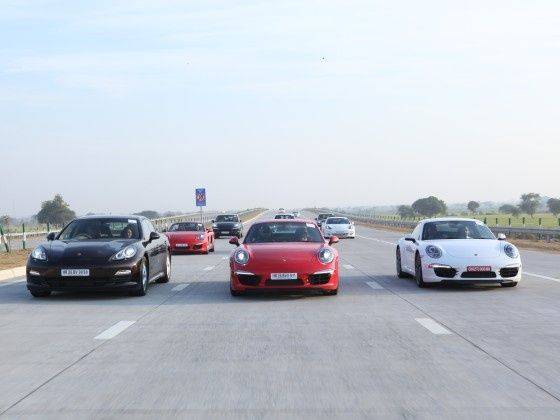 I remember the last time I got to drive a Porsche 911 was way back in 2008. At that time I silently wished to get behind the wheel of this fabulous car again, however the chance to do so only came recently at the Porsche India Drive Experience organized on the Yamuna Expressway, arguably the best stretch of road in India today. The bonus this time around was that I was not only driving the 911 Carrera S, but the Boxter S, Panamera diesel and the Cayenne diesel as well. The downside however was the fact that each of us motorheads on this particular event would only get to drive a total of 50km in each vehicle, but that apart, the fact that we were getting to unleash these machines was good enough for a quick hands on tour of what Porsche is all about.
Needless to say, covering 50 kilometers in a Porsche, any Porsche, is just a blur of a moment. These machines are highly capable performance oriented pieces of work and they deliver on that level by the truckload. The quintessential 911 Carrera S and the Boxter S proved their mettle on the highway while offering speeds in between 240-260 km/h with ease. Having said that, while the 911 is brutally fast and out paces all the others by leaps and bounds, it is the Boxter S that really impressed me. Not only is it fast but it also offers a rather comfortable ride experience without losing out on handling. A brilliant machine and out of the lot, it is the car that I would recommend to someone looking for a car that's hot, fast, stylish and extremely well engineered.
Coming to the diesels, namely the Panamera and the Cayenne, I must say that I was rather impressed. Despite a diesel mill, these cars still behave very much like what you would expect from a Porsche. They are quick off the line, fast to climb into 3 digit territory on the odometer and great fun to drive. On top of that you get the efficiency of a diesel motor, so in a way it's the best of both worlds. One grouse however was with the Panamera that felt a bit weighed down with the diesel engine, whereas the Cayenne was a showcase of packaging prowess and true Porsche engineering. Considering that the Cayenne accounts for the maximum chunk of sales amongst Porsche vehicles sold in India, the diesel version is bound to find a slew of takers.
A quick 200 kilometers and four vehicles later, my mind was definitely buzzing from the rush. No doubt, these vehicles are all amazing in terms of performance but what really strikes you is their 'everyday practicality'. The marriage of performance and practicality has never really worked as well as it does in a Porsche. Coupled with fantastic occupant comfort and safety, these machines are built to last. It is said that over 70 per cent of all Porsche's made are still running on the road and that itself is testimony to this brands legendary dedication to performance engineering with a practical twist.