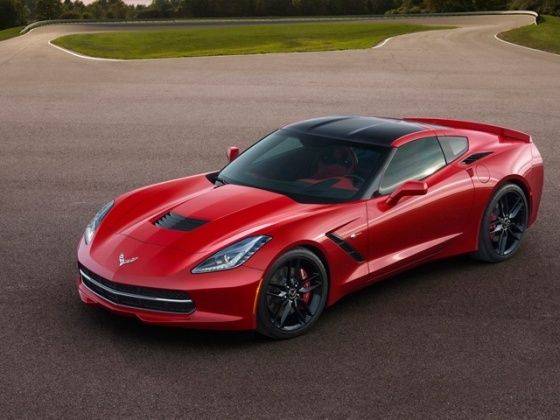 Chevrolet has taken the wraps off its next generation supercar, the seventh generation Corvette C7 Stingray at the 2013 Detroit Auto Show. First things first, the new 2014 Corvette Stingray is a true generation forward in every aspect. And boy, is it a looker!
The exterior of the supercar looks sharp and purposeful from every angle. There is no excess, every vent is for a purpose and every sharp crease and line is purely aerodynamic.
Shape and form have been blended rather well in the 2014 Chevrolet Corvette Stingray, the black contrast of the vents give a welcome visual break to the bright colour options that this car will be available with. The strong power dome on the bonnet and the curves on the roof add to the Corvette C7's aggressive stance.
At the back, the C7 breaks away from the Corvette trend of circular tail lights with more angular and modern units like those seen on the Chevy Camaro ZL1, only better. The tail light cluster integrates functional aircraft-style air outlets for differential and transmission coolers. The upper half of the rear end is body coloured while the lower half consists of the black rear air diffuser with the evocative quadruple exhaust pipes at the bottom centre of the diffuser.
No matter which way you look at it, the C7 Corvette Stingray is a very good looking car that conveys its powerful nature instantly.
Chevrolet has done an impressive job with the interiors as well with the quality of materials used which are dominated by leather, carbon fibre and aluminium. They are leagues ahead of the C6 Corvette, the colour contrast livens up the cabin, the centre console is angled towards the driver and the steering wheel now has a smaller diameter.
Firepower comes from an all-new LT1 small block 6.2-litre Chevy V8 which makes 450PS of power and 690Nm of torque in basic state of tune, enough to take the Corvette Stingray C7 from 0-100km/h in less than 4 seconds.
Click 2014 Corvette engine unravelled to know all about the new engine for the 2014 Chevrolet Corvette Stingray.
The engine is mated to a new seven-speed manual gearbox with Active Rev Matching that anticipates gear selections and matches engine speed for perfect shifts every time.
The new Chevrolet Corvette Stingray rides on an aluminium frame with hollow front and rear cradles, lighter and stronger than that of the previous car. The bonnet and roof are made of carbon fibre for stripping weight and enhancing rigidity.
Chevrolet's new Corvette Stingray will undoubtedly be a serious performance machine for road and track and while a top speed figure has not been announced expect it to hover north of 300km/h.
Earlier Corvettes were known for the blistering performance and relatively affordable price tags, we hope it's much the same story with the 2014 Chevrolet Corvette Stingray, only faster.