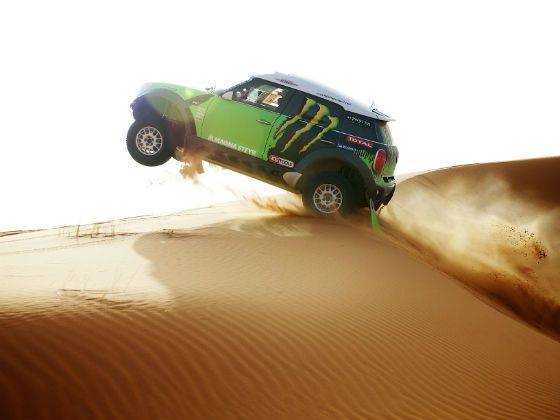 The 15-day Dakar Rally, one of the most gruelling races in the world, commenced from Lima, Peru and continued through the Argentinean landscape before culminating in Santiago, Chile. In its 34th edition, this year's Dakar Rally witnessed Stephane Peterhansel and his co-driver Jean-Paul Cottret successfully defend their 2012 Dakar title driving a privately entered Monster Energy X-raid Team MINI Countryman ALL4 to victory with a solid 42:22 minutes advantage over their nearest rival. Taking overall second place was Giniel de Villier driving his Toyota Hilux followed by the MINI Countryman ALL4 of Leonid Novistky.
Covering a total distance of over 8,500km, the pair took lead early on in the race from the second stage and maintained it until the end without facing any major breakdowns to take home the top honours. This achievement brings Peterhansel's victory count at Dakar in the four-wheeler category to five, beating Ari Vatanen's 25-year record of four Dakar wins. The Frenchman first won the Dakar Rally in 1991 on a motorcycle and followed it up with five more victories on a bike before moving to the car category, which makes him the undisputed champion with a total of eleven Dakar titles!
The MINI Countryman ALL4 driven by Peterhansel was made to look like the road-going Countryman on the outside but the two cars shared no parts at all. Built from carbon fibre bodywork over a steel frame, the MINI was powered by a straight-six BMW 3.0-litre turbo-diesel engine producing 310PS of power and 700Nm of torque transferred to the wheels via a six-speed sequential gearbox designed by Sadev.
Bikes - Austrian accomplishment
In the motorcycle class at this year's Dakar Rally, it was Peterhansel's compatriot Cyril Despres who added yet another brilliant win to his CV bringing his Dakar total to five titles. Riding a Red Bull KTM machine, Despres only won stage three but his consistency to finish in the top places handed him overall lead from stage ten of the 2013 Dakar Rally, which he then maintained until the end to finish 10 minutes and 43 seconds ahead of his team-mate and second place finisher Ruben Faria of Portugal. Third place was claimed by a Francisco Lopez of Chile once again riding a KTM motorcycle.
It was an all KTM wash out at the 2013 Dakar Rally with the Austrian machines taking top five positions in the overall standings reinstating KTM's dominance in the event. The highest finishing machine from other manufacturer was the sixth placed Yamaha of Frenchman Oliver Pain while Honda, which re-entered Dakar this year after a 24-year hiatus, finished in seventh place in the hands of Helder Rodrigues of Portugal. Despres team-mate at KTM and 2011 winner, Marc Coma was forced to retire out of this year's rally due to a crash in the Morocco Rally late last year.
Quads – Patrons of the Quad
In the quad category it was Argentinean rider Marcos Patronelli who won the 2013 Dakar Rally following up on his brother Alejandro Patronelli's victory last year, who was missing in action at this year's event. With twelve different nationalities on the start line making up a total of 26 entries, the quad class this year witnessed some really tough competition. But Marcos kept his form and went on to cement the Patronelli-dominance at Dakar this year to take home the win following the success of his brother in 2011 and 2012.
Marcos finished the rally 1 hour and 35 minutes ahead of the runner-up Ignacio Casale, and 3 hour and 18 minutes ahead of third place finisher Rafal Sonik from Poland. While the experienced riders did take top places by the end of the rally, there were a few Dakar debutants like South Africanriders Van Biljon and Sebastian Husseini and Australian rider Pal Smith, all of who showcased strong skills by taking stage wins throughout this year's rally. This accomplishment by the new riders hints that in the fairly short history of this class the field of riders has gotten significantly stronger.
Trucks – Russian Supremacy
This year's Dakar Rally saw a solid comeback from truck maker Kamaz as it bagged its 11th Dakar win with a splendid 1-2-3 podium sweep as the rally concluded in Santiago, Chile. All three top Kamaz finishers were Russian drivers Eduard Nikolaev, Ayrat Mardeev and Andrey Karginov. The victory comes right in the first year of Vladmir Chagin taking charge as team manager. Interestingly, the champion finisher in the truck class, Eduard Nikolaev, became the first truck racer in the history of the Dakar Rally to have triumphed at the event without winning a single stage!
Defending champion Gerard de Rooy was undoubtedly the fastest man on the course winning a total of six stages but a broken turbocharger in the ninth stage brought an end to his efforts where he lost an hour and eventually missed the podium to finish in fourth.