From communication, online banking, to even telling you how to mix your drinks and tie your tie, apps today come in various shapes, sizes and degrees of usability. Petrolheads too have a wide array of choice, and we're here to sift through the chaff and find the 10 top apps that are a must have for any serious car enthusiast in India.
So without further ado, and in no particular order, these are the 10 apps that will bring something unique to the table, and will definitely enhance your driving (or riding) experience.
1. CarHome Ultra:
This phone docking app is ideal for when you're on the move. The software bundle comes equipped with a variety of useful functions like a speedometer, a compass, information about your current location among other things. Just hit the relevant button and the app will tell you all you need to know so your eyes stay on the road. The convenience this app facilitates makes it an integral part of your automotive app arsenal.
Platform: Android Cost: Rs 213.78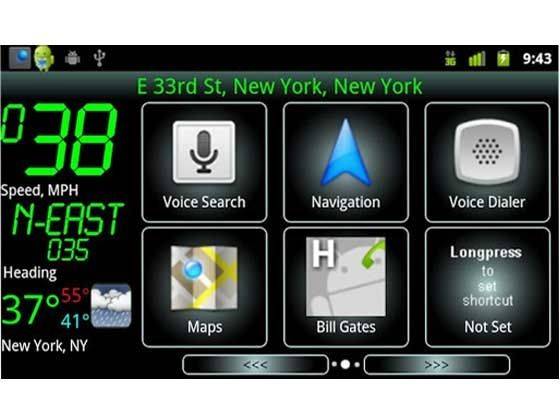 2. FuelLog:
In India, you can't have a discussion about vehicles without mileage cropping up in the conversation. Keeping that in mind, FuelLog is a perfect fit for any car or bike owner who'd like to know how economical his vehicle is. Simply input the readings from the odometer, the measure of fuel you fill, and its current price - the app does the rest. It calculates everything from you mileage after each fill up to how much you pay for fuel on a monthly basis. You can even input your miscellaneous driving costs such as servicing charges and toll fees, and the app collates all this information and gives you a figure for how much you spend on your car every month.
Platform: Android Cost: Free for 30 days, Rs 131.85 for the full 'pro' version
3. iOnRoad:
With ever more cars on the roads, you can't be careful enough as you manoeuvre through the congestion. Having another eye on the road would make driving much easier, right? Well, you can do just that with iOnRoad. Your smartphone's camera, GPS and sensors, through the medium of this app, combine and evolve into a sophisticated collision warning system such as the ones you would find in swanky European cars. This app sounds an alert when it detects a potential collision, allowing you to take evasive action.
Platform: Android Cost: Free ad-supported version, Rs 269 for the ad free version
4. Car Locator:
You're going to watch an IPL game at a big stadium, or dropping by the shopping mall. Relocating your car or bike in those mazy underground parking facilities can be quite a task. This is where Car Locator comes in. Just save your location after you park your vehicle, and when you wish to return to it, Car Locator acts as radar, pointing the way. It even tracks the time the car has been in the parking lot which is quite useful in the multiplex parking lots that charge you by the hour.
Platform: Android Cost: Free for 10 uses, Rs 214.53 for the full version
5. Number plate finder India:
Have you ever been stuck in traffic behind a car that has such an odd number plate you're wondering which part of the country it hails from? Well, this app is tailor made for this. Not only does it segregate registration numbers by state, but also by district. It even links to the mobile wiki page for the area if you need more information about the city or state, giving you the lowdown on everything from the region's population to its political scenario and individual history.
Platform: Android Cost: Free
6. Petrol Diesel Prices in India:
With the de-centralisation of sale of petrol and diesel by the Indian Government and state taxes, petrol and diesel prices fluctuate from place to place. This app will help you keep tabs on prices and identify the cheapest petrol and diesel brands in your city. It regularly updates fuel prices and highlights the cheapest and most expensive fuel provider in 41 cities across India.
Platform: Android Cost: Free
7. Traffic Fines India:
Getting pulled over by a traffic cop is an everyday occurrence. Arguing about the gravity of offense committed and haggling over fines is part and parcel of these encounters. This app tells you the official fine for each offense, segregated by city. It also quotes the sector of the Motor Vehicle Act that alludes to the offense, and doesn't even require an active internet connection.
Platform: Android Cost: Free
8. DriSMo:
Conventional uses for your smartphones GPS and accelerometer are widely known, but combined with the driving skills monitor or DriSMo app they can measure just how skilled you are behind the wheel. This app judges your driving capabilities and ranks how you perform. So whether you're a concerned parent looking to monitor their 18-year-old's driving skills or trying to settle the age old 'I am a better driver than you' argument, DriSMo is the go-to app.
Platform: Android Cost: Free
9. vBox:
How often do you have to bring a texting conversation to a standstill because you're about to drive? With vBox this doesn't need to happen; vBox is a voice to text and text to voice messaging app that reads your texts out to you, and then types out your reply while you dictate it. It even works with email and Google SMS making texting safe and drive-friendly.
Platform: Apple iOS Cost: Free, Rs 270 for vBox pro
10. R-U-Buzzed:
After a night out with friends when you've had a little too much to drink, you aren't sure whether or not you're in a condition to drive. R-U-Buzzed is a blood alcohol concentration calculator that uses information such as the amount of alcohol, the kind of alcohol and how long ago you consumed it to give you an indication with regards to your state of inebriation, helping you make the decision on whether or not to call a cab. Although 100 per cent accuracy is impossible without a conventional blood alcohol test due to the influence of various other external factors, R-U-Buzzed does give you a fair idea.
Platform: Apple iOS Cost: Free
These 10 awesome apps will help cover every automotive need for a complete driving experience. So exploit that smartphone and start downloading!