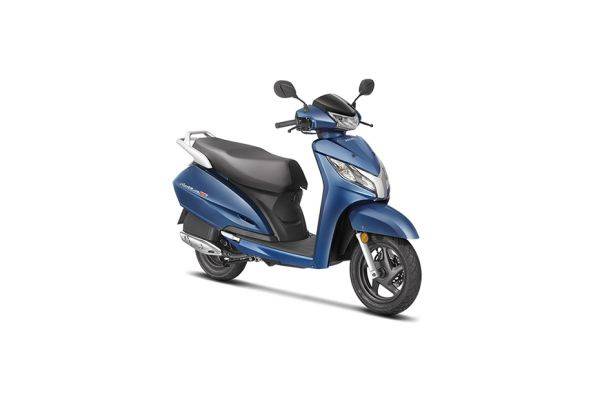 Honda Activa 125 BS4
Rs. 61,650
Discontinued Model since 21 Apr 2020
---
About Honda Activa 125 BS4
Honda Motorcycle and Scooter India (HMSI) introduced the Activa 125 to offer a more powerful and premium scooter than the popular 110cc Activa. The Honda Activa 125 is based on the Activa i, and uses the same body as the Activa 110's, but with a bigger 125cc engine
Honda Activa 125 BS4 Overview
The Honda Activa 125 has always attracted customers who want a little more power in the tried and trusted design of the Honda Activa. The scooter gets a host of features such as LED pilot lamps, alloy wheels and a mobile charging socket. Powering the Activa 125 is 124.9cc single-cylinder engine, which produces 8.6PS of power at 6500rpm and 10.54Nm of torque at 5000rpm. Braking duties are still handled by the same drum units on both sides. The top-spec Deluxe variant, however, gets a 190mm disc up front, with CBS (Combi Brake System) as standard. It competes against the Suzuki Access 125 and the Mahindra Gusto 125.
Honda Activa 125 BS4 Colours
Matte Selene Silver Mettalic
Activa 125 BS4 Alternatives
Must Read Questions & Answers Before Buying Activa 125 BS4
Q. My height is 6.2 ft. Which scooter will be best suited for me?
There are ample options available i.e. Honda Activa 6G, Honda Activa 125, TVS NTORQ 125,Honda Dio, etc. Choosing one will depend on several factors such as budget, fuel type, brand preference, specific feature requirements, etc.Click on the given link and apply filters in order to check out [new scooters@https://www.zigwheels.com/new_bike_search.html?bybodytype=scooters
Q. Is Honda Activa 125 BS4 a good vehicle?
The Honda Activa 125 BS6 does everything the previous scooter did and builds on it. In terms of practicality, comfort and reliability, few come as close as the Activa 125. It might not be thrilling to ride but with an extensive feature list, the Activa 125 ticks all the boxes of a family-oriented 125cc scooter. For a better understanding of compatibility and riding comfort, we would suggest you to take a test ride. Follow the link and select your desired city for dealership.
Very fast best
Absolutely yes
View All Answers
More Questions
Q. Is it good for long drive and what is weight limit for Activa 125?
I own Activa 3g obviously modified according to my needs , on which I have done 4-5 rides of about 100-3000 kms of long rides only and I don't have the habit taking a halt now and then , my Activa 3g goes 100 km non-stop and yes that's true , but after that it needs a 5-10 mins of rest and then the scooter is ready ride the roads again
There are/were people who travelled the world on foot/bicycles. And this is after all an automobile! Any distance is possible provided you stop for 15-20 minutes after every 50-60 km. That's good for your health too. Factoring in rest stops, traffic etc, I effectively travel 30-35 km in an hour in single lane highways and 40-45 km in NH. So driven for 8-10 hours a day on a NH, you can ride anywhere between 300-450 km. Beyond that it will be very backbreaking, I presume. The longest I have riden in a day was about 340 kms, 170 km and back, including 3-4 hours of official work at the destination.
Keep in mind change engine oil before when you take 1000 + long ride..... And give 15 to 20 min rest every 60 to 70 km...... Then you r bike take you safely ...... don't carry weight more then 130kg including you.....
View All Answers
Q. Which one is good among all of its variants - Disc, Drum and Alloy - Activa 125?
Disc and alloys are not necessary, alloys are just for looks, disc provides better braking but drums too are very good for braking, but if you drive rough, discs are made for you
The Disc brakes always have a better braking power than the Drum brakes.So it is safer and preferable with Alloy Wheels.Hope this helps! Happy riding!
Alloy is a type of wheel base on which tyre is mounted. So considered as betyer as compared to spoke or sheet metal frame.Disc brake is more efficient
View All Answers
Q. How much weight it can lift - Activa 125?
2 adults with helmet ..a full gas cylinder/5 gunnybags of rice..or 3 bags of cement../10 metre pipe on the hands of pillion..(please don't carry children or small babies.)..news papers 2 metres./
I weigh 83 kgs and my son weighs 72kgs.Even with that load it still has a pretty decent acceleration.You can confidently overtake vehicles in tight situations.
Here the question is..ho much weight it can lift...n people here giving stupid answers..i carry this n that....
View All Answers
More Questions
Activa 125 BS4 Questions and Answers
Activa 125 BS4 User Reviews
All

Comfort (65)

Mileage (61)

Performance (36)

Maintenance (22)

Experience (21)

Service (17)

Looks (15)

Engine (14)

Power (14)

Good Performance (8)

Parts (7)
1.4

Kick stop working with in 1 month !!!! It will never start in the morning time without 4-5 kicks without choke. No question it will start with self start . For using kick you have to use main stand - for girls ladies n below 20 years age boy too I want to ask can you do it by yourself . Is it easy to use the kick !!!! Again issue for refueling you have to open the seat !!!! Features 0 no charging point . Plastic materials quality 0 . Aftersales service for jhajjar showroom n services -10. We bought this scooty for my sister and believe my in last 10 months she drove only 100 km . Max 2600 km driven by me. Refueling should be easy like Mahindra duraFeatures like how many km more we can drive should be there.Charging point with mobile holderEasy to kick Light in weight Enough space for helmet For enivorment also they should do somethingShould give a eco- friendly bag with scooty so for daily shopping people can avoid use of polythene

5.0

Very good fine good very good fine good very good fine good very good fine good very good fine good very good fine good very good fine good very good fine good very good fine good very good fine good very good fine good very good fine good very good fine good very good fine good very good fine good very good fine good very good fine good very good fine good very good fine good very good fine good very good fine good very good fine good very good fine good very good fine good very good fine good very good fine good very good fine good very good fine good very good fine good very good fine good very good fine good very good fine good

5.0

Activa was the popular commuter who helped ladies out of buses gave them sense of pride and freedom to use it to the office and back pick your child also used by their husbands. its powerful enough with 125 cc bs6 engine 8.6ps of power now using hondas combi brake system which increase stopping power with stability. augmented by disc brakes tubeless tyres alloy wheels led front light aluminium frame mobile charger beneath seats descent mileage around 50 to 55 km/litre.with whooping price of approx Rs85000otr on many cities!!!now starts only when you unmount the side stands. thanks

3.0

Nice yamaha motor india seems to have resorted to be fashionably late in the growing 125cc scooter segment, As it is only now that the bike maker has finally launched the all-new fascino 125.This scooter will be the successor of the out-going fascino 110 and with this yamaha has opted to shift its focus from the 100cc segment to the 125cc segment.The company has introduced the fascino 125 in four variants — std drum, Std disc, Dlx drum and dlx disc; thus making the scooter accessible to a larger customer base.

1.0

Very very bad vehicle, No comfort seat, Rear suspension is very bad, Rear tyre is slipping so many times while individual ride, Front and rear suspension both are 100% poor, Please don't buy this scooter, Service centre like, Didar honda, Balaji honda in chennai cheating people, They don't know how to service the vehicles, When last free service, They are making some issues in the scooter for unwanted expenses for scooter's owner again after last free service
User Reviews
Honda Activa 125 BS4 Expert Reviews
Honda Activa 125 BS4 Images & Videos