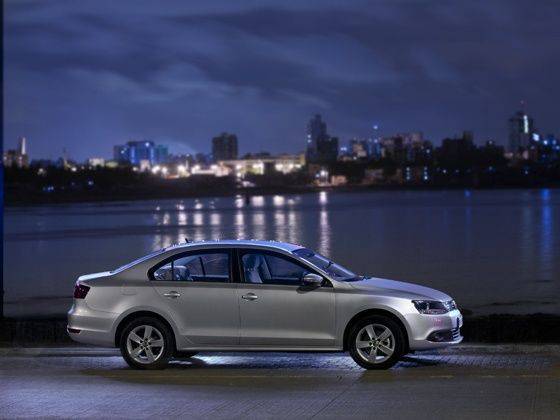 Superfluously, their timing couldn't have been worse. We've just seen what is probably the steepest rise in petrol prices ever and this more exciting of fossil fuels isn't really garnering public support much. General opinion has swung towards buying diesel powered cars and to come out with a petrol version of the Jetta now may seem a tad foolish on Volkswagen's part. Considering all that you'd probably ask yourself what on Earth they were thinking! 1.4 TSI – that's what!
When we first heard of the TSI engine a few years back we were superlatively excited, so much so that we thought Volkswagen would get it in the Polo in its 1.2 litre capacity. Well, that never happened but the TSI badge has now made it to the Jetta after making the car a smash hit with the TDI emblem. It seems a little odd though at first glance that a car of its segment has to make do with a 1390cc engine, but then you've got to know what the TSI badge stands for to really appreciate the beauty of the arrangement. Technically it means Turbocharged Stratified Injection, but the way any petrolhead would like to interpret that is 'Turbocharged and Supercharged Insanity'!
Exciting as it is, Volkswagen is pulling us back down to firm ground with the 1.4 TSI though because this engine making it to India seems to have shed its supercharger on the way from Germany. So the new mill in the Jetta is making about 120 horses peaking at 5000rpm – which isn't quite on par with the competition. But thanks to that turbocharger the Jetta TSI puts down 200Nm or torque that stays at its maximum potential between 1500 and 4000rpm and considering that this is the bit that really matters when you're driving casually to work as opposed to burning rubber at three-digit speeds, the Jetta seems pretty able on paper at least.
Translate that into the real world and the Jetta is actually quite driveable, pulling that big 1403kg body (all fuelled up) with relative ease. It will even power the car up to 120km/h without bursting a sweat but beyond that the engine does start to let you know that it is being stressed just a tad. The car does seem to die out a bit at lower revs though and you have to give it more gas to get it moving especially when you've had to slow down for whatever reason and then are looking to get back up the speedometer – which is where that supercharger would have been very handy on this low-capacity engine. So as far as performance goes, Volkswagen seems to have cut it fine despite the 1.4 litre capacity thanks to being turbocharged. In fact the presence of that little turbine does have another advantage – fuel efficiency.
While our rendezvous with the Jetta TSI was limited to night-time driving on Mumbai's relatively empty streets when you can get from one end of the city's expanse to the other in just about 40 minutes, we will need to wait for the complete road test to see how it fares in busy rush hour stop-go conditions. ARAI though, claims the efficiency to be about 14.7 kmpl which is pretty respectable and comes about as the silver lining when the whole country is up-in-arms over the price of petrol.
The smaller TSI engine also means a reduction in weight on the Jetta – especially from the front end. Now ideally, a lower kerb weight generally translates into multiple advantages but it doesn't work exactly like that on tarmac. When compared to the TDI, the TSI feels a little 'loose' on the front so there's not much steering feedback, the suspension doesn't seem to have been adjusted either and handling isn't as rewarding as on the car's diesel version. When the Jetta TSI launches it will be available only in the Trendline and Comfortline variants, which means that if you want this frugal petrol car you will have to sacrifice on certain luxuries of life. So forget about the electrically adjustable driver's seat, climate control, Bluetooth and other things of this sort.
That brilliant touchscreen audio system has also been replaced with the normal buttoned one but you do get a card slot with it. In a nutshell then, the Jetta TSI has sacrificed on cubic capacity as well as gadgets to score on the efficiency front as well as on the price front, hopefully. The prices aren't out yet but we reckon the Jetta TSI could be cheaper than its TDI cousin by about Rs 2 lakh. That should put it at around Rs 14.5 lakh ex-showroom in Delhi which would sound just about right for Volkswagen – if you don't consider the competition it is up against.
Let's make one thing very clear, the Jetta 1.4 TSI is a good car – extremely good in fact and the strategy is simple. Play the TSI badge and offer better fuel economy above everything else, but there's just one problem we have with this. The other car from the Volkswagen group (and essentially a Jetta underneath the corporate styling) is the Skoda Laura that costs Rs 14 lakh and comes with a 1.8 TSI engine making 160PS or power and 250Nm of torque. There are no doubts that this will leave the Jetta TSI for dead in a drag race, but as far as fuel efficiency is concerned, it's not too much off the mark either – 13.8 kmpl according to the ARAI.
In practical terms 1 kmpl isn't really too much of a deficit and the question to be asked is whether buyers will think the Jetta is still the better bet compared to the Skoda with the meatier engine. In the end it will all boil down to how VW prices the new Jetta and until we figure that out, we're just going to say that this is a good car once you get over that psychological barrier of it having a 1.4 litre engine. It may not win any 'mine is bigger than yours' arguments, but as long as you walk home from the gas station with more change in your wallet than the other guy, it should keep you happy, no?