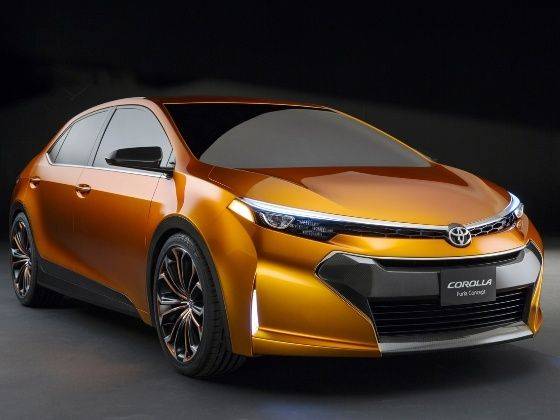 The Corolla Furia's futuristic styling is in line with the company's new design direction – to develop vehicles with a more aggressive and bold design in order to appeal to younger buyers. The swept windshield, sloping roofline and pronounced fender flares give the Furia a modern, sporty look. The front is perhaps the most aggressively styled with a blacked-out grille that flows onto the narrow headlights. There are plenty of carbon-fibre accents and 19-inch alloy wheels which probably won't make it to the production car.
At 4,620mm length and 1,805mm width, the Corolla Furia is longer and wider than the Corolla Altis, which is 4,540mm long and 1,760mm wide. However, it's 55mm shorter than the Altis with a height of 1,480mm. The longer wheelbase of the Furia is also expected to reflect in its interior space, which should be more than the current Corolla. Also Read: 2013 North American International Auto Show Special Coverage
The Corolla has been a best-seller in the US for decades and the Furia's introduction will only increase Americans' appetite for this popular sedan. However, it's India where the Furia could make a real impact with sales of the Corolla Altis having slid over the last year. Toyota sold just 6,912 Corollas in 2012 compared to 9,283 in 2011, down 26 per cent. Company execs blame the prevailing cautious buyer sentiment for the slump but with new cars launching by the dozen, the Corolla Altis may not be able to hold its own for too long and a fresh solution will be required. The Furia could then just be the answer. However, with Toyota not making any announcement as to when the Furia Corolla will hit production, it could be a long time before this futuristic sedan hits our shores.