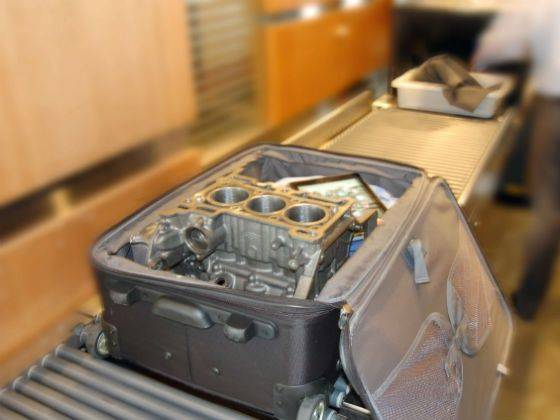 Photo courtesy: Autoblog
Commuters and airport officials alike were taken aback when representatives working for Ford took its 1-litre EcoBoost engine in a hand carry from Detroit to Los Angeles for the 2012 LA Auto Show. This diminutive engine block was small enough to fit in the plastic tray that usually holds wallets, cell phones and the like.
Debra Hotaling, spokesperson for Ford told LA Times, "The engine block is small enough to fit in your luggage, or about the length of the iPad. While we can't confirm that we actually took the 1.0-litre through X-ray, what we can tell you that the TSA was obliging of our photos."
The EcoBoost engine will be featured in the Ford EcoSport, slated to release in India early next year, and boasts a power output of 120PS and 170Nm of torque with the help of turbocharge. Ford believes this engine will be able to provide up to 16kmpl when integrated into the EcoSport. That the engine is this small is testament to Ford's forward thinking innovation and sets a new standard in the engine design sphere across the globe. Related: Ford EcoSport slated to launch early 2013
This exercise was carried out to exemplify just how compact this pocket-sized engine really is. Needless to say, mission accomplished!