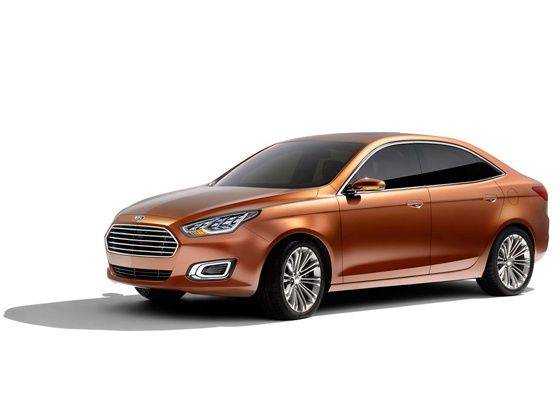 Appears as though China's automotive future in the hands of the Ford Motor Company is making us Indians here a bit reminiscent of the company's bleak history as revised or should I say far more advanced and sophisticated versions of their existing models already known to us as the Modeo and the Escort make their way to the Auto Shanghai 2013 show floor.
The Ford Escort Concept in particular caught our fancy. A car by the same name that came and went from the Indian compact sedan market some years ago for reasons the Company would unflinchingly deny has been injected with new energy and creativity for the Shanghai Motor Show this year, but only at an experimental stage.
Alongside, models like the all-new Ford Mondeo and the much awaited Ford EcoSport compact SUV the American car maker has given visitors at the Auto Shanghai 2013 an exclusive look at the Escort concept car as it works to offer customers greater choice in the growing C-segment.
Ford is using the Shanghai show as an opportunity to display the Ford Escort Concept to Chinese consumers seeking a fun driving experience and high level of technology, consumers who also value exceptional roominess, uncompromised functionality and sophisticated design.
Speaking from the show floor Jim Farley, executive vice president, Global Marketing, Sales and Service and Lincoln, Ford Motor Company said, "Designed with the Chinese consumer in mind, the new Escort Concept has the potential to strengthen our product portfolio here in China as we take advantage of opportunities for diversification within the compact car segment."
According to Farley the Escort concept highlights the strength of the company's global One Ford approach to vehicle design, and represents how it can make use of its global design language to bring refined designs to attainable vehicles.
Some interesting technologies being developed by the Blue Oval are also being showcased to customer like for example helping them understand how to drive green using Ford's Green Calculator display and also using a Boostical display to generate their own music videos to communicate the power and efficiency of EcoBoost engines. The Auto Shanghai 2013 runs April 21-29 at Shanghai New International Expo Center.