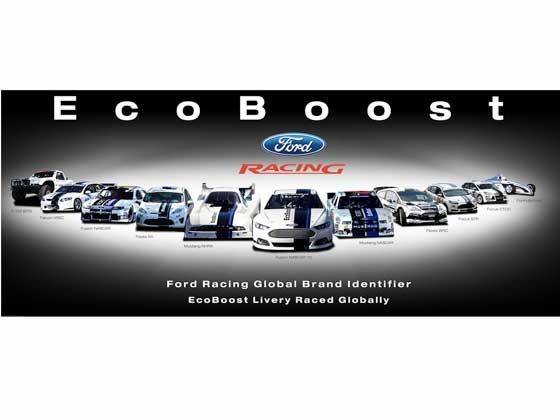 Ford Racing has adopted a distinctive blue and black signature look for Ford-powered race cars around the world. The livery was introduced on the new 2013 Fusion which will run in the NASCAR Sprint Cup Series which begins with the 2013 Daytona 500 race.
Ford Racing has been involved in world motorsport for over 110 years, with its sports cars, off-road trucks, rally cars, stock cars, open-wheel cars, race cars, and lately has participated in action sports like drifting and rally cross
James Allison, Director, Ford Racing said, "Racing Ford products predates the Ford Motor Company, as Henry Ford himself raced and won in 1901 to generate interest for the company he was trying to start."
Ford Racing models like the Fusion and concepts like the Mustang Cobra Jet Twin-Turbo feature a complete white finish with offset black and blue stripes running across the length of the car. Development cars are distinguished a little differently with the black and blue stripes on a matte black base. The edges feature a black wedge and blue and black identifier bars on the rear pillars.
The blue and black bars will be the distinctive feature for Ford Racing cars. A striking cobra meanwhile will adorn the Mustang Cobra Jet Twin Turbo concept.