Jehan Daruvala 17th In F2 Round 6 Feature Race At Barcelona
---
A late safety car gamble dropped the Indian driver well down the field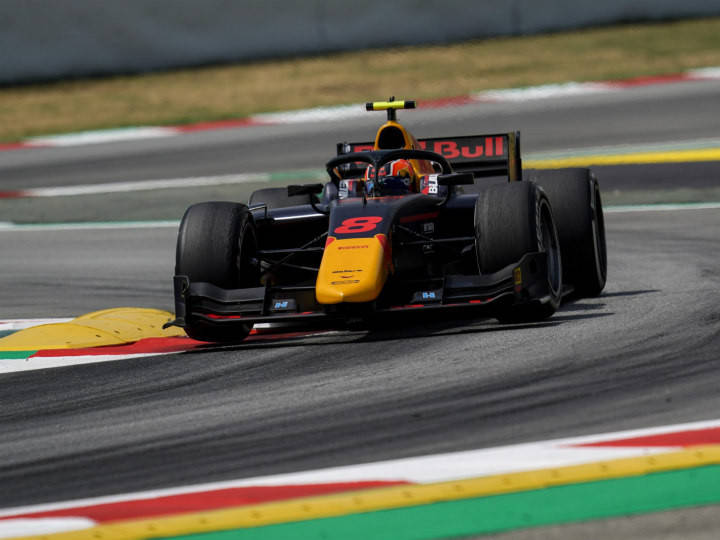 Another difficult day in the office for Carlin's Jehan Daruvala as the Indian driver finished 17th in the feature race of round 6 of the FIA Formula 2 World Championship at Barcelona. His teammate and fellow Red Bull junior driver Yuki Tsunoda crossed the line in 5th in the end.

Starting 12th, Daruvala lost a couple of places off the line and was stuck in a long train of runners all the way to 7th place partly due to the circuit being a difficult place for overtaking. To break the train and attempt an undercut, Daruvala took an early mandatory pitstop on lap 8.

While Daruvala rejoined all the way back in 19th, keep in mind that almost half the field were yet to make their mandatory pitstop. Unfortunately, the Indian driver wasn't really making up much ground compared to the drivers ahead and was set to have a difficult finish. But a stroke of luck came on lap 25 out of 37 with a second safety car.

Once the safety car was called in, Daruvala and Tsunoda were running 10th and 1st on a one-stop gamble to the end of the race with only 8 laps to go. Despite some valiant defending Daruvala quickly fell down to 17th at the end against drivers on fresher rubber. Tsunoda on the other hand had a better stroke of luck thanks to another safety car to secure 5th at the flag.
Daruvala will start at the same grid slot for tomorrow's 121km (26 laps) or 45-minute sprint race, with Tsunoda lining up 4th by virtue of the top eight finishers from the feature race lining up in a reversed grid order.

The sprint race will commence on Sunday at 2:40pm (IST) and will be streamed live on the official F1 YouTube channel.