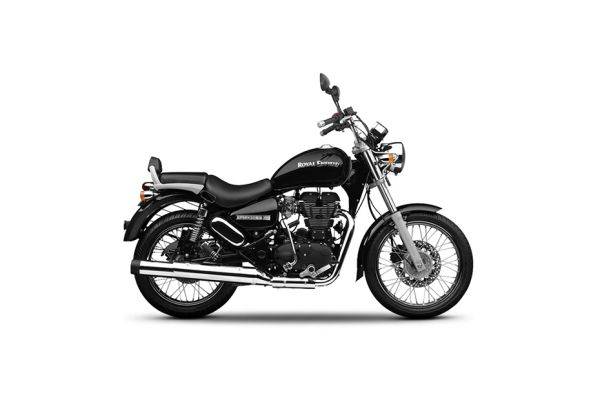 Royal Enfield Thunderbird 350
Rs. 90,145
Discontinued Model since 31 Mar 2020
---
About Royal Enfield Thunderbird 350
RE's attempt at making a laid back cruiser. It works well, but could do with a better seat design.
Royal Enfield Thunderbird 350 Overview
Royal Enfield has decided to pass on the GST tax benefits to its customers. As part of the new GST tax structure, prices for the bike has reduced between Rs 2,000 to Rs 2,300 depending on the state of purchase.
The new Thunderbird comes with all the bells and whistles one could possibly ask from Royal Enfield. The shapely 20-litre fuel tank, the information-loaded twin pod cluster, the mini ape-hanger handlebar- not only look cool, but are also purposeful. Another useful feature is the hazard lamp function. The bike also comes with both front and rear discs as standard. When it comes to value for money and features, the Thunderbird is hard to beat.
Royal Enfield Thunderbird 350 Colours
Thunderbird 350 Alternatives
Must Read Questions & Answers Before Buying Thunderbird 350
Q. Thunderbird 350 2013 model its mileage 25, it is good mileage ?
In order to get better fuel efficiency returns from your bike, there are some points that you can keep in mind while riding such as keeping a check on tyre air pressure, timely service your bike, maintain proper gear to RPM ratio, do not accelerate the bike unnecessarily, ride your bike at economical speeds, etc.
View More Questions
Q. Which one is better between Royal Enfield Classic 350 and Thunderbird 350?
Let's compare few aspects of the two bikes.Pricing considering the prices, tb is costlier then classic at same cc. This gives an idea that RE consider or spend on tb more thn classic. The quality of material used in the tb is costlier then classic.Engine i have been told by everyone that the engine of both the machines are same. They offer same power and they don't have nay difference. Personally, i found tb engine different then classic. Where people have always been complaining about flase neutral gear in tb, never heard a serious problem in classic.Posture considering tb as a cruiser will be wrong. It is also a commuter with high handlebars. People have suggested that the posture of tb is better then as compare to classic. I have found no problem riding both the bikes. People buy classic and change the handle bar to a longer handle bar and get the same comfortable posture as per your requirement. However, i have also heard a lot of people complaining back problem. Personally didn't found any such problem. Rode continuously around for 150-200km (Mumbai to pune with small 2-3 tea breaks) on tb, didn't found such problem.Handling i found classic to be more comfortable in city or on turning thn tb. The tb has smaller radius as per company, so it should not give any trouble in the city as well. Don't take me wrong, but I m not saying that tb has problems in the city, it is just less fun.Weight tb is heavier thn classic by 10kgs. Yea, but i don't think it will make any big difference. Considering classic is 185kg ans tb is 195 kg, both the bikes are heavy. It shouldn't be a deciding factor.The plus points in tb the semi electronic system on tb is very helpful. For eg. The petrol indicator, the rpm indicaor, trip meter etc. The tb has so called projector lights, which are not sufficient but still better thn the one provided in classic. The rear disc breaks are not sufficient but better then classic.So which one to go for? I will give you a very practical advice. Now a days you get the bikes on rent around 1000-1500 per day. Plan a short trips like 100-150kms. Take tb on rent for one weekend and classic on another weekend. Understand the logic for above said things. Check what are you comfortable with. Investing in bike is a big decision .
If you think for touring purpose definitely Thunderbird 350 or you are daily commuter and covered more than 100km.Classic have their strong existence in market due to old school look. Truly appreciate the Royal Enfield to build classic but if you ride more than 100km on highway, you must have strong spinal system, as after riding you feel back pain due to double spring system on seat as well as bike. when you ride more than at the speed of 80km/hrs, seat continue vibrates and may impact your nervous system. Thunderbird 350 less appearance in the market but truly riding experience much higher than the other Royal Enfield bike. You can enjoy your weekend riding as well as daily commute with this beast, less vibration than classic 350, seating posture also very good that means you never tiered, if you ride more than 100km.Comparison to engine: both having same engine bit change in rpm settings for pickup.
RE Classic 350. In every terms,it feels much better. It feels royal and feels like yes you arent riding some day to day commuters. Thunderbird 350 is just a styled 350 and don't even have a after sale handsome evaluation. RE Classic though quite retro gets everything you want. And ofcourse, Modification can make it better than RE Thunderbird 350.
View All Answers
Q. For long Drive Which one is good JAWA or Royal Enfield Thunderbird?
Thats true, Jawa is a city bike with a contradictory gear box, i.e., seating posture is for the city, but gear box is for the highway. Also Jawa's pickup had no competition in those earlier days, but now things are different, with plenty of options. Young boys maturing to ride bikes will prefer sporty bikes. Jawa will be preferred by more mature men starting from around their 30s, and by that time men will be family men and for them a short seat like that in Jawa will not serve their family purposes. So most men who are Jawa enthusiasts will have to drop their enthusiasm for Jawa and opt for other options. Lack of tubeless tyre options will also deter many from opting a Jawa. If Classic Legends do not take these into consideration, then Jawa might have a bleak future.
Hello Daniel, both bikes are very capable and very retro in their looks. The Jawa however has an edge in the performance department. If you are looking for leasurely cruising then the Thunderbird will suffice. However if you need a higher speed and the benefit of a sixth gear to cruise at higher speeds, yet at lower rpm, then it has to be the Jawa. Why don't you take a test drive of both and then decide.
Thunderbird is best one. Jawa is a city bike not a tourer
View All Answers
Q. Which is good to buy between Thunderbird 350X and Thunderbird 350
If you are interested in urban riding then go for Thunderbird 350x it comes with alloy wheel and Thunderbird 350 comes with spokes which is good for off roading adventures, 350x more stylish than 350 but in terms of features they are almost same.
Definitely Thunderbird 350. Both bikes are same with jus a few changes such as ABS, tubeless tyres etc. 350 is more retro compared to 350x..esp.the colors. Performance wise both are same.
None....but if you want to buy between the two... I would suggest the good old thunderbird....I have sold my thunderbird x within one year as I was having just too many problems with the bike
View All Answers
View More Questions
All Thunderbird 350 Questions and Answers
Thunderbird 350 User Reviews
4.6

Very nice bike available at the price, Good pick up, Maintenance cost less, Vibfrations at speed above 80

5.0

Very nice bike value for money.But service is very poor i have zero dp insurance but that don't have parts service point of view in madhubani (bihar) location is horriblethey don't have good quality technical team.

5.0

Taste a thunder it's was a real top cruiser bike good pick up good mileage.Fully comfortable bullet.

4.2

Good stable bike.Pillow riding is not good.Handle vibrates at high speed.Styling is good.Comfortable for long drives.

4.2

Good motorcycle.Have done multiple trips to ladakh and other places on this motorcycle and have cherished the experience.
All User Reviews
4.2

This is a critical review . This review involves about the bike, rider and the mechanic.The Bike is good. It is excellent and easy to handle even in city traffic. The Showroom Aadith Motors Mysore was not much responsive and the service manager had shown utter irresponsibility during the delivery. The CLAMP BETWEEN CARBURETOR AND ENGINE WAS MISSING. Which would have got separated during the ride. No wash, No Polish, not even a word SORRY. Remember you have paid Rs 1,93,000 . There was a scratch on saree guard. I refused the delivery and next week the showroom delivered my bike with solving the above issue. The speedometer console fills with moisture during rainfall and it affects the display and ultimately you loose your display. I got it replaced within 4 months. Now i have a plastic cap over it which is transparent and available on Amazon.The Royal Enfield which has Liquid Gun Semi Synthetic Oil is the worst one which I have seen. It turns black within 500 kms if you are not a regular rider and turns black for 3000 kms . The company says to use it upto 6 months or 10000 kms. But ultimately it is your engine which will get spoiled. Hence change the oil for 3000 kms or 6 months. Post warranty of 2 years pls go for MOTUL Synthetic Engine Oil. It is always better. I have opted for Extended warranty as there is no local mechanic who deals with enfield at my place and unfortunately i am dependent on these chaps. Some tips:-Clean and Lubricate the chain once in 300 kmsDry wash as for as possible. If it is really necessary then go for a detailed washBetter to go for vinyl coating for tanks. 3M is better in that case . This avoids the scratches. It is worth too. To be frank I really love the bike. Not even a single day I had an issue on road. It wont VIBRATE. It is a beast. Annually if you have a showroom maintenance including chain l**e for 300 kms you will have to spend around 6000. If you use synthetic oil then you get the service done based on kms not based on time.

3.8

All good but sometimes i felt like on the name of royal enfield / bullet ( company charge unnecessarily extra like foot stand all other company charge 50 each and here at re showroom it cost 650 plus taxes same with side indicators, Fuel tank stickers.Upto double is fine but 7 times high is not justified i think.Otherwise iam very happy with its look and performance.Secondly it's parts are not available easily and even price for parts is also very very hard to find online.Another important thing is in today's online life there is no parts available online.And and and one more issue is it's ( thunderbird's) speedometer is very very delicate.Mine got broken 7 times in past 5-6 years sometimes i bought it from showroom and sometimes i bought it's frame from jama masjid and once i bought duplicate one from karol bagh.It's an expensive bike for most of indian so it's maintenance guide should be available online on its website.Please don't take my feedback as negative only as i love my re thunderbird and trust me iam very happy with my black beauty but i wrote only critics because that can be improved without any extra effort and cost and the same will be very helpful for customers.That is all from my side.A true royal enfielder vijay singh dhinghsari.

5.0

FloksI had been riding this bike since I purchased and it"s good for longer trip especially to the hills, I always enjoy going on this for longer trips and main advantage of this bike is its sitting posture which will reduce your back pain comparing other bikes.It"s extra large fuel tank will give you 650 to 700 kms continuous ride without refueling. Its weight of 190 kgs will give you firm grip even if you will exceed above 100 speed only thing is you have to modify your handle bar a little bit to reduce the vibration but I am ok with it I want to feel like I am riding on a wild bull and make sure your bike is maintained well every 3 months interval. Always know this every bike has pros & cons ,my suggestions to TB 350 Lovers please don"t get carried away by few negative feeds.It"s totally upon you how you will deal with this machine and see how it will respond.Every bike is made for their own purposes and TB-350 is Cruising Bike and definitely it"s not made for sporting.

4.6

Daily commute- Comfortable,Easy to maneuver, good turning radius, All goodies are packed inside even for daily commuteTouring-Tank range is huge as it has 21litres fuel tank.Engine doesn"t heat up,can tour all day long widout any issues.Great provision for saddle just pull out a cable remove pillion seat and you are ready to go.Pillion seat comfort is kind of good.Only issue is the seat which bit hardPerformance-Well it"s a air cooled,long stroke,cruiser. Cruiser has a good midrange and this bike has it. Take a corner and it will surprise you until you are scraping footpegs all over. Vibration will start creeping at speeds over 90 kmph but if you opt for semi synthetic oil or synthetic man it makes a hell lot of difference.Maintenance-Easy on pocket,You have to replace speedometer bracket atleast once.Fuel gauge is just for decorative purpose never depend on it.Suggestions-Try Semi-synthetic, Synthetic oils, never push it for offroading

2.2

bike is nice for a nostalgic value, performance wise its not up there, too heavy and breaking isn't great even with the disk breaks. acceleration and mileage both take a hit due to its weight. The bike is not comfortable at all for long trips with its sitting and leg positions. Its definitely not a cruiser. It gives bad back pains during long rides. Most frustrating with it is the engine noise. even after being so expensive , the engine noise makes it less appealing. And also less refined.
All User Reviews