The Bentley Mulsanne's 11 Year Journey Officially Comes To An End
Jun 26, 2020
Views : 1636
---
This also marks the retirement of Bentley's 6.75-litre V8 engine that debuted in 1959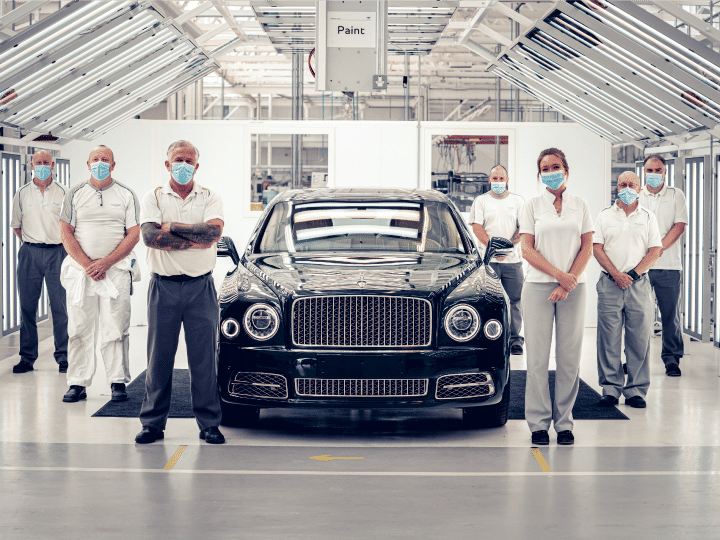 The 6.75 was Bentley's final edition of the Mulsanne with a limited production run of 30 units.

A total of 7,300 Mulsanne units were handmade at Bentley's home in Crewe, Cheshire England.

No replacement planned yet.

The Flying Spur will be Bentley's flagship sedan for the time being with a hybrid powertrain set to debut in 2023.
The coronavirus pretty much delayed the inevitable, but it's finally upon us. The 30th and final Bentley Mulsanne 6.75 Edition has rolled out of the production line, ending the Mulsanne moniker 11 years after its world debut at Pebble Beach in 2009. The penultimate production unit was displayed in a mix of gold and grey, with the final unit and its destination kept under wraps.

Bentley added the Mulliner Driving Specification in 2012 that added features like a new sunroof, 21-inch alloy wheels, Bentley Flying 'B' wing vents, and an electronically operated bottle cooler. The year 2015 saw the performance-oriented Mulsanne Speed debut with its 6.75-litre V8 engine producing 537PS of power and 1100Nm of torque. In 2016, the Mulsanne was given a mid-life refresh that featured a bigger grille, tweaked interiors, an updated infotainment system and reworked headlights. Alongside this, long-wheelbase (LWB) variants were also introduced to provide more space to the rear passengers.

Earlier this year, Bentley introduced the 6.75 Edition created by Mulliner, Bentley's coach building division, that essentially signified the end of the Mulsanne lineage. A total of 7,300 units, including the 30 limited-run units, were handmade at Bentley's home in Crewe, Cheshire. The 6.75 Edition featured subtle touches like chrome accents around the exterior, new 21-inch wheels, special badging all over, as well as schematic cutaway drawings of the engine itself on the clock and minor gauges. It also has a projection of the 6.75 Edition logo via LED puddle lights.

The 6.75 Edition also signified the end of Bentley's 6.75-litre V8 engine, one of the longest-serving V8 engines in production since its debut in 1959. While there is little in comparison to the current V8 on the Mulsanne, Bentley claims it shared the same principles and dimensions of the original engine. The Mulsanne 6.75 Edition was powered by a 6.75-litre V8 based off the Mulsanne Speed that produced 537PS of power and 1100Nm of torque.

A replacement for the Mulsanne is yet to be announced. The Flying Spur will take over as Bentley's flagship sedan with a hybrid iteration confirmed for a 2023 debut.
Add Your Comments