Maruti Suzuki Omni Cars
(4 Variants )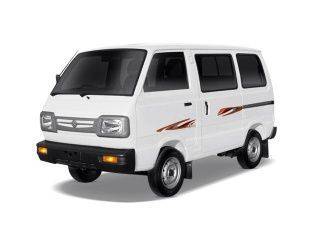 Rs.2.18 to 2.52 lakh
(Ex-showroom Price)
EMI:
4682/-
For a loan of 2,17,810 @ 10.5% over 60 months
Upside
People carrying ability, Mileage, Price
Downside
Safety, Performance, Lack of creature comforts
Our Verdict
Its a cheap van. Best suited to the taxi market now
Editor's View : Maruti Suzuki Omni
The little Omni is a true blue Japanese wonder! Within its small proportions it is capable of seating 7-8 passengers and to power it around is the 800 cc petrol unit borrowed from the Maruti 800. The Omni has been a great success in its initial years for it was a great vehicle to tool around the entire joint family and it didn't cost a lot. Moreover it was frugal to run. Today the Omni is mainly found in the taxi operator market. not many private takers anymore and out of the many reasons not to buy an Omni the dominating factor remains safety. The is little to protect front occupants in the Omni. Overall, the Omni remains the cheapest people carrier in the market and a favourite amongst intra city cabbies.
Maruti Suzuki Omni colors:
Maruti Suzuki Omni Variants:
You can only add upto 3 cars for compare
Variant
Ex-Showroom Price
Maruti Suzuki Omni Cargo

796 cc, Manual,Petrol, 14.7 kmpl

2.18 Lakh
Maruti Suzuki Omni 8 Seater

796 cc, Manual,Petrol, 14.7 kmpl

2.43 Lakh
Maruti Suzuki Omni 5 Seater

796 cc, Manual,Petrol, 14.7 kmpl

2.47 Lakh
Maruti Suzuki Omni LPG

796 cc, Manual,LPG, 10 kmpl

2.52 Lakh
Bear with us as we take you through a one-time verification process.
Sign in
forgot password?
Log In

Are You A Dealer?
Advertise your car listings to millions of online buyers on ZigWheels