Home

Reviews & Advice

Mercedes-Benz GL350 CDI vs Volkswagen Touareg : Comparison
Mercedes-Benz GL350 CDI vs Volkswagen Touareg : Comparison
by
Vikram Gour
Photography :
Kunal Khadse

Posted on
07 May 2012

49,021
Views

0
Comments
It's the clash of the Titans as the Volkswagen Touareg is pitted against the Mercedes-Benz GL 350 CDI. Both these premium SUVs bring their own merit to the duel and are backed by solid engineering and robust capability. However, when it comes to choosing between the two, it just may be a matter of heeding your heart over your brain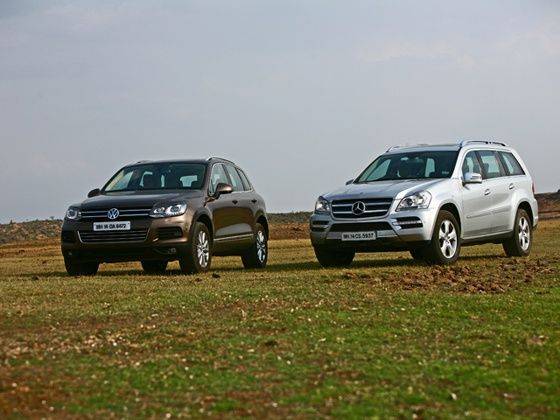 Get alerts on new cars reviewed by ZigWheels
Premium SUVs have a tough task of balancing two distinctly opposite characteristics into a single fine package. After all a premium SUV has to be epitome of comfort on the inside and a tank on the outside. It's a vehicle that has to possess both style and substance and the balance between the two is what makes or breaks a SUV's appeal in the market. Undoubtedly it's a tough job, but premium SUV manufacturers have managed to make this juxtaposition somewhat of an art form and infuse their individual brand values into their products. The end result is impeccably built SUVs that boast of immense capabilities and command respect.
For a customer choosing between such machines can be a daunting task as they are spoilt for choice. Decision making at this strata of SUVs is extremely tough as the purpose and need has to be well defined. A solid amount of thought needs to go into listing one's priorities and all the elements need to be scrutinised and further prioritised before coming to a decision. After all, the only differentiator between such premium machines is solely perspective. To understand this better, we have the face-off between the 2012 Volkswagen Touareg and the Mercedes-Benz GL350 CDI, two elite SUVs that are as different as they are similar.
Visual delight
The first element of assessment has to be visual appeal, since if a vehicle fails at this, then all else is lost in most cases. For premium SUVs, this fact holds even more weight as customers are extremely demanding. The VW badged mud-plugger sticks to the Volkswagen family look that can be seen on the Phaeton all the way down to the Polo. Having said that, the Touareg is a good looking SUV with clean character lines and a rather purposeful macho stance, and thanks to those elements it will still turn heads when it goes by. On the other hand, the larger Mercedes-Benz GL350 CDI manages to make its presence felt just by being there.
Its proportions coupled with the design flair associated with Mercedes-Benz make it the better looking of the two. The large grille dominated by the three-pointed star, the neat lines, chiselled look and muscular stance work heavily in its favour, and if the exterior dimensions don't get you, the uber stylish chiselled look definitely will. The bottom line being that the GL manages to have an aura of aristocracy and that just can't be ignored. With oodles of money, expectations increase and the need for an opulent interior would definitely feature as a major priority.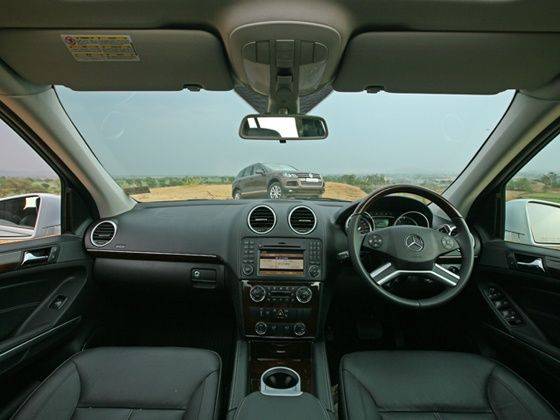 Step inside the Touareg and you'll find yourself in a first class cabin. It's on par with what you would expect from a luxury car maker and the fit and finish is fantastic. There is just no arguing that fact and you will feel pampered. The mighty GL however borrows heavily from its ML-Class sibling. Having said that, fit and finish is up to the mark and Mercedes-Benz shows its strength of being in the business of pampering its customers with the overall interior treatment. Where the similarity to the ML-Class might strike a negative impact is in association, as GL customers definitely don't want to feel shortchanged and the similarity to the lower priced ML just might lead to such a viewpoint. While on the topic of interiors, there is another element that is constantly brought up, and that has to do with space.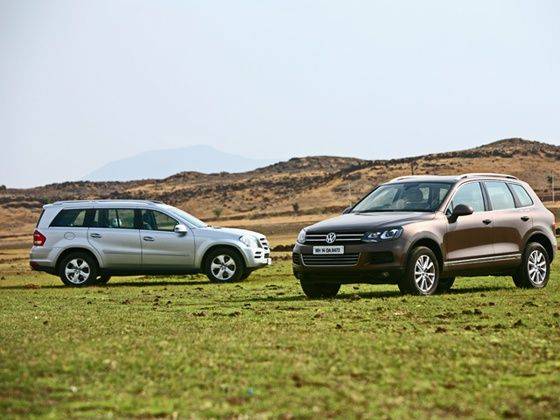 Incidentally, the Mercedes-Benz GL350 CDI wins hands down in this area of expertise for its gargantuan proportions free up a lot of space, which includes the three-row seating plus a 520-litre boot. The GL is crafted to be the ultimate family utility vehicle and its proportions lend to that line of thought. The Touareg also boasts of an airy interior, but its smaller dimensions only allow for two rows of seats and a boot that can fit 580 litres of luggage.
SLIDESHOW:
More on this Car

Do you like this story?
Previous Story

Next Story
FEATURED SLIDESHOWS
TOP VIDEOS

Tata Pixel Zero Turn Drive Video
The Tata Pixel concept that Tata Motors showcased at the 81st Geneva Motor Show is a revolutionary...


Coming soon: BMW Bikes in India
Luxury car maker BMW is thinking to re-enter in Indian bike market with high end bikes.