Home

Reviews & Advice

Audi TT Vs BMW Z4: The Clash of the Coupes
Audi TT Vs BMW Z4: The Clash of the Coupes
by
Kunal Khadse

Posted on
21 Dec 2009

11,267
Views

Comments
First there was the Audi TT, and now with the BMW Z4's entry we have two of the hottest sports coupes from Germany ready to be lapped up by India. Sopan Sharma and Abhishek Nigam pit the cars against each other, and defend their choices!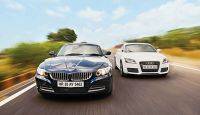 Sports. Coupes. One of the words is about the absolute pleasure of the senses one experiences inside a car while driving it at speed, the other implies the visual pleasure of looking at the uncluttered, sensuous demeanour from the outside. Bring the two together and you have a lethal combination - a car that looks as fast as it is capable of going. No wonder then that when it comes to inciting desirous reactions from people outside and passion-filled squeals from the passengers inside, sports coupes are the order of the day.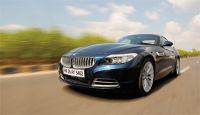 And then we have the ones that come from Germany. Almost invariably with a pedigree in fun, drop-dead gorgeous looks, rock solid reliability and space-age technology, they usually figure in any auto nut's list of most desirable cars. But here is what we are excited about - now, with enough Indian Rupees in hand, two of these stunning machines can occupy our garages.
The Audi TT in its new form has been thrilling enthusiasts with its shape and sense since 2006, and was made available to Indian buyers last year. Not only is it one of the most elegant looking sports coupes in the international market, it also got a headstart on most other cars of the same category in India. Internationally, the TT comes with a host of engine options - ranging from the front-wheel drive 2.0-litre petrol to the one that we had - a full blown 3.2-litre V6 with four wheel drive.
But the reason this story came into existence was because of the launch of another sportster. This one comes from the three-lettered car maker from Munich, and has been sending enthusiasts in a tizzy with its aggressive lines and Casanova characteristics. The BMW Z4 has also received an upgrade and it has stepped away from its Bangle influences and moving further into macho territory. Plus, it's a Beemer, which means it probably goes like stink. The perfect set up for a face off then? Hell yes!

Do you like this story?
Previous Story
FEATURED SLIDESHOWS
TOP VIDEOS

Tata Pixel Zero Turn Drive Video
The Tata Pixel concept that Tata Motors showcased at the 81st Geneva Motor Show is a revolutionary...


Coming soon: BMW Bikes in India
Luxury car maker BMW is thinking to re-enter in Indian bike market with high end bikes.