Home

Reviews & Advice

Renault Duster: First Drive
Renault Duster: First Drive
by
Vikram Gour
Photography :
Kunal Khadse

Posted on
19 Jun 2012

449,891
Views

44
Comments
It's been a long wait for the Duster, however Renault India is finally ready to launch their urban SUV in India and we have enough reason to believe that it can seriously upset the competition
Powering the top end variant is the 1.5 litre DCI diesel engine that churns out a healthy 110PS. It sounds good on paper and while I was skeptical about performance myself, a spin on the test track at the factory rid me of my fears for the Duster is a spirited little fellow! The engine is refined and while the diesel can be heard, it isn't obnoxious or loud. Shift through the rather slick 6 speed gearbox and the Duster is able to cross over into three digit speeds with ease. Low end driveability also checked out okay however I would really like to see how the Duster does with a full load on a steep mountain road.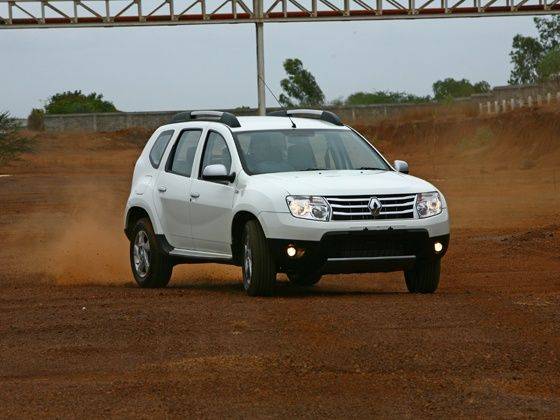 Maybe I'll do that the next time I drive the Duster, but for now I'm rather convinced that the Duster has the mettle and the grunt to handle the urban jungle and a bit of spirited rough road driving with élan.Speaking about engines, the Duster will also be offered with a petrol engine as well as a detuned 1.5 dCI diesel that churns out 85PS. While I didn't get to drive the petrol, I was offered a short drive in the 85PS diesel, which surprisingly offers a linear power delivery however it does run out of steam and is considerably louder than its 110PS counterpart.
Based on the Logan platform, the Duster is a monocoque construction and this works in its favour when it comes to ride quality and handling. Body roll is limited and is rather confidence inspiring around fast corners and the car like ride quality is comparable to some of our midsize sedans. Taking it for a drive on some undulated surfaces was a revelation as the Duster didn't lose its composure and soaked up the bumps quite well. Another element that became apparent under hard braking was the fact that the Duster didn't nosedive towards the tarmac which is a welcome change when compared to how the competition behaves.
Set to take on the Mahindra Scorpio and the Tata Safari, the Duster does have its job cut out. While it does dominate in terms of ride quality, handling, and to a certain extend even build quality, it is a size smaller and seats only five as opposed to seven or eight that the others offer. For number crunchers, the engine is almost a litre smaller than the competition and adding to that, Renault doesn't have any immediate plans of introducing a 4x4 model.
While these issues may raise questions, the fact remains that as a package the Duster has it made and can very easily dominate the segment for all that remains is an aggressive price tag and we have enough reason to believe that Renault is working at getting that right; after all they are aiming for an 80 per cent localization on the Duster to achieve such figures. That said, the Duster is a vehicle of merit and its set to upset the scales in the entry level SUV segment.
SLIDESHOW:

Do you like this story?
Previous Story

Next Story
FEATURED SLIDESHOWS
TOP VIDEOS

Tata Pixel Zero Turn Drive Video
The Tata Pixel concept that Tata Motors showcased at the 81st Geneva Motor Show is a revolutionary...


Coming soon: BMW Bikes in India
Luxury car maker BMW is thinking to re-enter in Indian bike market with high end bikes.