Home

Reviews & Advice

Mahindra Rodeo RZ: First Ride
Mahindra Rodeo RZ: First Ride
by
Muntaser Mirkar
Photography : Muntaser Mirkar

Posted on
08 Jun 2012

57,942
Views

24
Comments
Scooters are debuting aplenty and this time it is Mahindra 2 Wheelers' turn again with an updated Rodeo that gets better ground clearance, more storage space, an RZ suffix, and lots of bang for your buck!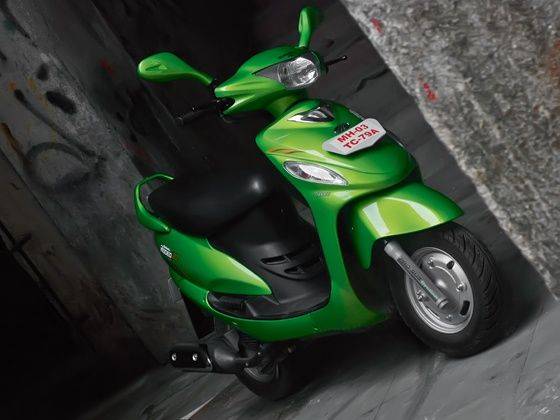 What really is an update? In automotive terms it could mean anything from new graphic decals to a completely new engine – and that's pretty much what manufacturers change on an existing model anyway. Not Mahindra though, because they seem like they're taking in customer feedback and actually reacting to it! Now that itself is an impressive gesture from Mahindra 2 Wheelers and just as they did with the Duro DZ, it is now the Rodeo's turn to get an upgrade. Of course, an upgrade also means getting that quintessential suffix and 'RZ' is what the Rodeo has earned for itself.
The Rodeo RZ isn't something that customers will appreciate immediately though and that's because all the changes on it that matter are things that you can't really notice at first glance. What buyers will make a first impression of though, are the new graphics and that 125cc badge on the front.
The decals themselves are perfectly done – not overpowering and not too understated either. On a completely different extreme though is the inclusion of new colours exclusive to the Rodeo RZ. Now you can choose from this fabulous electric green that you see in our pictures, a pale orange, crisp purple (though our female readers will most definitely have a more specific description of that colour), and of course a black and a white option.
What everyone will not quite notice immediately though are the two things that really improve the Rodeo with this RZ version. The old Mahindra Rodeo had one problem – ground clearance. The scooter was low and would scrape its underbody on even the slightest mutant of a speed breaker or even through some really bad potholes.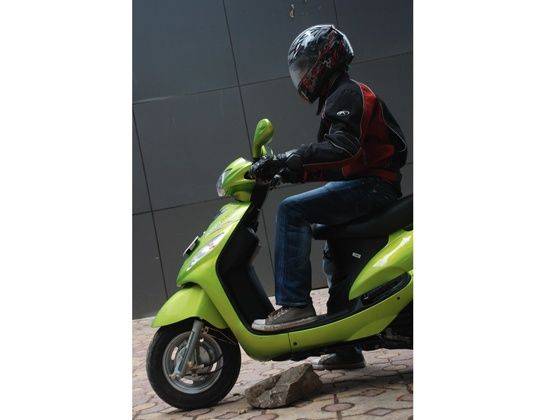 The guys at Mahindra looked into this and with the RZ, the scooter now has 24mm more space under it to easily give obstacles the slip. But more importantly, it's how this has been achieved that is truly critical. The easy option would have been to simply raise the suspension but then that would have meant an increment in the ride height as well and that spells bad news for the dynamics of any two-wheeler.
The Rodeo traditionally has been a scooter that has handled extremely well on road and sacrificing that would have been disastrous. Also, raising the ride height by too much would mean inconveniencing the fairer sex and shorter riders. What has been done on the Rodeo RZ instead is that the engineers have taken a really good look at the underbody of the scooter and shifted all the bits that were mounted really low more into the body than under it. So the stand moves higher up as well as the rear suspension (or rather it's mounting points, we think). The result is a sharp handling scoot that can clear anything that Indian roads throw at it. We even felt the suspension to be a tad stiffer in a good way.
More on this Car

Do you like this story?
Previous Story

Next Story
FEATURED SLIDESHOWS
TOP VIDEOS

Tata Pixel Zero Turn Drive Video
The Tata Pixel concept that Tata Motors showcased at the 81st Geneva Motor Show is a revolutionary...


Coming soon: BMW Bikes in India
Luxury car maker BMW is thinking to re-enter in Indian bike market with high end bikes.