Home

Reviews & Advice

First Ride: Hyosung GT650R EFi
First Ride: Hyosung GT650R EFi
Varad More
Photography by
Kunal Khadse

Posted on
24 Feb 2011

83,247
Views

8
Comments
How well do you think a Korean sports motorcycle can be? We take the 'Made-in Korea' Hyosung GT650R for a spin just about a month before its scheduled Indian debut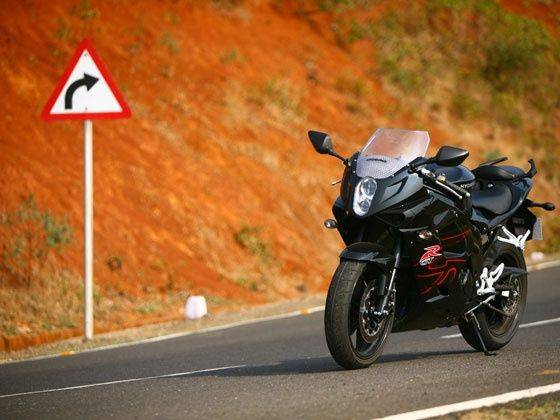 Its one of my favourite set of twisty roads and the notorious left corner infamous for scaring many a bikers is approaching rather quickly than my reflexes are used to. It is an uphill section and apart from the motorcycle I am on, all other settings are more or less same. The Hyosung GT650R that I am riding is climbing fast and is taking corners with a ferocious attitude and there is nothing subtle about its power delivery. It is what you would call, umm… raw or maybe even a little bit rowdy. But for someone who likes pure no-nonsense thrill and excitement, the GT650R brings a lot to the table.
As the tightening corner looms up ahead, I brake hard and expect something dramatic to occur, but the Hyosung GT650R shows no signs of upsetting behaviour or jittery nature. The 41mm upside-down front forks with adjustable damping and compression (but no preload setting) promptly take charge of the sudden weight transfer and the twin disc rotors fitted upfront on the GT650R drop speed with phenomenal efficiency. I soon realize that now I am under-speeding for the corner. Damn!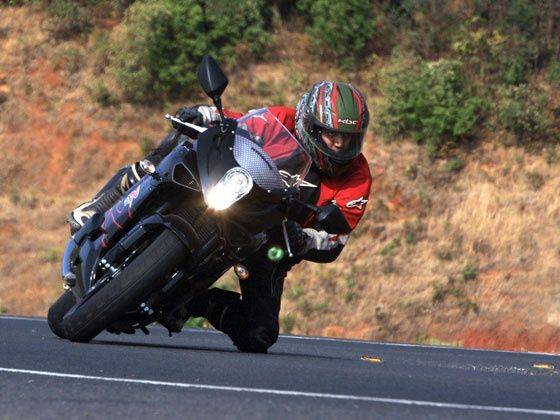 It is the first time that I am riding a 650cc v-twin engine on this stretch of curvy tarmac and the experience is novel and extremely gratifying. The power delivery is smooth and casual till upto the 5,500rpm mark coupled with a rather sweet and smooth exhaust note playing in the background as the bike effortlessly crosses the 100km/h mark without batting an eyelid. But once the rev-counter needle whizzes past the 6000rpm mark, the V-Twin growl turns loud, raspy and angry like a rumble from a battle-tank.


There is a lot of potential and performance lurking inside the Hyosung's fuel-injected 649cc V-Twin engine, which apparently is identical to the motor that powers the super-popular Suzuki SV650. Hyosung started with making motorcycles for the South Korean market under license from Suzuki and the V-twin engine configuration of the GT650R seems quite similar to that of the cult-followed Suzuki SV650. None of the two bike-makers have confirmed if the two models share common parts but on paper it's quite telling. Regardless of whether it's the same engine or not, one thing Hyosung needs to really look into is the fuelling system of the GT650R. The throttle response is awfully jerky with an on/off feel even with slightest variation on the throttle grip. And as the speed increases, the jerkiness due to the fuelling stops being just a twinge and grows to be a major quandary playing havoc with your lines, judgement and hence, safety.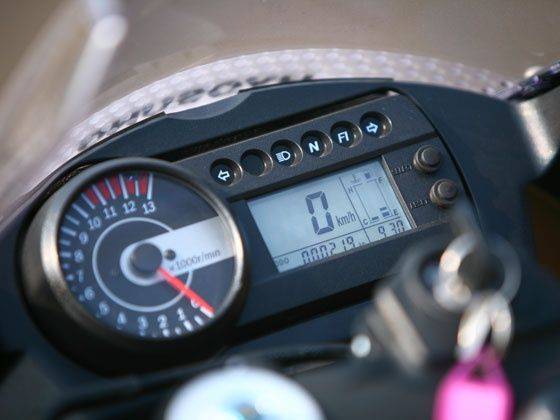 Overlooking the fuelling glitch, the liquid cooled DOHC 8-valve 90-degree v-twin motor of the GT650R seems like an extremely potent package throwing oodles of horsepower and torque for a middleweight motorcycle. It produces best-in-class horsepower figure of 72PS at 9,000rpm and 61Nm of torque peaking at 7,250rpm, which is distributed evenly through the rev-range for good rideability and solid in-gear acceleration. Good in-gear acceleration means strong exits out of the corners and swift overtaking maneuvers through traffic on road without having to go through the six-speed gearbox of the GT650R each time you want to pass a vehicle. The twisty roads are long gone and I am over this open arrow-straight highway doing about 50km/h in sixth gear. I open the throttle with a little more urgency than usual and the GT650R lurches forward with great enthusiasm – just like you would expect a middleweight sports model to perform and nothing short of its Japanese or European V-twin rivals.
SLIDESHOW:

Do you like this story?
Previous Story

Next Story
by Team ZigWheels
Expected: mid-2012 Price: Rs. 1.7-1.9 lakh
by Team ZigWheels
Expected: mid-2012 Price: Rs. 2-2.2 lakh
FEATURED SLIDESHOWS
TOP VIDEOS

Tata Pixel Zero Turn Drive Video
The Tata Pixel concept that Tata Motors showcased at the 81st Geneva Motor Show is a revolutionary...


Coming soon: BMW Bikes in India
Luxury car maker BMW is thinking to re-enter in Indian bike market with high end bikes.