Bajaj Avenger 220 DTSi:Roadtest
With the Bajaj Avenger being the only bike to have firmly held its ground in the Indian cruiser segment over the years, Varad More now looks at the new Avenger DTSi in its latest 220 avatar
In its newest iteration armed with an all-new 220cc motor borrowed from Bajaj Auto's flagship, Pulsar 220 DTSi, the Avenger packs in more grunt and thrust to cover distances with lesser efforts but more thrills. Since its inception, the Avenger has turned heads and it has been one of most gorgeous bikes to have rolled out of the Bajaj factory. In its newest form, there are no amends made to the new Avenger's exterior design apart from fresh graphics but it still retains its confident poise and low-rider persona. The ergonomic triangle of handlebar-footpegs-seat is perfectly designed which makes for a very relaxed and laidback riding position without the rider having to stretch his arms to reach the handlebars. The lightweight aluminium footpegs too are placed correctly to accommodate lanky fellows as well as shorties like yours truly – ideal for the Avenger's intended use to cover distances without exhausting the rider over long hauls. A different aspect of the Avenger is also its versatile nature that is often seen missing in big, burly cruisers. For instance, despite its stretched wheelbase and extended rake with a bulk of 154kg, the Avenger is still one of the easiest bikes to ride in crowded city traffic. This underlines the all-around performance of the Avenger as an everyday bike as well as a trusty set of wheels for long distance touring. Ergonomically, the Avenger has always had the right ingredients – low saddle, wide and raised handlebars and feet-forward peg positioning together give it a true-blue cruiser-like riding posture along with oodles of style.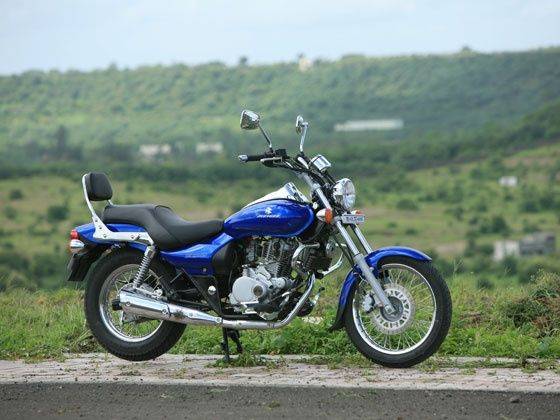 Cruiser motorcycles are very different in their behaviour to the usual sporty street-bikes and everything about these low-slung machines built to leisurely traverse across boundaries is significantly different than their sportier counterparts. The powerful new engine and its throaty groan from the re-configured exhaust system throw light on the bike's new-found vigour and zeal. Residing inside the Avenger's dual cradle frame, the 220cc DTSi engine borrowed from the biggest Pulsar yet, also sports a different engine setup to suit the Avenger's cruiser character. Thanks to this, the 17Nm of torque peaking at 8,500rpm is evenly spread out over a flat curve and it is available on tap from lower down the rev-range as the engine comfortably pulls into triple digit figures without feeling stressed. Slotted in fifth gear, the seamless power delivery from the 220cc engine provides smooth acceleration right from 40km/h all the way upto its top-speed of over 120km/h. This vastly helps in minimizing the gear changes required during riding in bumper-to-bumper traffic and allows the rider to stay in a higher gear for smooth riding experience without having to worry about knocking or stalling the engine.
The TNT 1130R will be the flagship offering from...

A close look at the Benelli TNT 600S,...

We take a close look at the Benelli TNT 600GT,...