New Swift Dzire: First Drive
by Vikram Gour Photography :
Kunal Khadse

Posted on
17 Jan 2012

374,778
Views

29
Comments
With the advent of the all new Maruti Suzuki Swift, it was only a matter of time before the new Dzire made its debut. Vikram Gour spent a day out on the Buddh International Circuit with the new car. Read on to find if it hits the right spots!

Get alerts on new cars reviewed by ZigWheels
A car is an object of affection. While function, practicality and logic do play their part, the drool factor has always played a major role in the decision making process of purchase for potential car buyers are looking for a vehicle that will make them look good, stand out and simply gel with their persona. Having said that, there are a handful of cars that have been a market success based on their merit of being extremely practical purchases. Their looks are not something to write home about, but the vehicle itself has proved its mettle and gone on to become a success story. Such is the nature of the Swift Dzire. When it made its debut around four years ago, one couldn't phantom how MSIL would fit a boot onto a car that was designed to be round. That being said, I am yet to come across someone who doesn't like the car! In terms of numbers the Swift Dzire clocked over 10,000 units a month and MSIL has sold over 3.3 lakh units till date in the domestic market.
With the advent of the new Swift, it was a wait and watch game to see how MSIL would treat the boot on the new Dzire this time around. Fingers were crossed that the designers would pay more attention to detail and design, however they seemed to have walked down a new path and enter the realm that has so far only seen the Tata Indigo CS occupy. That's right, instead of working on a gorgeous rear, the new Dzire has been designed to fit the 4000mm length requirement that the Indian Government has stipulated as the definition in size for small cars and therefore benefit from the additional excise cut.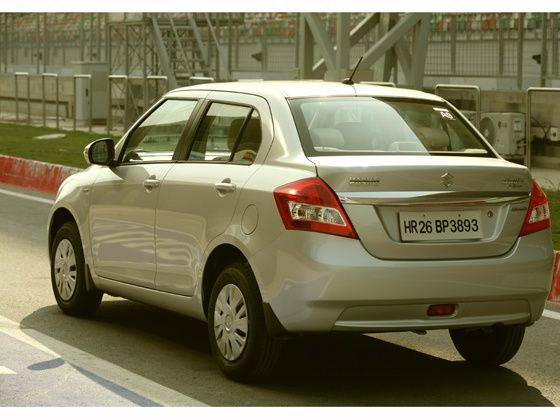 Fitting a boot onto a hatchback that measures 3850mm in length while keeping the overall length of the car under the 4000mm mark obviously isn't any easy feat to accomplish and the designers literally had even less room to play around with. The result of all this tinkering and scalpel treatment is a notch. No, the new car isn't a notchback, but a proper three box sedan, albeit with a very tiny looking boot.
The size is most apparent when the car is viewed from the side and there is no doubt that this is going to take some effort for those looking for a three box car to digest. The design is boxy compared to the rest of the car and the boot sticks out distinctively from the otherwise round sporty lines of the Swift. The factor that does light up the rear are the large tail lamps which now form a trapezoidal appearance and frankly look quite nice, but that is just a consolation prize to an otherwise mediocre design.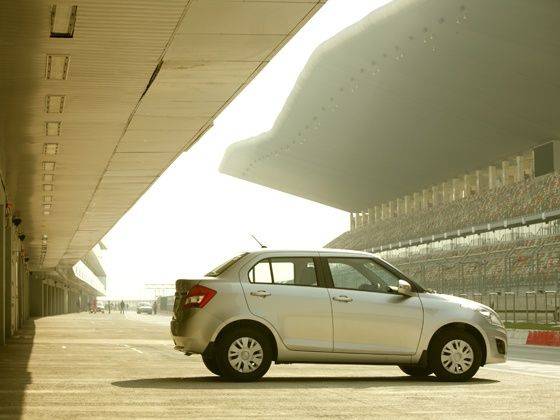 Measuring 3995mm in length, the new Dzire still manages to offer more than its hatchback sibling in terms of space. Despite the truncated boot, it offers 316 litres of trunk space, which is over 100 litres less than the outgoing model. While this does take away slightly on the whole practicality aspect, the new Dzire is still a decent purchase for those looking for a no nonsense entry level sedan.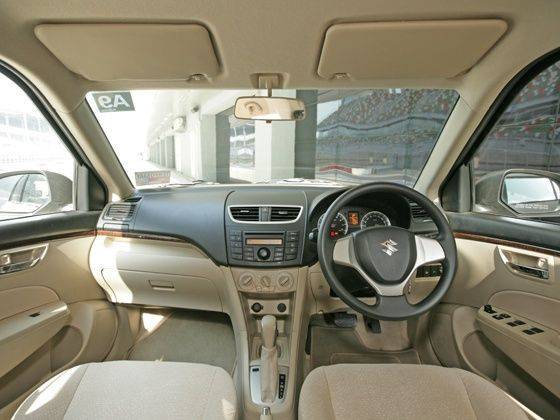 The Dzire is based on the new Swift so it gains from the fact that interior space has been optimized for passenger comfort. Moreover Maruti Suzuki has packed the Dzire to the hilt with goodies which includes a dual tone dash, integrated stereo on higher models, climate control air conditioning as well as a host of safety features such as front dual SRS airbags, ELR seatbelts, ABS, Brake Assist, EBD and an Engine Drag Control system.
SLIDESHOW:
More on this Car

Do you like this story?
Previous Story
FEATURED SLIDESHOWS
TOP VIDEOS

New Mercedes-Benz S65 AMG: Official Video
The Mercedes-Benz S65 AMG is for those who want to travel in style and luxury without compromising...


Datsun recently took the wraps off the all-new GO+ MPV at a world premiere event in Indonesia