Nissan Teana Cars (2 Variants )(54,392 Views)
Ex-showroom Price :

21.63 to 25.48 lakh in Delhi Change City
| | | |
| --- | --- | --- |
| Upside | : | Space, Comfort |
| Downside | : | Exterior styling |
| Our Verdict | : | The Nissan Teana is a no nonsense car that will get you around in reasonable comfort |
Help us to improve ZigWheels!
Report us if you find any issue in the accuracy of data or simply have a suggestion to share.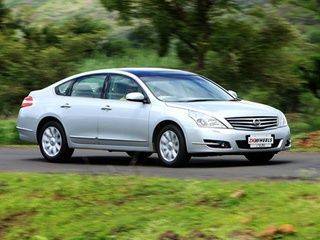 Loading image. Please wait
Editor's View : Nissan Teana
The Nissan Teana is a D segment entry level luxury sedan that competes against the likes of the Honda Accord and Toyota Camry. Imported to India by Nissan, the Teana is a well appointed sedan that is comfortable and offers a plush ride, however its exterior styling has not left an impact with Indian car buyers who prefer a car that is more flashy and robust. Powered by a neat 6 cylinder petrol engine, the Teana also offers decent performance and is a great car for corporates.
Download Nissan Teana Brochure

Click here to download Nissan Teana Brochure
Our Coverage on Nissan Teana Cars in India

Double whammy for Japanese SUVs and luxo-barges on its way as Nissan prepares for sharpened focus on the Indian market.

Purpose is pretty much the awareness in cause and effect linking for achieving a goal, whether human or machine. The all new Nissan Teana that you see here is pretty much made to serve a purpose as well. While on the outside it might appear similar to its predecessor, the new Teana is a completely new breed all together. But does it have what it takes to woo the Indian fatcats away from the Teutonic domination? Abhishek Nigam finds out...
OTHER CARS FROM NISSAN


22.57 to 26.96 lakh


4.30 to 6.53 lakh


55.00 to 56.00 lakh

USED TEANA LISTING
@ Rs. 775000; Kms:42200
@ Rs. 900000; Kms:65208
@ Rs. 1200000; Kms:46000
@ Rs. 20000; Kms:46300
@ Rs. 950000; Kms:47500
Free Price Quote for
Nissan Teana