ZigWheels Exclusive: Interview with Siddhartha Lal, CEO, Royal Enfield Motors
by
Adil Jal Darukhanawala
Photography:
Kunal Khadse

Posted on
25 Sep 2013

21,458
Views

7
Comments
With none other than Siddhartha Lal, the ever enthusiastic CEO and driving force behind Royal Enfield as Adil Jal Darukhanawala gets him all animated about motorcycles, Royal Enfield, Continental GT, future prospects and what have you in no particular order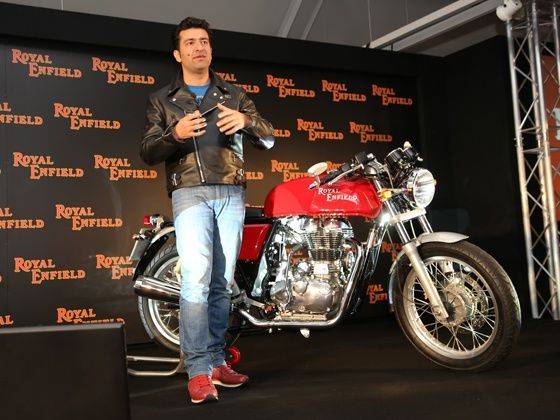 Adil Jal Darukhanawala: Three years to the time when you first displayed a cobbled-up concept of a cafe racer at Auto Expo 2010 and even then you got zapped by the response. What took you so long in coming that too with a fast bike; I don't mean three years but the first all new Royal Enfield in over 60 years?
Siddhartha Lal: Yes it is relatively a fast bike and is based on our existing engine platform but other than that everything is new from the ground up. We wanted to make it a really well handling as well as a solid bike to that extent so we did a lot of work on the engineering. We got Harris Performance who has been doing chassis for Grand Prix bikes for 50 years now but he is the ultimate authority for Café Racers as well. So we went to him and worked with him very closely to get this really good handling bike out.
AJD: You don't seem to have done anything by half here and I think that shows very crystal clear because motorcycling is all about tactile surfaces, different materials and by and large I have always maintained one thing that if a bike looks good or a product looks good it also invariably is good. I think it stands true for this bike of yours, I think you got it bang on first time out.
SL: Well thanks Adil, I think it is a huge compliment and of course it's been people like you who have been supporting us and believed in us even sometimes when it was difficult. We have absolutely spared no expense when we have conceived this product. Royal Enfield doesn't come out with a new product every now and then as you know already.
So when we do that we make sure that we do it properly and every single point of development of this motorcycle we made sure that we put in whatever it takes to come out with a perfect motorcycle whether it was working closely with Harris but it wasn't just about Harris. It was the fact that we took years of engineering in the ride and handling, we went to tracks and roads around the world to make sure that it really works very well.
SLIDESHOW: Royal Enfield CONTINENTAL GT FIRST RIDE

We take the Royal Enfield Continental GT, the much anticipated cafe racer, for a quick spin in the UK. Here are some pictures to feast your eyes on

Do you like this story?
Previous Story

Next Story

Sign up for our customized BIKER newsletter today.
FEATURED SLIDESHOWS
TOP VIDEOS

Yamaha Tricity: Official Video
Japanese two-wheeler giant Yamaha launched its innovative three-wheeler scooter, Tricity in Thailand


Yamaha Revstation: Teaser Video
Yamaha has released this teaser video showcasing the soon to be launched production version of the...