Super bikes graze the Silver Screens: An Overview
by
Rahul Basu

Posted on
19 Oct 2010

2,295
Views

Comments
Here's a look into how Superbikes are securing their place on today's Silver Screen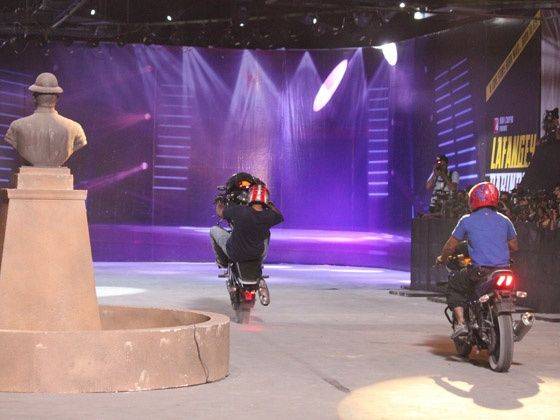 If there's one thing that Bollywood films are never devoid of, it is the glamour quotient that only seems to be growing with every new film that makes it to the theatres these days. Fast cars and beautiful women seem to just fit in ohhhh so smoothly, regardless of what the script of the movie essentially talks about. Keeping that in mind, it should come to you as no surprise when I say that Bollywood films off late have very consciously added high displacement Superbikes to their GQ kitty, thus ensuring the glam sham in their films only rises in popularity.
Now it's quite safe to say that true car and bike fans around world choose to believe that they are averse to the gossip and unending musicals that come with Bollywood movies. Even the action scenes seem so exaggerated time after time with some hero always dodging a rain of mistimed bullets. But since the start of the Dhoom revolution, bikes and Bollywood suddenly seem like distant relatives, now seeking to bond once again.
Celebrating this connection in the limelight of the recently released Lafangey Parindey, the latest in a series of Bollywood films with bikes and motorcycles playing a part in its storyline, we here at ZigWheels have decided to dedicate an exclusive feature to this new transformation in Indian cinema. Read on to find out which Suzuki Superbikes were used in which recent Bollywood movie, the bike that Neil Nitin Mukesh used to perform stunts in his latest starrer Lafangey Parindey, and finally, for those who thought stunt biking was something left unattempted, read on to find out why we think otherwise...

Do you like this story?
Previous Story

Next Story

Sign up for our customized BIKER newsletter today.
FEATURED SLIDESHOWS
TOP VIDEOS

Yamaha Tricity: Official Video
Japanese two-wheeler giant Yamaha launched its innovative three-wheeler scooter, Tricity in Thailand


Yamaha Revstation: Teaser Video
Yamaha has released this teaser video showcasing the soon to be launched production version of the...