New Hyundai EON : Exclusive Feature!
First instance of action in the cut throat low end entry level car segment is almost a revolution with Hyundai throwing style, substance, space, performance and fuel efficiency to take on the Alto...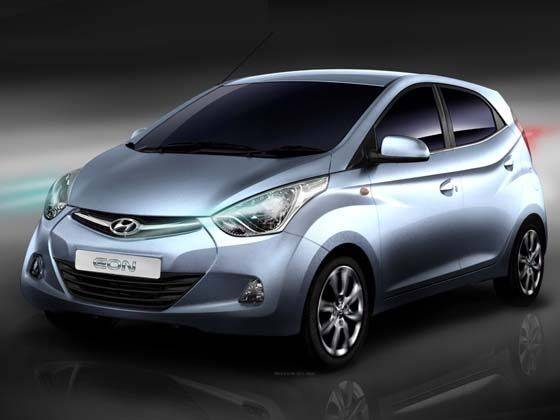 It is close to 14 years to the day when Hyundai opened its innings in India with a tall boy smallie to present not just its first car in the India market but also to present the first major challenge to Maruti Suzuki's domination of the peoples' car segment. Both Hyundai and Santro were unknown names in the Indian market but with some nifty marketing backed by sound engineering and design, the quirkily styled Santro helped establish the product and the brand in the minds of the Indian motorist.


Fast forward to the present and Hyundai is now an established and genuine number two car maker in the country, having a varied portfolio which still features the Santro as its entry level offering. Though long in the tooth and having seen two to three upgrades over its existence to date, the Korean car maker realised that it needed to dip into the segment dominated by the Suzuki Alto with an all-new car and try and take a slice of this pie. So far the Alto has been a runaway success for Maruti Suzuki, and deservedly so, given its make-up, reliability, performance and pricing. What is surprising is the fact that it took so long for other car makers to see the Alto carve out such a strong and wholesome niche and then try and address it with a rival of their own. Now with development time for an all-new product taking three years at the very least from concept sketch to production, one must hand it to Hyundai for having seen this earlier than others and developed an all-new, India-specific automobile which is the best way to describe what is a unique price-specific product needed for the entry level segment in India.


Brings us straight to discussing the price point of the new vehicle which should be on or about the Rs 2.5-lakh ex-showroom sticker tag for the base Alto. Hyundai would have worked out what it had to do with a brand new modern design to try and engineer it not just to the pricing of the Alto but more importantly, allow it to deliver more in terms of style, occupant space, performance, fuel efficiency than the established segment leader. Thus was born Project HA, which saw not just Hyundai's design and development centre at Namyang in Korea do most of the work, but the fact that Hyundai's Hyderabad-based R&D centre also pitched in massively to firm up a product which is fresh and appealing and also meets most requirements in this class of small car in India.


The pictures here are of the exact production version of the Hyundai Eon, as the Project HA offering it will be known as when it is unveiled in India in the coming month. The writing is clear: the new Hyundai is a stunner with substance to boot, as I discovered during the course of an exclusive half an hour session driving this small Hyundai at the firm's Namyang test track. In one fell swoop Hyundai seems to have re-written a new chapter for entry level small cars and it is here in the Rs 2.5 lakh to Rs 3.0 lakh space, where most entry level buyers are to be found searching for their first spanking new automobile. While the Tata Nano may be cheaper, the Indian consumer is looking at better value, more substance and style rather than just focus on pricing. And in this era where every detail counts, the Eon should be the one which could ignite an all-new and more meaningful race in this segment.


The Eon is built on a completely new platform which has no bearing on the ones used before, either for the Santro or the svelte i10. What clearly denotes the Eon is its stylish exterior with hints of Hyundai's fluidic design language showing. It is no secret that trying to style a small package is much more difficult than a larger sized hatch or saloon. But with the Eon, the Hyundai design team has really pulled out all the stops and emerged with a package that is fresh, contemporary and appealing. Casey Hyun, the Australian-born Korean who headed the design team, was clear in his mind that style was as important as the interior detailing needed to prepare a product which had to stand the test of time in a class which would see newer competition arrive sooner rather than later.
HYUNDAI EON: Exteriors & Interiors
Price hike will be across entire range by up to...

BMW has issued a recall of 16 lakh units of its 3...

After Tata Motors, the Indian tyre manufacturer...