Honda shows off CRF250L [w/video]
by
Varad More

Posted on
01 Apr 2012

18,720
Views

4
Comments
Honda recently showed a new model from its 2012 line-up, the CRF250L, which is based around CBR250R's engine and has all the right ingredients to be a good beginner off-road machine, including a competitive price-tag and it could possibly hit the Indian shores soon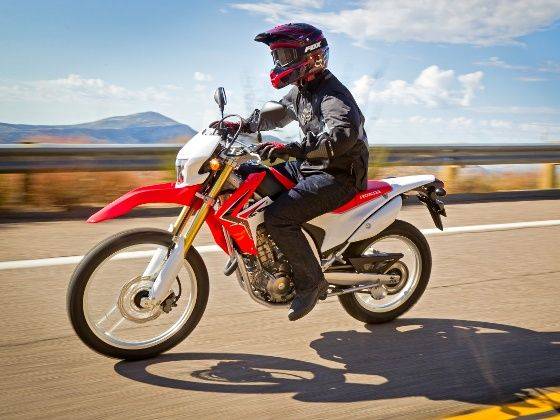 The big news from Honda is that the Japanese bike-maker has recently showed off an all-new motorcycle in the form of the 2012 Honda CRF250L, for some of its international markets. To read between the lines, it is based on the CBR250R engine and has a form that is highly suited for our Indian roads. If you wished that the Hero Impulse had a little bit more firepower, then the CRF250L is what you meant. Powered by a healthy 250cc single cylinder liquid-cooled fuel injected motor borrowed from the CBR250R, it is mildly re-tuned and makes 22 horses with stronger mid-range grunt that is much needed for off-road riding. The CRF250L is a budget off-roader for newbies but smartly carries the design cues found on Honda's high-end off-road motorcycles from the CRF range.
In order to keep the price for the CRF250L under check, Honda has smartly traded certain components like instead of employing aluminium beam frame, as found on the elite crop of CRF machines – the 250L uses a steel item. The suspension bits too are not meant for extreme off-road use but do a great job at usual commutes as well as some basic off-road use thrown in like trail riding as well as some air time. Much like the Impulse, the CRF250L too, if launched in India will cater to a niche market but will be a great option for the touring junta which has been waiting for a worthy 250cc on/off-road machine for quite some time.
Currently put together at Honda's Thailand facility, it will be competitively priced and if Honda decides to take the CBR250R way, it might just think about making the bike in India too for local as well as it other export markets. Certainly, the CRF250L will not rake in large numbers for its maker, but it will definitely help in brand promotion, getting the purist on its side as well as establish itself as a serious company with a strong first mover advantage in this segment.

Do you like this story?

Sign up for our customized BIKER newsletter today.
FEATURED SLIDESHOWS
TOP VIDEOS

Here is the exhilarating clip of the 2010 BMW S1000RR being tested at the Portimao Racetrack in...


Bajaj unveils its new Pulsar 200 : ET Now Reports!
Bajaj has unveiled its next generation Pulsar 200 for India and has slated its launch sometime...