Hero-EBR developing 250cc sports bike
by ET

Posted on
21 Nov 2012

47,983
Views

4
Comments
Hero MotoCorp along with partner EBR is developing a 250cc sports bike that is scheduled to be unveiled at the 2014 Delhi Auto Expo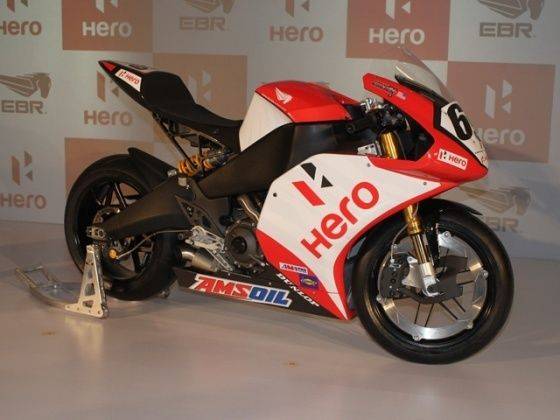 Almost two years after breaking up with Honda and with the erstwhile Japanese partner now fast and furiously on its trail, Hero MotoCorp is pulling out all stops towards unveiling its first indigenously-developed motorcycle - an all-new 250cc sports bike - at the next Auto Expo in 2014.
The motorcycle is being developed in collaboration with Hero Moto's American technology partner Erik Buell Racing (EBR), two persons involved with this closely-guarded project who did not want to be named told ET.
One of those persons added: "Hero is determined to showcase to the world its capability and competence in bringing world-class products with superior technology on its own in quick time. It is currently working on several models ranging from low-engine displacement to higher-powered motorcycles and scooters. However, the first bike on a new platform to hit the market will be a 250cc motorcycle."
A group of young and highly-skilled engineers from Hero Moto's R&D centres in Gurgaon and Dharuhera have been stationed at the EBR centre at East Troy in Wisconsin, US for the past several months, and are working very closely with EBR engineers on this project, the persons close to the project said. The high-powered 250cc bike with cutting-edge technology and next-generation styling has been jointly conceptualized, designed and developed by Hero and EBR engineers.
"While the initial development is being done at the EBR centre, the complete development and manufacturing of the bike will be done at Hero's plants in India," said a source.

Do you like this story?
Next Story

Sign up for our customized BIKER newsletter today.
FEATURED SLIDESHOWS
TOP VIDEOS

Yamaha R25 Concept: Official Video
At the 2013 Tokyo Motor Show, Yamaha unveiled a concept parallel-twin, 250cc bike called the R25...


Ducati 1199 Panigale Superlegerra: Official Video
The Ducati 1199 Panigale Superlagerra is the latest flagship motorcycle from the stables of the...