All new Kawasaki Ninja 250R revealed!
by
Abhishek Nigam

Posted on
02 Aug 2012

75,917
Views

11
Comments
The best selling 250 in the world just got better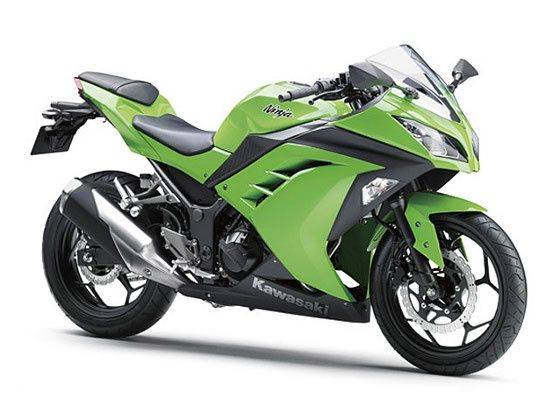 While the 2008 Kawasaki Ninja 250R was a significant upgrade from its aging predecessor, its mechanicals were largely unchanged making the bike more of an upgrade rather than an all new bike. But one look at the 2013 bike and you know this one is anything but an upgrade. The revised bodywork makes it look more like its much bigger sibling, the ZX-10R. The 2013 Ninja 250R sports sharper, more angular bodywork with larger, slotted air vents. To match all that jazz, the new bike finally gets fatter 140 section rear tyre.


And its not just the exteriors. The Kawasaki Japan website claims the 2013 Ninja 250R has an all-new DOHC Parallel Twin with new pistons, cylinders and crank cases. The new design aims to give the Ninja 250R more torque in the low to mid ranges. Kawasaki redesigned many of the major engine components, adding a larger oil pan and anodized pistons. The chassis is beefed up as well while rubber bushings further cut down vibrations. A suspension upgrade has been carried out as well to go with the other updates.


With the CBR already the ABS option, Kawasaki has left no stones unturned either and the new bike from Team Green will be available with ABS option as well. Kawasaki also informs that the new ABS control unit is the worlds smallest yet and will provide amazing stopping prowess. There is no news on the launch yet, but expect this bomb to make its way on Indian shores by 2014. Keep watching this space for more!
More on this Bike

Do you like this story?
Previous Story

Sign up for our customized BIKER newsletter today.
FEATURED SLIDESHOWS
TOP VIDEOS

Here is the exhilarating clip of the 2010 BMW S1000RR being tested at the Portimao Racetrack in...


Bajaj unveils its new Pulsar 200 : ET Now Reports!
Bajaj has unveiled its next generation Pulsar 200 for India and has slated its launch sometime...