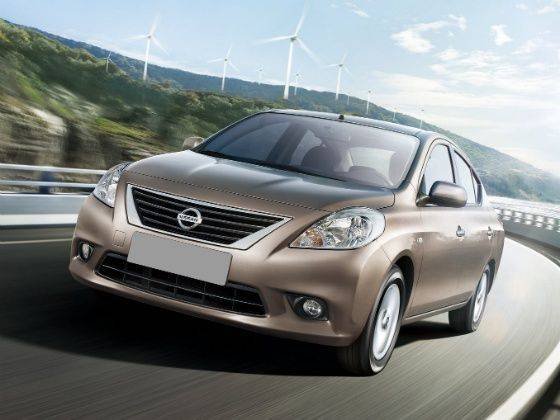 The Nissan Sunny has been in the market for a couple of years and has been highly acclaimed for its cavernous space and fuel-efficient diesel engine. Although quite a large car and offering high value for money, the Nissan Sunny has never really been much of a looker. The new face lifted Nissan Sunny will make its Indian debut at the 2014 Indian Auto Expo to be held in Greater Noida between the 7th to the 11th of February 2014.
The new Sunny will feature styling features based on Nissan's new styling direction with a split V shaped grille and a generous helping of even more chrome. The new 2014 Nissan Sunny is slated to go on sale soon after the Auto Expo and will be priced similar to the current Sunny. The new Nissan Sunny should be unchanged in terms of its biggest attraction, its range topping space and will come with both a petrol and diesel engine option.
The new 2014 Nissan Sunny might also be equipped with the 110PS 1.5-litre DCi diesel engine with the 6-speed gearbox that does duty in the likes of the Nissan Terrano alongside the standard 85PS 1.5-litre DCi diesel engine that it currently comes with. The 2014 Nissan Sunny will also get a 1.5-litre petrol engine that will come equipped with both a manual and Nissan's recently launched CVT gearbox.
We can also expect a few upgrades to the interior of the 2014 Nissan Sunny as seen on the likes of the 2013 Nissan Micra. We expect the same gloss black look to be used in the Nissan Sunny giving the car a slightly more upmarket appeal. The Nissan Sunny might also get the new infotainment system from the Nissan Terrano, which comes equipped with a large colour display and satellite navigation as compared to the traditional infotainment system available today.
The 2014 Nissan Sunny, will go up against the likes of the newly launched Honda City, the Hyundai Verna, the Maruti-Suzuki SX4, the Volkswagen Vento, the Skoda Rapid and the Reanult Scala. The Renault Scala, Renault's badge engineered version of the Nissan Sunny is not due to get any visual upgrades soon. Read about Nissan's entire 2014 Auto Expo line-up here.