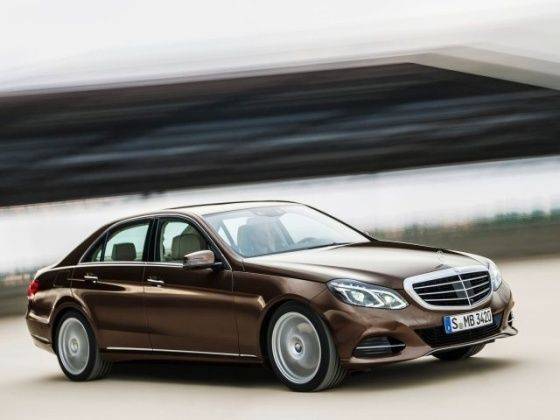 Mercedes-Benz is all set to launch its refreshed 2014 E-Class executive luxury sedan in India on June 25. The new model features exterior styling changes in the form of a restyled bonnet with gentler curves, a bigger grille, a new front bumper with bigger air intakes and new single unit headlamps that replace the earlier angular dual light setup that was a trademark of previous generation E-Class. The side profile of the car remains the same essentially apart from the new alloy wheels. Around the back, the new Mercedes E-Class gets a restyled bumper and new LED taillights.
The interiors of the car have also been reworked with a new two-part trim which stretches across the entire dashboard and can be specified with a wood or aluminium finish. The gauges and meters in the instrument cluster are now put in three separate circular dials. The clock is now an analogue piece that is placed between the centre air vents. The centre console has also been redesigned to give it a more luxurious finish.
The 2014 Mercedes-Benz E-Class is fitted with a host of safety features that also feature in the latest generation all-new S-Class including features like a stereo multi-purpose camera, collision prevention assist and attention assist to make the new E-Class safer than ever before.
Engine options for the new E-Class are expected to remain the same as the current model, however, they have been tweaked for optimum performance and efficiency. The four cylinder petrol engines now get a dynamic balancer with full anti-friction bearings. The engine also uses a stratified lean burn process in combination with exhaust-gas recirculation for better driveability and economy. Some of the diesel engines will be available as BlueTEC models fitted with the established SCR (Selective Catalytic Reduction) technology in order to meet Euro 6 emission norms.
The new 2014 Mercedes-Benz E-Class is expected to be priced marginally higher than the current E-Class that retails between Rs 39.27 lakh and Rs 78.82 lakh (ex-showroom Delhi).
Also Read: Mercedes-Benz E-Class facelift to be launched in India