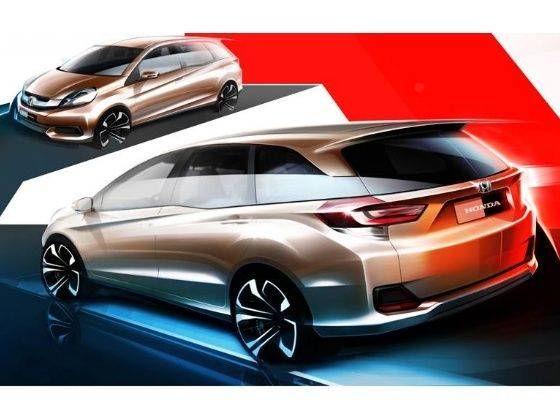 For decades India has been dominated by a preference towards hatchbacks over all else, but more recently, that has changed. The Indian buyer is now more attracted to small SUVs for their bragging rights (mine looks bigger than yours), and MPVs for their immense practicality. We also love our brands and while most people will go for a cheaper tag both initially and as far as after-sales costs are concerned, we'd all love to own a badge that we can proudly declare among friends. When you end up marrying the two concepts together though, you could end up with a hugely successful vehicle in the Indian market. And that's exactly what Honda seems to be on the verge of doing.

Unveiled in Indonesia recently is the car you see here – or at least sketches of the car it's finally going to be. While final details on the MPV are still 'sketchy,' the vehicle will be debuting at the Indonesia International Motor Show later in September and there it will sport a 1.5-litre gasoline engine. Of course, there seems no way that this vehicle with its 7-seater configuration and 3 rows of seats will fit in under a sub-4-metre length which means that the 1.5-litre petrol engine could very well be borrowed from the City. Expect a 1.5-litre oil burner alongside as well in India though. Also Read: Honda to replace power window switch on 2nd-gen City sedan

A good look at the design shows that this new Honda MPV built for Asian markets will be based on the Brio platform. The front end has been given a once over though, with a more aggressive face put on. There is lots of bulk all around the car including character lines, creases and flared wheel arches. The roof line is slung low which also gives the MPV a more sporty posture. All that length has been wonderfully camouflaged with simple, yet tasteful design elements such as the kink in the windows. The D-pillar seems particularly interesting though with its floating member like design that ends in a smooth curve halfway to the boot.

Unfortunately, this is all they have shown about the car yet and expect more news on this vehicle in the coming months. The car should ideally be making its India debut at the 2014 Auto Expo in Delhi next year, but stay tuned around end September so we can take a look inside as well. The car should have enough space inside, but whether it gets a flexible seating option like that in the now-discontinued Jazz is something we will have to wait and watch.