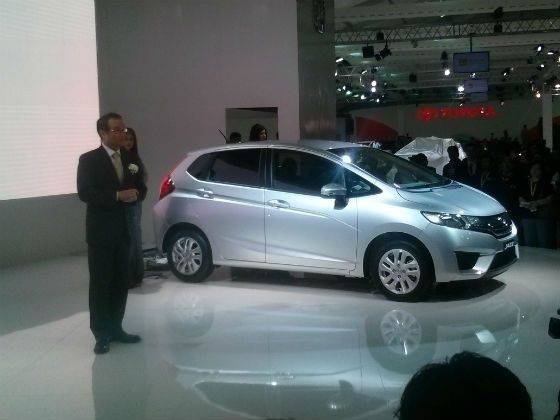 Leading manufacturer of premium cars in India, Honda unveiled the stylish new MPV Mobilio and the third generation Jazz at the 2014 Indian Auto Expo. Both the cars are scheduled to be launched in the Indian market during 2014-2015. Developed exclusively for the Asian markets, the Mobilio features sporty styling and a spacious cabin with a seating capacity of seven in a three row configuration. At first glance the front end of the new Honda Mobilio appears quite familiar to that of the Brio as they share the same headlights, bonnet and bumper design. The Mobilio gets a larger front grille with a more prominent chrome bar running along the centre. The bumper gets a new faux air dam at the bottom while the fog lamps remain the same as those on the Brio. The side profile of the Mobilio features aggressive design cues some of which are borrowed from the Brio itself.
Around the back, the Mobilio has a curved tailgate with an angular recess for the license plate in the centre. The rear windshield has been designed to give the tailgate a pillar less look. Honda also showcased the third generation Jazz for the first time in India. In the Jazz, Honda has developed the original design even further incorporating flexible cargo capability and a fun-to-drive characteristic and of course refreshed new looks. Aside from these two models that are set to come to India soon, as a world premiere HCIL unveiled the Vision XS-1 – a concept of a new crossover. This new concept is based on their Man Maximum, Machine Munimum philosophy. Honda claims that in this new concept they have got the amalgamation of two different values, that of exterior styling and ample of space in a compact sized car.
The Japanese car maker also had the famous NSX Concept to flaunt their Sport Hybrid SH-AWD (Super Handling All Wheel Drive) system that features a mid-mounted direct injection V6 engine, a dual clutch transmission with two motors – one internal high efficiency unit as well as a electric motor for each front wheel. The fourth exhibition model on display was the Accord Hybrid that sports the SportHybrid i-MMD (intelligent Multi-Mode drive). With this technology, Honda aims at developing a good combination of an enjoyable driving experience without compromising on fuel economy. The Honda Acoord Hybrid will slot against the already launched Toyota Camry Hybrid. Aside from all of therse, HCIL also showcased all their production currently on sale including the entry-level sedan Amaze, hatchback Brio, premium SUV CR-V as well as the all new City.