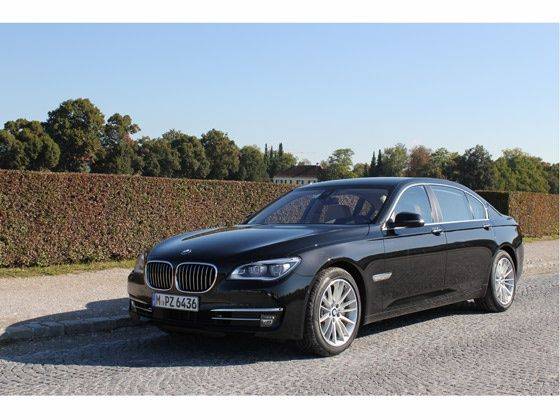 The current BMW 7Series available in the market is soon going to be replaced by the newly enhanced model, which essentially is a facelifted version of the fifth generation car. Unlike the wide portfolio offered in other markets, BMW India will only introduce the 730Ld, however a petrol engined model can't be ruled out for a later launch in the year.
Visually, the major changes to the BMW 730Ld have been focused on the front and these include the new LED headlights, new kidney grille, revised front bumper, side indicators incorporated on the bottom of the ORVMs and a thin chrome strip connecting the two slim reflectors in the rear apron. Apart from that, the 7 Series retains its quintessential chiseled styling and proportions including the long hood and set back passenger cabin. Interior changes are limited and the only visible ones include the narrower front seats and a new 1,200 watt Bang and Olufsen high end surround sound system with 16 speakers. Incidentally, BMW decided to narrow the front seats in order to offer a more airy feel to the cabin.
Powering the BMW 730Ld is a 2993cc, in line 6 cylinder diesel unit. The engine itself is not new; however it has been tweaked for overall performance and enhanced efficiency. Fitted with a turbocharger, variable intake geometry and piezo injectors, the engine now delivers 258Hp @ 4000 rpm as opposed to 231 horses earlier, and torque has also gone up from 520Nm to 560Nm which kicks in as low as 1500rpm. Unlike the earlier car, the new car is now mated to an all new eight speed automatic with steptronic and is capable of going from 0-100km/h in 6.2 seconds, which is approximately 1.7 seconds faster than its predecessor!
Quintessentially pinned against the Mercedes-Benz S-Class, the 7 Series (Read: New BMW 7 Series First Drive) will have to battle it out against the Audi A8 and Jaguar XJ as well. With all the cars being as accomplished as one another, the choice for a fancy set of wheels is only going to get tougher! Set for an early 2013 debut, the new BMW 730Ld is expected to be priced anywhere between Rs 87-95 lakhs, ex-showroom, Delhi.