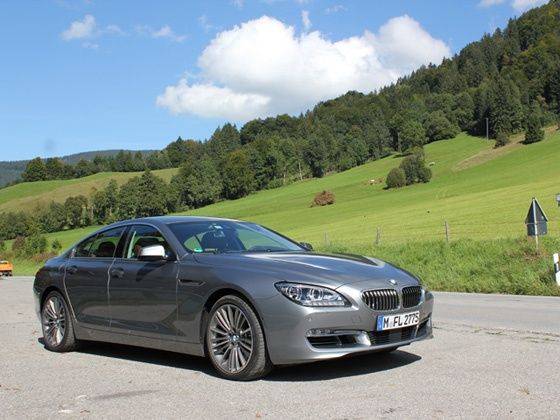 BMW is venturing into a bold new marketplace with their first ever four door coupe, namely the 6 Series Gran Coupe. There isn't an iota of doubt that BMW is bullish about the prospects they intend to achieve with this new car for it does offer a formidable combination of being the perfect offspring between an all out sports car and a luxury sedan.
The new 6 Series Gran Coupe will further augment the 6 Series range which at present includes the Coupe and Convertible models. Boasting of elegant lines and a sporty demeanor, the Gran Coupe is a visual treat and commands a solid presence in quintessential BMW fashion. Incidentally, the Gran Coupe comes fully loaded with a host of gadgets and gizmos-some which entertain and others that work towards passenger comfort and safety.
For India, the 6 series Gran Coupe is set to debut with a 2993cc diesel motor. The TwinTurbo 6 cylinder diesel unit offers 313PS @ 4400rpm and a solid 630 Nm of torque between 1500-2500rpm. According to BMW, the diesel is no slouch for it manages the 0-100 km/h sprint in 5.4 seconds! Mated to an 8 speed auto 'box, the 6 Series is said to offer a rather engaging drive experience thanks to the linear power delivery that the drivetrain offers.
While the 640d is the only model confirmed for the Indian market at this time we can't but help speculate about the possibility of a petrol engine joining the ranks in the near future. Internationally, petrol engine choices on the Gran Coupe include a large 4.4 litre V8 and a 3.0 litre V6. Our heart is set on the V8 which is capable of churning out 450PS @ 5500rpm and generates 650 Nm of torque between 2000-4500rpm and we are keeping our fingers crossed on that front.
As compared to its Coupe sibling, which measures 4820mm in length, the 6 Series Gran Coupe has been stretched by 187mm to 5007mm, and the wheelbase is now 2968mm as opposed to the 2780mm wheelbase of the Coupe. These changes free up enough space for a nice rear bench which BMW claims can seat three people; however, from the looks of it, the BMW 6 Series Gran Coupe is a 2+2 seater at best.
Judging by what we've seen on paper so far, The 6 Series Gran Coupe is possibly the most desirable BMW sedan yet! Set to debut in November 2012, the BMW 6 Series Gran Coupe (Read : BMW 6 Series Gran Coupe First Drive) is expected to be priced close to Rs 1 Crore.