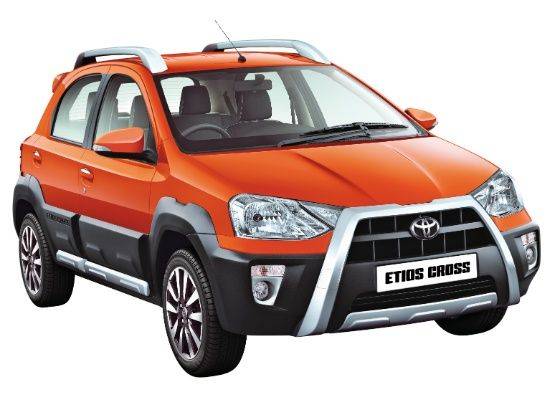 Toyota has unveiled the Etios Cross at the 2014 Indian Auto Expo. Like the new Corolla Altis unveiled yesterday, the Cross too will be launched in May. The Cross is essentially a Liva hatchback with chunky body cladding. The Etios Cross will compete against the VW Cross Polo and the Fiat Avventura. The Cross Polo hasn't done well for VW as it is priced at a premium to the standard models so we hope Toyota doesn't follow in VW's footsteps in the pricing department.
The Cross is the third variant style of the Liva hatchback adding to the standard model and the TRD Sportivo Liva. The Etios Cross has plastic body cladding all around, grille guard, new alloy wheel design on larger 15 inch wheels, roof rails and a roof mounted rear spoiler. Toyota has done the smart thing by providing the Cross with all the engine options in the Etios Liva hatchback and Etios sedan line-up. These include two petrols – the 80 PS 1.2-litre unit and the 90 PS 1.5-litre unit and also the 1.4-litre 68 PS diesel engine. But unlike the standard Liva model, the Cross will get fewer variants with more features as standard. This include a 2-din audio system with USB, Aux-in and Bluetooth connectivity and a leather wrapped steering wheels with audio controls.
The Etios Cross should be priced between Rs 5.5 lakh to Rs 7.5 lakh depending on the variant. Any higher and it will be a steep price to pay for a car that is mechanical just an Etios Liva underneath. The hatchback and the sedan as is, aren't doing as well as Toyota would have expected when they launched these products. The plain-jane styling is to be blamed for the underperformance and although the Japanese carmaker has tried to spruce up the car with a refresh, it hasn't done wonders for it. As a result, Toyota has opted for the variant route to offer slightly different focused cars – the TRD sportive for example for the performance oriented buyer and now the Etios Cross for those looking for a rugged small car.