Confederate unveils P51 Combat Fighter Motorcycle
---
Only 61 limited edition P51 Combat Fighters will be built, each uniquely designed for its owner. Priced between Rs 76 lakh and Rs 79 lakh, the P51 Combat Fighter is designer Pierre Terblanche's last work for Confederate, before he joined Royal Enfield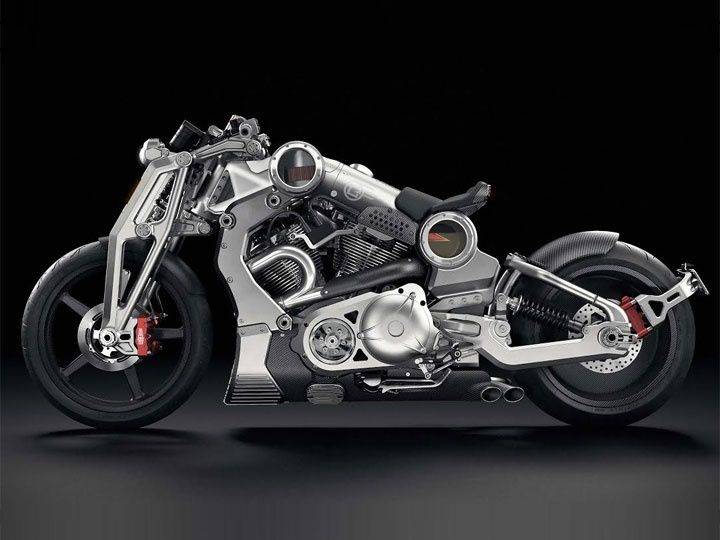 Confederate Motors has unveiled the second generation Confederate P51 Combat Fighter, said to be inspired by a raw, rebel spirit of the American Way.
Powering the P51 Combat Fighter is a 2,163cc V-Twin engine, which makes over 200PS power and a massive 230Nm of torque, mated to a five-speed transmission.
What's unique about the P51 Combat Fighter is that it's built on Confederate's new CX4 architecture – a lighter, stronger version of its drag racing system, and made entirely of 6061 aerospace billet aluminium. Weight is kept relatively low at just over 226kg, thanks to the extensive use of light aluminium alloy in most parts, including the whole frame, engine cases and heads, girder fork and swingarm.
And that's not all. The rear wheel is solid-disc carbon fiber, matched to a five-spoke carbon fiber front wheel. Front suspension is a double wishbone girder set-up while the rear is conventional. At the highest point of the frame, the air filter element is housed in a box with transparent sides. The fuel tank too gets similar see-through treatment and is located under the seat.
Only 61 P51 Combat Fighters will be built – in two colour combinations. Thirty one in the colour of raw machined aluminium called 'blonde' and 30 other anodized in black. The price tag is set at US$ 113,900 (around INR 76 lakh) for the 'blonde' and US$ 119,500 (about INR 80 lakh) for the black. And each motorcycle will have custom bits designed uniquely for its owner.
What's important for India however, is not that this Confederate Combat Fighter will get any buyers in India, but the fact that the P51 Combat Fighter was designed by legendary motorcycle designer Pierre Terblanche. And it was one of his last designs for the Alabama-based Confederate Motors before he moved to Royal Enfield.
Terblanche is also responsible for designing several Ducati motorcycles, including the Ducati Multistrada 1000S (2006), Ducati Hypermotard (2005), Ducati ST3 (2005), Ducati 999 (2003), Ducati SportClassic series (2005) and the Confederate X132 Hellcat Speedster (2014).
Now, Royal Enfield hired Terblanche late last year and so far, we have yet to see any of his designs on Royal Enfield bikes. The upcoming Royal Enfield Himalayan has not seen any contribution from Pierre Terblanche, according to a Royal Enfield official. If this P51 Combat Fighter and other creations are any indication, the future for design at Royal Enfield seems quite promising indeed. We are waiting…