Tata Altroz Overview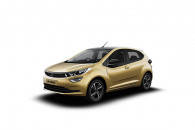 Altroz User Reviews
All

Mileage (24)

Safety (22)

Looks (20)

Comfort (19)

Performance (12)

Engine (12)

Gear (9)

Power (8)

KMPL (5)

Service (5)

Experience (5)
4.7

Tata Altroz, The Gold Standard...Tata Altroz is the company's first venture in premium hatchback segment. This is safer and packed with features let's explore Ththis Gold Standard Car....×Design The design of the Tata Altroz doesnot resemble any car till now. Th e looks are given as a part of 'Impact 2.0' that is the design language followed by Tata Motors. From front the position of the fog lamps are seen a little above the regular placement. Even though the car gets projector headlights, they are not LEDs. The tripod stand like grill slots look appealing. This design is followed somewhere also.From the side we have certain elements to note. The piano black finish for the ORVMs and the positioning of turn indicators to the body are some of them. The rear door handle also have been moved to the C pillar. The 16 inch alloys looks well proportionate to the car.Towards the back side we can see the blacked taillights. Like I said above the rear end is also distinct with its cutting edges.Getting in is not a task at all. The doors open widely at 90° making it even easy for older people.The interior have a floating touch screen infotainment panel surrounded by an ambient light setup. Automatic AC controls below it and certain ports like the USB& AUX ports.The car have a semi-digital instrument cluster. Analog speedometer & digital tachometer and other informations. The seats are supportive and offer a good support. They also have a tripod base shaped arrangements on them. Both the front and rear seats have rear armrests. Also like the i20, this car also have rear AC vents. The boot is practical to have luggages for a family trip. You can also flip the back row seats fully to expand the luggage area. No 60:40 splitting is possible.×Driving and comfortThe car is powered by a 1.2 liter revotron petrol engine and a 1.5 liter revotorq diesel engine both are BS6 complaintand are mated to a 5 speed manual gear box no automatic till now but will be released in coming dates.The petrol motor gives 85hp and 113 nm, its a three cylinder engine. But despite being a 3 cylinder mill, the engine is punchy enough to pull the car due to its light weight This motor is seen in the nexon also. The diesel motor is a 4 cylinder one seen in the nexon. But it is detuned to 89hp and 200 nm this is the kingmaker 'the gold standard' as said by Tata. This is a punchy motor since the torque output is got from a very low RPM, this is peppy enough and enthusiastic to drive. On my drive I got a mileage of 16-18 kmpl for diesel.Both these engines have two driving options City& Eco. No sports mode, don't know why Tata avoided it. The mode selector is seen behind the gear lever. This mode. hanges the theme from blue to green.Top trim also gets cruise control setup.The suspension is good enough but you can feel the comfort when you glide over a pathole. Brilliant work by Tata engineers.×InfotainmentThe car is packed with Harman's 6 speaker system.The floating touch screen is easy to use compared to previous Tata cars. The sound quality is brilliant and is class leading. You can customize the theme colour as your wish.×Variants Altroz is available from base xe, xm, xt, xz& xz(o) . The car also packs with various options that includes factory fitted customisations they are Rhythm,Style,Luxe& Urban. These options are available on various levels.×Safety Tata means safety this car scored 5 stars in global NCAP being the second Indian car to scor it and the first car in its segment to score so. The company packs the car with 2 airbags ABS& EBD as standard. ×For whom is this car???If you want your family to travel in comfort& safe. Then you can choose this car. If you are an enthusiastic driver and all you need is a diesel hatchback then you may go for this car. Because this is the only car in its segment to offer a BS-6 complaint diesel engine.×Comparing with competitorsMaruti Baleno, Hyundai Elite i20, Honda Jazz, VW Polo are the main competetors.Comparing with them we see that Altroz is stronger than Baleno and its diesel engine is excellent, but coming to petrol baleno scores the more.The i20 is the feature rich car here it also have Hyundai's reliability and offers a 6th gear that its rivals misses. The 1.4litre CRDI diesel and 1.2litre petrol engines are also appreciable. Honda Jazz may be the car with lower specs. But the magic that honda does with its petrol mill is something that none can match with.VW Polo is the synonym of sportiness inthis segment its diesel engine having a nice performance too. But taking care of a VW car is a bit tasky. ×VerdictThe Tata Altroz is a car that a common man can buy it is sufficiently powerfull (diesei motor), and the best in safety. It also offers segment first features like floating screen& ambient lighting

4.3

Completed 7500 kms in my altroz petrol xz. the only problem i found is with the engine because it is a3 cylinder, need to rev almost to 3000 rpm for the vehicle to accelerate in city mode, in eco mode power is reduced by 10 percent which makes it more laggy. but the comfort is unbeatable, corner stability is top notch, steering is light at low speed and gets hard in high speed which makes it more easy to control and very precise. music system is the best in class(harman kardin audio) and mood light makes it fell like a luxury car at night. the high beam height cannot be adjusted but it gives a very long throw so it is reasonable,lowbeam is projector and bright enough. im 6ft tall i can sit comfortably both in driving and backseat and it has more space compared to its rivals. brakes are crisp comes with abs nd ebd and makes it stable while driving. overall im really satisfied with the car and no others can beat it at this segment

2.7

Please don't go for TATA product. I have purchased altroz XM model, this doesn't come with remote key which is one of basic feature required to the cars. While booking we were given false assurance by Tata delealer that this car comes with remote key. Now if we go for aftermarket remote key product, car warrenty will lapse so, I am waiting for Tata accessories but not sure how long it takes. Regarding this I contacted Tata company and dealer, they are not sure when they will release this accecery. Also, now my car completed only 90kms and it started giving jerky motion (intermittently) in 2nd gear. Problem with brand new car!!!I purchased this car/brand to support make in India product but now I realized that I wasted my hard earned money.Guys think twice before investing your hard earned money on this brand.

5.0

Having owned the vehicle for last one month and after driving it for 1000 km, I can say I am delighted by this car. It always put a smile on my face. I am getting mileage of more than 20 on highways when I switch on eco mode with cruise control. Overall I have got mileage of 16 so far which is a very good mileage for a petrol car.I think its a really Gold Standard as its being advertised.Its not yet perfect though, the car is a bit lazy in first and second gears which is expected for a naturally aspirated engine. Some revving will be required to overcome the shortage of torque. If somebody is not aware this or want better low-end torque, better to go for the diesel variant or wait for the turbo variant.

3.7

There is a special problem observed in my tata altroz - first time case - november 2020car on ignition starts showing oil, Engine and battery signal on dashboard.Car will not start and you need to call tata rsatata arranged a mechanic and a toweing vehicle to tow my car in 2 hours as soon as crane arrived, Mechanic was able to start the car and drive it as normal second case - feb 2021same issue, Car dashboard shows oil, Battery and dashboard signal car unable to start tata arranged a towing vehicle and took it to service center when it reached service center, Tata service men was able to start the car normally and drive it in and tata don't have an answer to this behavior.
Altroz User Reviews