Royal Enfield Interceptor 650 Overview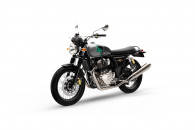 Interceptor 650 Alternatives
Interceptor 650 User Reviews
Performance

Comfort

Features & Styling

+ 2 more
Preferred For : Daily Commute & Tours
44% of users have given a rating of 4.5 and above
3.0

It's mileage is very bad but it's made like a gun🔫, May i talk about its top speed, Then i would just like to say that you can shove it as much as you have the capacity, And the control is tremendous.

5.0

So far so good.I really enjoy driving my bike.Its bit heavy but still manageable.Feel free to ask any questions if you may have.

4.2

After six months of purchase most comfortable bike in this range, No vibration heating is not any issue but rusting issue in side lights and some parts

4.2

I bought this bike last year in june.I am happy with the performance.Comfortable ride, Excellent pick up and power, Excellent stability, Robust bike.

5.0

Nice bike for long drive 👍And I need for my tour and personal work thanks for..
All Interceptor 650 User Reviews
4.6

I'm very happy about RE INT 650. This is my second bike. First I had a 2003 model Bajaj Caliber 115. So it was a good update for me personally. When heard about this bike I was not at all impressed and never had the plans for a RE. Because I was very disappointed about the bikes of RE without any update & also by other owners who disgustingly modifying the bike (just the new colour schemes only). Two engines and 6 models & one new engine for Himalayan. I like Himalayan but I didn't had plans to own that also. So I only loved to own a Triumph because of the brand's fit & finish and I've met so many owners & not even a single owner spoke an issue about the bike. I love classic bikes which won't show too vintage specs & want some electricals. But I was not able to afford a Triumph at that time and I usually saw 650 Twins in internet. So I just checked the specs and capabilities of this bike and I contacted RE for a test drive. First time I just rode this bike it was Mind-blowing. Why I enquired about this bike is, it almost look like a Triumph Street Twin. I'm a great fan of Street Twin. But 650 Twins lacks most electricals. It have a dual channel ABS as standard and that's it. The power delivery is very linear because it doesn't scare the rider. It can climb upto 120 easily without any hesitation. After that me personally can push upto 140KMPH after that I'm not able to push, because I don't get that much confidence for that. But it has very less vibrations compared to other REs. Whoever rode my bike in my friend circle said that whether this is a RE or what?!!. They were just impressed with the Twins. The stock exhaust is just lovely. I own a Ravishing Red colour. That's a cool colour. The touring capability is just awesome. I didn't felt any issues of backpain or burning ass. But I feel some wrist pain even after a short ride in city traffic. Don't know whether it's my riding problem or what. Because only my left wrist will get hurt after a ride. I'm working on that. No heating issues in city traffic. It's a 650CC engine and it heats as usual. But it won't affect our riding. My pillion is very comfortable in the Twins in the city traffic and I never toured with a pillion. I don't have much knowledge in Luggage carrying capacity, because I will tie a travel bag on my rear seat when traveling alone & I'm okay with that. Things I don't like in the Twins are I'm disappointed with the tube inside the tubeless tires. Triumph also have spoke wheels for their T100& T120 and runs tubeless. RE can do that in Twins but they won't. I won't ask for an alloy because spoke looks really perfect for the bike and it should run tubeless. I didn't go for any aftermarket accessories for my bike it's been a year I'm with my bike and rode around 9k KMS and waiting for the service centre to open (due to lockdown) for my 2nd service. Rust came at the connection of bend pipe to engine (both sides) and some rust like defects inside the left exhaust baffle. The fuel gauge is not accurate, you have to get used with the fuel meter because I think it may show the reading correctly after riding for almost 10-15 mins and that's not good for a bike pricing like this. The instrument cluster is very basic. RE could add a clock and gear shift indicator also, because RE Himalayan even have a compass so why don't 650 Twins have?? The front and back fendors looks metallic but it's of plastic. The bike wobble horribly at the speed between 80-90KMPH above & below this range it works just fine. Don't know why this happens because I took it to RE's ASC and they fixed it for me at first, but after 6k kms it again wobbles. You will feel the wobbling only when you release hands from the handle, but don't release handle bar fully. Just release a little and you can feel it & if you keep it steady it will go steady. These are the things I want to share about the bike. I hope I covered everything about the bike and it helps others planning for the bike. Even though I really really LOVE My INT 650 TWINS but have some suggestions to RE to make it bit more good. The issues I raised above can be fixed by the service centre itself and it doesn't bothers you much. I'm not a fan of Royal Enfield, but I'm with the 650 TWINS😍.

4.2

Riding my classic 350 was a great experience. I used to cruise on it and most of the times the torque, the seat the engine were all adequate. Then came the interceptor and it just took one test ride to realise what I was missing. On 27 Nov 2018 my satisfied life just turned upside down and got intercepted by the interceptor. I booked it then and there as I had no other way of achieving nirvana again. I booked the ravishing red colour but changed it to Orange crush as that was being delivered faster. I was told a waiting period of 120 days (and nights). Time was passing by I was riding my classic 350 as usual and having a jolly good time dreaming about my very own interceptor. You tube kept me sane as there were plethora of interceptor videos available to keep me occupied. On republic day I was going about my business as usual and I got a call from cruiser motors Dwarka that my interceptor is on its way and should reach by 27th Jan. I was pleasantly surprised and we decided that at 1400 hrs on 27 Jan,19 I will upgrade to interceptor. The PDI went well. After doing all the formalities I finally got the key at 1600 hrs. I rode it back happily. I was instructed to use only extra premium/ speed petrol and never to fill the tank to the brim. Keep tyre pressure as 32 in front and 36/39 in rear. Also not to ride the bike more than 75-80 for first 2000 kms ( lot of patience needed). I have been using it for daily 38 km commute to office and on weekend around city drives and a few tours of three to five days/1500-3000 kms. I have completed 9000 kms ( boy, have they been good!!). I have following observations -:Pros1. The bike is butter smooth. It has negligible vibrations.2. Engine delivers power in a smooth manner ( ps: its no KTM 390or even apache 300).3. Great road presence.4. Very relaxed engine ( due to low compression ratio of 1:9.5) 5. Absolutely no heat issues even in exteme bumper to bumper traffic. Just a warm breeze on your legs. It does misses on low speed in very extreme traffic and hot conditions due to engine heating.6. An all-rounder bike. Excellent on highways and quite manageable in city.Cons1. Rider footpegs have an ergonomic problem. ( It takes time to get used to).2. Tank feels a little thin to hold.( Solutions are available, keep reading to find out mine).3. Seat is absolutely pathetic. Even in city ride of 18 kms/ 30 mins it is uncomfortable. ( Got it modified from karol bagh. Added a little foam next to thighs, and got a pillion raise and guess what, My footpeg and tank issue went away to quite some extent. ( Now I can live with them).4. The clutch gap keeps increasing on its own. ( The clutch wire is touching the meters console and every time you turn the handle right it rubs and rolls resulting in automatic movement of clutch adjusting screw next to lever) FIX- tighten the screw to the max and adjust the clutch gap full and final from adjustment screws on the crank case.5. Two massive silencers keep geeting scratched especially the left one. Innocent auto walas especially do that.Service cost1. Got the first service done at 501 kms.2. Only oil change and basic checks and adjustments.3. Took four hours for service.4. Total cost : Rs 2675 only.5. Next service at 10000 or 1 year whichever happens earlier.Milleage. Overall 25 kmpl. Best 32 and worst 18.8 ( with normal fuel) otherwise 23 (with extra premium).

4.2

Braking. Driving position is good. Standard seat is hard for long drives.Pillion seating is not comfortable because of elevated foot pegs. Heating is little bit in high city driving conditions. Suspension is bouncy making thud noise in little bad & Very bad roads . Suspension is Very Good in highways. Interceptor is definitely not a zero vibration bike. It is creating vibration in foot peg areas , Side of the fuel tank & Minor development started in handle bar area. Fuel gauge is improper/inaccurate it shows error reading we have to manually check by opening the tank. Engine RPM some times improper in idling glides up & Down.Heating in engine is tolerable it bakes our leg. in highways also. Latest happenings in my INT 650 i had problem in T-Stem i took it to the service center they replaced with , New T-Stem , Front Struts , Front Rim , Abnormal Engine noise was prevailing in my INT 650 All 8 Engine values changed on warranty . Still excessive engine noise is in my bike & bonus whistle sound intolerable. I have again informed the RE service. They assured to sort it out. The INT 650 is still a beta product . We should go to mediation course to control our patience. But riding pleasure is good. Today On 25.09.2019 my bike crossed 7000 km. The engine noise is abnormal still waiting for RE to sort our. My rear ABS is not functioning properly 60 % ineffective. Serviced the rear brake twice . Still problem. The surprise is RE is hesitating a lot change parts in warranty. It drags the issue for weeks .Pushes the customer frequent visits to workshop. RE has to sort out , Value noise & Clattering noise in INT 650. The front suspension & T-Steam is not strong enough .I have crossed 10,000 km now the engine noise is under control , in 10,000 km service . Rear brake is adjusted & Pads changed still ok only. RE is ready to change the caliper assembly if defective. Now a days RE is providing a very good service support. Now my bike has crossed 15500 km. I have now purchased extended warranty for 5th & 6th.

4.6

The interceptor 650 is what you need for a daily commute or be it a 1000+kms touring with your biker group.It has enough mid range punch to take you all the way till 170+kmph.Not a single drop of oil leak or vibes at idle speeds.And no need for downshifts the power delivery is spread right across the rev range across the 6speed gearbox with a light slipper clutch.If you are a cruiser between 80-120 it gives you back a decent gas mileage of 28-29kmpl of you are a revholic then it bottoms to as low as 20kmpl.It's the best package with a ton of fun without a doubt.I have clocked about 14000kms with basic services at 1000 and 10000kms no major cost to date.Build quality is excellent like a tank, It takes all the bad roads, Potholes decent suspension but not a track like handler although you can mod the suspension settings for hard rebound damping for better handling.Og seats are hard so i got it changed to a gel seat with hd foam which is a plush comfortable tourer seat.It's the best twin engined 650 cc in 270 degree crank that makes a sweet exhaust note that's symphony to the ears.Silken smooth engine and reliable gearshifts.I can't help contain my words for the interceptor this is the best bike to come in the last 30yrs in india.Cheers.Gasngear.

3.8

Positives: The bike has a good retro look. The headlamps have sufficient throw when dark. The engine is eager to move and is versatile - you can ride it both in a relaxed manner as well as in a sporty manner. The ride height is comfortable and getting on and off the bike is easy. The service interval is 1 year and charges are reasonable. Fit and Finish is good. Minor Negatives: The instrument cluster is very basic - it should have had a clock and gear position indicator. The bike is heavy to move around in a parking spot. The footpegs come in way while manoeuvring the bike at low speeds or in slow moving traffic. The bike is wide with exhaust on both sides and care needs to be taken in traffic. Seat is good for short rides - not so good for long rides.Overall, it is a very balanced and well made bike. One will enjoy the ownership experience. Royal Enfield can make this bike better by bringing small upgrades such as a clock, gear shift indicator and better seats
All Interceptor 650 User Reviews