Royal Enfield Himalayan Overview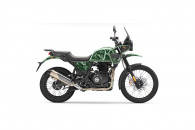 Himalayan User Reviews
All

Comfort (27)

Performance (12)

Mileage (11)

Engine (11)

Looks (9)

Experience (8)

Service (8)

Seat (6)

Power (5)

Maintenance (5)

Parts (5)
4.6

I have clocked 1680kms on my himmy and i can cross my heart and say i am simply in love with the motorcycle and her characteristics.I test rode a few motorcycles before pulling the trigger on the new 2021 himalayan, I like to go fast but the himalayan made me realise how long can you actually go fast in indian roads? i still manage to happily cruise at around 110-120 without breaking a sweat, Once you understand the motorcycle's quirks she will put a smile on your face everytime you ride her.Not the fastest adv out there, Nor the tech savvy, But when you make her climb the twisty mountains she will ask you to wring the throttle harder.She gets more punchier if you are on higher altitude say 5000ft+, The ecu engine mapping is really smart and aces in managing heat, It's simple and beautiful.Durable and trouble free i rode her hard sometimes and even dropped her once in a trail it's so sturdy that nothing broke, Not even a scratch just the mirrors came loose.A machine to fall in love with.

4.6

The bike is highly comfortable for long tours with a very good luggage carrying capacity. Pillion comfort is also very good compared to other bikes. It is good for off-roading, but the weight is an issue. Slightly less easy to manage in heavy traffic compared to other bullets and street bikes. But anyone planning to buy a Himalayan or any other RE, please ensure to find a good quality service centre because that is a very big issue with RE. I am a victim of a bad 1st service from Intrepid Works, Marutharoad, Palakkad (from where I had taken delivery of my bike), which almost destroyed my bike. Luckily my bike has recovered from its bad condition after the last two services (from PVR works, Kallekkad, Palakkad and RE Brand Store, BTM Layout, Bangalore) which were done properly.

3.0

I owned a bs3 model and used it for 4 years.I have had love and hate relationship with it like many owners.The main problem for me was frequent quality issues.It's a headache to maintain it and you will be spending good once the bike is out of warrenty.Battery issues was persistent and doesn't matter what i do, The bike won't start if i don't use it for a week.Finally i had enough and i sold it.As for the performance, It is good for calm relaxed riding.Anything above 80kmph is vibey and kills the mood.(personal) i gotta say the riding posture is one of the best i ever experienced and j love the relaxed position and comfort it offers.Iam not sure about the bs6 version.Make sure you rest drive it good before purchasing.

4.6

This has to be the most value for money bike. It has great ride comfort, ergonomics and is an affordable adventure tourer. You will also enjoy this bike in daily commutes.Loads of accessories both from Royal Enfield as well as from Third Parties are available to make your experience rich. Fit the Aluminium Panniers made available by Royal Enfield and the bike becomes a head turner.Minor Negatives: Temperature Display not accurate. Tall bike for short riders - perfect for tall riders. Engine leaves you wanting for more power - but then the power to price ratio is great.If you are looking for a comfortable bike that can go anywhere and do anything, whilst not costing a bomb, then go for Royal Enfield Himalayan

4.2

If you Maintain it,you would get bestest performance experienced by riding it.Never try to alternate the exhaust part that is most understandable reason for why you are not getting a good mileage.Do services in correct timings and if you feel any single bit of uncomfort on your bike(ie.screws or bolts get loosen up due to heavy vibration that would happen especially when you are tripping on long rides or off-roads,some weird sound over front side of engine,abs light stays on during a ride,etc)you must get the bs4 beast to service station.Remember More you maintain the beast,the more you will love the beast to the core.!
Himalayan User Reviews