Maruti Wagon R Overview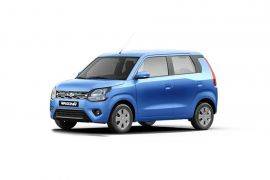 Top Competitors of Wagon R
Maruti Wagon R User Reviews
1457 Rating &

514 reviews
Mileage

Performance

Maintenance Cost

+ 3 more
Comfort

Safety

Features & Styling
Preferred For : Family
30% of users have given a rating of 4.5 and above
1.7

The car do look like a box ,there is nothing glamorous about the car even the new version are becoming uglier generation by generation .Do not give comfort of even sitting for someone of height 6 ft .The boot space is so less (yeah! Yous hould be like what do you want for that price) but yes the dashboard parts continously hit your knees ,not comfortable at all still I am not talking about the rear seats they are even worse ,engine sometimes gets dead during the shifting of gears (Not only me I have seen every driver struggling on that).There is no safety measures in the car( My uncle once met with accident in our car fortunately he was thrown away from the car when the car fall into a ditch ,if he was not he surely had died ,the car was turned into a heap of metal junk ,there ia not even body skeleton it was like when a kabadiwala come to your house for garbage and he crush everything to be fitted in his bag ,the car was no less than it..Hope they pay attention to safety features and add some air bags and body skeleton to the car .Yes suzuki car are meant for mileage ( we have seen ad on like "kitna deti hai" ) but seriously not only mileage counts plus don"t make it like a box .

4.3

HiI bought WagonR 1.2 VXI on 17 Mar 19.It is best in design and features for the value you are going to spend.Earlier I owned WagonR 1.0Comparing to that this was much much much better.Performance: picks up immediately accelerator response is amazing.Suspension: no jerk or jumps in high wayCabin noise: Excellent work by Maruti. No outside noise in cabinCabin space: very spacious and comfortable 5 seater carMusic: Excellent work again. Great experience with music player and default speakers. I have added 2 JBL speakers in back it adds more to moving music.Features: steering wheel control gives comfortable drive with balanced music and phone calls with touching your mobile or music player.Instantaneous mileage provides you to maintain a better mileage of your car. In high way it gives 24.5 at the speed 80~100.Over all worth for money.Thanks to Maruti.

4.3

I bought this car on end of the april2019. for my holidays spending i driven 3000 km in a month. Car was quite good. And looking , spacious. I mostly drive rural and hill sides of kerala. My version was 1.0 l vxi. For a middle calss family this is affordable. And old age parents get in and get down very easily. On hiways i got 19.7 kmpl on traffic time. Up to 3000 km running (included 4000 ft) hill station ride i got average on 18.5 kmpl with ac. Only one thing i dont like well the engine noise will hear inside the cabin and rest of all i am happy with wagon r 2019. Sreemanikandan v.kKerala

4.3

वैगन आर एक बहुत ही आरामदायक और मेंटीनेंस में बहुत ही अच्छी कार है ,इसके रख राखव में बहुत ही कम खर्च आता है ,इसको किसी भी प्रकार से प्रतिदिन उपयोग में लाया जा सकता है ।और सुरक्षा के मामले में बहुत ही अच्छी है।

5.0

We bought it second hand in the year 2006 from a dealer who didn't tell us who the previous owner was? We don't know about the pollution compliance of the vehicle. It took us more than 6 months to get it registered in our name. Now during renewal of car insurance this year , the pollution compliance was asked which can be told only by the original dealer or owner.My query is how to get the name of original owner of the car? And the pollution compliance of the car.
All Wagon R User Reviews
4.3

Good head space and comfortable driving

3.0

Good Wagon for family, need good seats for better drive and it must be of Japan standards

3.7

Comfortable and fuel efficient car.

4.0

Best product of maruti Very low maintenance cost Suggest always to take wagon r if thier budget is near about 4-5 lakh ..very best car

2.7

Just ok still working More enough
All Wagon R User Reviews