Mahindra XUV300 Overview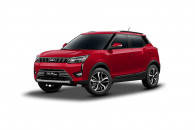 XUV300 User Reviews
All

Comfort (31)

Mileage (27)

Performance (21)

Power (18)

Safety (15)

Looks (13)

Engine (12)

Experience (12)

Space (10)

Price (9)

Lights (8)
1.0

I purchase xuv300 in 1st nov'2020.18th of nov i am driving from pune to nagpur with my wife along with 2 year kid.At mid of jangal my both alloy wheel driver side was broken picture was attached.Then i call road side assistance (rsa).After 3 hour of struggling with them they send pickup vehicle after that we request pickup driver that please drop us to amaravti because we know so many relative there but they are not listing our request and drop us akola at outside of city along with family 9:30 pm then we call rsa for help but they simply told us they are unable to arrange and suggest us do by yourself ( at outside of city with family with on one around us ).Then we do some expanses ( 500 local transport + 3500 hotel + 1000 food + 500 local transport ) on next day while reaching show room we got surprise that they have no alloy wheel at their stock.After so many request they arrange only one alloy wheel.During installation they bring me at local tires shop for tires changing charge and those shop keeper charge me 500 after instillation of alloy wheel they demand money then i told them vehicle was new, Under warranty and most important insured then they told me for insurance you have leave your vehicle for 1-2 days.Also they are update me that i am not able to clam this amount after leaving from showroom ( amount 11000).I am very much surprises they are not update my before doing thisi don't know what i say but now and after i am very much worry while driving xuv300 along with family specially going outstations.

1.3

My xuv300 w8 petrol model is 2 year & 2 month old and so far traveled 18000km only.On ill & ungrateful day while driving on yamuna expressway car suddenly stopped.There were no indications on dashboard before hand.Engine temperature & coolant level were ok.After arranging toe vehicle i took my vehicle to nearest mahindra service center at etawah.There after 2 days of diagnosis technical staff observed that one valve of cylinder-1 is missing and cylinder-1 piston is damaged badly (photo is attached).Service center team took up this matter with mahindra team.After 10 days mahindra team concluded that "exact root cause can not be confirmed however it seems to be due to some particle came on the piston and caused this damage".Matter ended with open ended diagnosis.Mahindra has not accepted that engine got failed due dislocation of valve or metallurgical failure of valve.How can engine of 18000km old car fail like this.Engine parameters like coolant level and temperature were normal.There was no sign of water ingress into engine.Ultimately i have to buy new engine for my car worth around 1.7 lakh.As i would never again in my life buy a mahindra car after this kind of bad experience and i even regret buying one.Mahindra should do through analysis of this incident.It is either design defect or metallurgical failure.Why should a customer suffer because of the mistake of your design defect or metallurgical failure.

2.3

From chennai on 31/12/2020 brought xuv 300 w6 petrol at anna salai in india garage.Very worst product from mahindra especially xuv300 w6 petrol model.My phone number 984****157 maheshkanna from chennai if any doubt contact me.I am regretting to the high that my 10.34lak get vained.Xuv300 w6 petrol car driven only 700kms within that got brake issue.I found when i am crossing 60kmph and above.At that speed if i am applying the brake in a normal way are sudden i and my co-passenger can notice a whole-body vibration.I complained the same to poonamalle service station in chennai.From the service station, The service technician is not well trained to diagnose the issue.They took 1 week and with that lot of test drive i refilled petrol for 1500 rs from my wallet.Me and my family not satisfied tell now.I believed mahindra yes it's my first try for the brand.Even though most of them didn't suggest to go with mahindra.Previously i owned maruti alto k10 which is value for money.Now will be first and last for this brand.I am going to fight with my ability yes i am educated.Should show how consumer power is.I will.

4.7

Its been a year since we have experienced the XUV 300 W6. I drive this car smoothly on highways and enjoy the ride between 80 to 90kmph. A few times it happens to be 100kmph but I limit myself. In the city, this is very comfortable and manoeuvring into narrow roads. We have short gears between 1 to 3 so I feel the bumper to bumper traffic is not that easy of going. The auto start/stop option is excellent and practical for life. Cabin space is as much as a jumbo meal. Boot space is okay for our family of 4 members. I do not compare the boot with Creta or the Venue/Sonet/Nexon since I bought it because I like this after my test drive of W8 optional. I recommend purchasing the W8 variant.

3.3

Team mahindra, This is reference to my vehicle no.Hr51bw2593, Rc no.Hr1923955, Engine no.Etkzb26303, I would like to mention that the said vehicle has some problems on 21.12.20 and immediately i have visited to you on 21.12.20your sales team have informed me on 28.12.20 that the engine of the vehicle has been badly damaged and reparing is the only solution.First you please inform that how the engine got damaged of a new vehicle of a giant company like mahindra.Secondly please let me know that if you open the whole engine then who will buy the vehicle if i want to resale in the future.Your prompt response in this matter will be highly appreciated.
XUV 300 User Reviews