Honda WRV Overview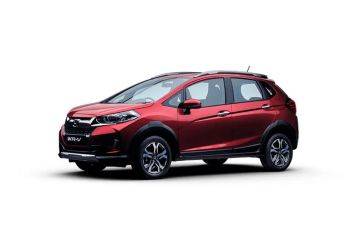 Honda WRV User Reviews
Mileage

Comfort

Performance

+ 3 more
Maintenance Cost

Safety

Features & Styling
Preferred For : Daily Commute & Family
50% of users have given a rating of 4.5 and above
1.0

I from Pune and owner of WRV Petrol SMT Model,Whereas I totally disappointed by WRV Pertrol performance and its Pick up issue Specially in Slope/Ghat section, In traffic situation ..I repeatedly check with my dealer on same from First Month of Purchase to Till Date (Since more than half year)..but still they does not provide any solution and now it fustrating situation for me. Previously I owned the Honda Brio and based on its performance I like honda to consider to go for WRV model also I have shared my requirement at the time of purschasing with Sales Team as well including Safety Feature and Performance ..Whereas they recommanded me WRV Petrol engine But now It seems they have cheated me as my requirements are not getting fulfiil.Now It is life threatening experience with WRV Petrol issue due to its Pick and Performance issue .. Now I faced horrible issue with WRV Petrol car performance ..My car is not moving forward on slope, it get rolled back where as having heavy traffic on road.. it almost hit back vehicles ..This happens multiple time ..Also when I check with dealer I came to know that they are already aware about this issue and the got answer that they do not have any option to resolve this as all engine are calibrated digitally/ It as per designed. In each visit I got answer from Deccan Honda representative that after servicing It will work better but Its not true I am still facing same issue.I have invested my hard earn money to buy this vechicle for Family. Whereas It look like Honda/Dealer dosent care about customer and their issue and playing with other lives.Now It almost a year that I am following up with them for same issue and still not get proper resolution .. Now I feel that Dealer need to take this vehicle back or solve my issue and its their resposiblility that they have delayed on provinding solution.

3.7

I bought this vehicle in 2018 as a family car and i am quite happy with its exterior and interiors. However, i experienced its poor pick up in crowded roads and have to use lower gear which is not a good feature of the vehicle. Another instance, within 2nd month of its purchase, when traveling to Ooty, on one of the uphill roads, the engine just GAVE UP! and just dint budge because the accelerator and clutch was a failure!!When i reported this to the Honda service supervisor, they dint take it seriously and said the vehicle has to undergo couple of services to show up its true side!!Now it gets interesting...after using 25500 kms within 1 year 3 months, Clutch pressure plate and Fly wheel GAVE UP!! and i ended up spending Rs. 25,000 for putting up new parts.Now when i complained that this should not have happened since it is driven 25000 kms and not even 2 years, they came back consoling me that these Wear and Tear happens when you drive in city??What is more annoying is that these service supervisors wont allow customers to speak to mechanics who actually repaired your car, neither these service supervisors have any expertise??Engine and maintenance wise, i am against Honda WRV.

3.0

I have seen some reviews related to petrol version and hence I am adding mine also. Those who reviewed excellent is for the diesel version(see the mileage) and the disappointed reviews are for petrol version. I am one among the disappointed and cheated owner driving petrol version for the last 20 months. The dealer did not solve my problem regarding low pick up. So I contacted honda. They also did not solve the issue. As pointed out in another review , the vehicle rolls back when we try to move to move the vehicle upward in a steep road. It will be embarrassing, when there is another vehicle behind you. As said earlier Honda is cheating its customers with this petrol version. The vehicle is excellent for plain city road, I admit. In hilly terrain driving will be a nightmare and many times you will have to apply hand brakes to prevent the vehicle from rolling back.

5.0

In my WRV, I observed good milage @ 16 KMPL in city and 17+ with AC on Highway. The pick up of car is very good. I drived diesel maruti car before this. I feel I selected best now, no vibration and noise in cabin is so less tht one can enjoy music bit in slow volume due to six speakers in top model. I suggest go for top model in Honda petrol so refined engine, top make tyres, sturdy body and good boot space, less efforts in power steering. The jumpers so smooth R16 TL tyres gives less jarks in drive of car on potholes. This car is value for money. I bought dark color metallic grey, the silver finish accessories gives high effect on dark colour.

1.0

I brought this car and it's given so many issues in just 15000 km like suspension, dashboard noise, door noise, AC complain and much more if you thought for this car then you has wrong decision. If you want why I"m said like this I have all conversation record with honda after brought this failure car made by honda India it's not and never use any Japan technology.
All WRV User Reviews
4.0

You can enjoy every type of journey..

5.0

Good car in mini SUV segment. Stylish look and spacious.

5.0

best in its segment.zero maintainence,mileage 27 to 30 kmpl.

4.7

Best Car in this segment....Love it's performance mileage is the maximum can get upto 24 kms per litre...large boot space..Sunroof adds to it's swag..Great controls...

4.7

Best Car in this segment... Value for Money...Tough Safe and swag...what else you want..Sun roof adds to the beauty and rich feeling...Awesome..Just go and buy it
All WRV User Reviews