Bajaj Pulsar 220 F Overview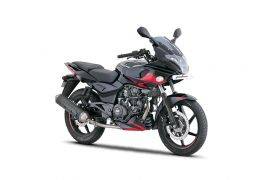 Top Competitors of Pulsar 220 F
Bajaj Pulsar 220 F User Reviews
Performance

Mileage

Comfort

+ 2 more
Maintenance Cost

Features & Styling
Preferred For : Daily Commute
52% of users have given a rating of 4.5 and above
3.4

बजाज पल्सर 220f लेने के बाद जब 10000 km चल जाती हैं तो उसका पिकप धिरे धिरे डाउन यानी कम होने लगता है और इंजन ओर साइलेंसर से झन झन की आवाज आने लगती है 40,50 के स्पीड में 26,28 के माइलेज देती है 80,100 के स्पीड से 22 के माइलेज देती है और 100 के ऊपर जाने पर 15,16 का माइलेज देती हैं ओर कमियों के बारे मे इसका फेयरिंग 80 के ऊपर जाने पर इसका मुँह वाला फेयरिंग पूरा आवाज देता है 6 गेयर की कमी है इसमे बाकी सब ठीक है बजाज वाले हमारी ये लेटर देख के बिचार करे की ग्राहकों की तरफ से क्या बाइक में कमी आ रही है उसको ध्यान देके सुधारने का प्रयास करें धन्यवादः

4.2

I owned Pulsar 220f on 2012 Jan, starting when I bought it gives me 37 kmpl after 1st service mileage increased to 44kmpl, and after 4th Service it gives me 48kmpl in city and 56kmpl in the highway which was calculated mark. There is very minimum maintenance cost as you don"t need coolant, very reasonable parts (brake pads, brake fluid oil, etc).Braking of this bike is not good I can say as compared to R15V2 R15V3, I feel the initial loss of braking bite especially on rear brakes, I"m very disappointed with my rear brake even I tried to fix by Bajaj Service dealer and also Outside local garage but no improvements as I"m expecting.Performance of the bike is best in its class, but after 9000RPM line engine get strains to get higher speed once I clocked 132kmph and still RPM meter left for top speed.I am seeing that Pulsar 220F is holding still in 2019 market with the same craziness among the youngster As I was during 2012.I want to advise To Mr. Rajiv Bajaj (CEO) and their R&D team to improve engine refinement,more bites on braking (focus more on Rear disc brake)should get Lead on Front lights .

4.7

Best low maintenance vehicle with moderate styling. Have been using less these days but did lot many road trips comfortably i.e. over 500 kms in a day. Headlights are superior but bike gets vibrations after few months which never goes away. Servicing outside Bajaj service center worked for me. I get 42 kmpl in city and 46-47 on highway. I do not race a lot so i get moderate mileage. LED lights and ABS are missing in this bike. Perfect for college life but not a good bike for family with a kid. Battery wiring too is adequate. Tyres were not good so I did change it to MRF high quality ones. I did use full synthetic 10w50 oil from Motul which kept my bike"s engine like new one.

3.0

It's 220 , I feel less power if we compare to 150 cc Yamaha R series. I like it's quality but the projector light is not that good at night. And seat is not that comfort level. I will avoid this bike in future for long ride. Please make a little soft for pillion, seat it is too hard. Seating in Pillion is like seating on stone.

3.4

Realistic and thrilling! Powerful in the Darjeeling hills in West Bengal even after nine years and 39000 kms! No engine overhaul! I have covered 1900 kms alone to New Delhi in YAHAHA YBX 125 in Aug 2005 in a little over 3 days! Power is invigorating still!
All Pulsar 220 F User Reviews
4.6

want to sell assoon as possible

5.0

awesome machine stunning looks and affordable maintainemce

4.6

good eperience and i enjoying ride with this bike

1.0

worst bike one can buy!! absolutely useless

5.0

Excellent it was A great experience & comfortable for ride😊
All Pulsar 220 F User Reviews