Volvo S60 Cross Country vs BMW 320d M sport: Comparison Review
Mar 20, 2016
Views : 22090
---
Volvo recently launched its sporty sedan cum crossover, the S60 Cross Country in India so a comparo was inevitable and what better comparison than its polar opposite, the BMW 320d M sport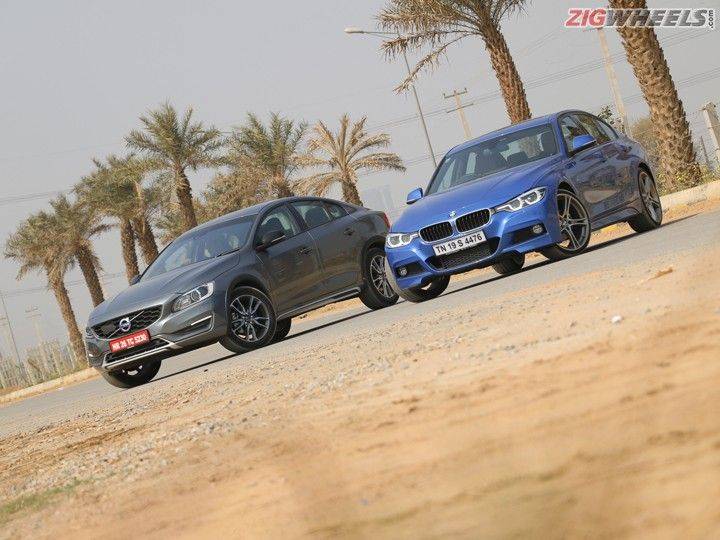 There are a few debates that can never be laid to rest like, iOS or Android, PC or Mac or Xbox vs PlayStation and my personal favourite BMW or Volvo. Yes, we shoehorned the Volvo in there in place of the other two Germans but hey, our reasons are justified. The Swede has come a long way from being considered the car of choice for people working behind desks to the car of choice of thinkers and creative minds. In the past few years Volvo cars have gained an air of elegance and confidence that put them on par with their German counter parts. And its latest creation the S60 Cross Country is a very unique car on its own. Another unique proposition in the same segment is perhaps the recently launched M Sport edition of the BMW 3 Series that makes a style statement unlike its other German rivals with the M Sport Package that makes it stand out as a sportier, snazzier looking version of a car that's one of the most sought after for its dynamics. The Volvo S60 Cross Country and BMW 3 Series M Sport thus stand out as unique propositions, and are strong contenders for someone wanting a 'different' car. But which one should you choose?

Design
Volvo S60 Cross Country: 4/5
BMW 320d M sport: 4/5
Comparing these luxury sedans isn't like comparing chalk and cheese, it's like comparing two cheeses. Like comparing blue cheese with mozzarella. The Volvo boasts of a ground clearance high enough to put a few SUVs to shame while the 3 Series M Sport is a low slung, sportscar-esque sedan. To elaborate further, the Volvo S60 CC looks identical to the sedan in every way. The sculpted bonnet along with the rectangular wraparound headlamps and the blacked out grille give the car an elegant yet muscular look. Same is the story with its side profile and the rear. Let's be honest, the S60 was always a great looking car so let's talk about what sets it apart. For starters it sits 201mm off the ground, which is higher than most entry level luxury SUVs like the Q3 and X1. It also sits on rather wide 235 section Michelin Primacy tyres. If you step back and take a look, it does look like an S60 on stilts but strangely appealing. The BMW on the other hand keeps the aggressive styling of the 3-series intact with its slightly bulging bonnet, the narrow eyed head lamps and sporty kidney grille. The M Sport Package further accentuates the 3-series' aggressive demeanour with the M style front bumper with a large air intake, optional 20-inch M sport alloy wheels wrapped in ultra-low profile Pirelli PZero tyres. Truth be told, the new aggressive front end with the M package and the beautiful Estoril blue unique to this trim, the 3-series does look a bit M3-ish and that can never be a bad thing.

Interior and space
Volvo S60 Cross Country: 4/5
BMW 320d M sport: 3.5/5
Interiors of both cars are luxurious and finished in fine leather. And ironically in similar hues. The Volvo sports beige and walnut brown coloured seats whereas the BMW gets seats finished in the walnut brown alone. The Volvo's interiors are well laid-out but the plethora of buttons on the centre of the dashboard can be a tad distracting, but do become easier to use once you get used to them. The infotainment screen though is quite small for today's standards. The seats are nice and comfortable and hug you nicely. There is ample space at the back though headroom is on the lower side for the generously proportioned. Having said that though grandmothers will have no problem getting in and out thanks to its exceptionally high ground clearance.

The 3-series goes for a complete sporty feel for its cabin. The moment you step in you realize this is a driver-focused car as everything including the control surfaces seem to be driver friendly. Saying that the use of faux carbon-fibre is generous would be like saying that getting shot hurts. The cabin is swathed with it - door handles, gear lever, centre console even the hand brake lever. It also gets an updated iDrive system that is easier to operate than Volvo's infotainment system. The seats are comfortable and grip you well. Also part of the M sport package are extendable seat squabs for better under thigh support. Rear space though is lesser than the Volvo and grandma will need help getting into the BMW as it sits far lower.

Features and equipment
Volvo S60 Cross Country: 4.5/5
BMW 320d M sport: 4/5
Both cars offer plenty of convenience features and driving aids but both have a different approach for the same. Volvo for one follows its quintessential, safety first power later philosophy and its equipment is more focused towards convenience and comfort. And since this is the only trim the car is available in you get everything you see. You get electrically adjustable front seats with memory function, an electronic parking brake, rain sensing wipers, front and rear parking sensors with a reverse camera. And these are the features the 3-series misses out on. In terms of safety the Volvo is equipped with many, many airbags and an idiot proof system called the City Safety braking system which prevents you from rear ending a car when you get momentarily distracted if the 3-series M sport pulls up next to you.

The BMW gets most of its equipment to make things more interesting for the driver, the grandma in tow is more or less ignored. It comes with a M sport steering wheel which is rather small in diameter, a heads-up display along with paddle shifters to make driving more exciting. The manual handbrake is left as is as this is a driver's car and enthusiasts love yanking the handbrake at the first chance we get and it's nice. There are however no front parking sensors or a reverse camera, the two things that make navigating tight spaces in a low slung car like the 3 Series relatively easy.

Engines and performance
Volvo S60 Cross Country: 4/5
BMW 320d M sport: 4.5/5
The Volvo is powered by the D5 2.4-litre turbocharged 5-cylinder diesel engine that makes 190PS and 420Nm of peak torque. The engine is mated to Volvo's trusted 6-speed automatic transmission. On the move the engine feels slightly gruff but the well sorted NVH barely let any engine clatter seep inside. Start pushing it, keep the revs over 3000rpm and you are treated to a nice throaty soundtrack as the car gains speed quickly with most of the torque available from as low as 1500rpm.
The 3 series is powered by a new 2.0-litre 4-cylinder turbocharged diesel engine that made its debut with the X3. The engine produces 192PS of power which is 2PS more than the Volvo though it makes slightly lesser torque at 400Nm. The seamless and quick 8-speed dual clutch automatic gearbox propels the BMW to 100kmph from standstill in just over seven seconds though, which is quick. On the move engine feels noisy but refined and smooth.

Ride and ease of driving
Volvo S60 Cross Country: 4/5
BMW 320d M sport: 4/5
Despite its raised suspension, the Volvo offers a great ride. In addition, the car's AWD system splits the power quite well between the wheels to keep the car as stable as possible. The suspension is well setup to tackle city, highway and mild off-roading which is an inevitability on our Indian roads. And 201mm of ground clearance means that while the BMW will need to slow down to a dead crawl thanks to its low slung stance and ultra-low profile tyres on 20-inch wheels. When you arrive at a broken section of road, the S60 glides over it at 50kmph while grandma in the back enjoys her lunch. Not to say that the 3-series doesn't ride well, it offers a surprisingly plush ride and most bumps and undulations will be rarely felt and mostly only heard. But bigger potholes and broken sections do pose a serious threat to the 20-inch wheels while in the Volvo, the high sidewalls and ground clearance make driving over potholes feel like driving over a three day old croissant. BMW's smaller sport steering translates to lesser effort in turning the wheel, while the steering has also been lightened to aid city driving and it does that job phenomenally well. Navigating tight spaces isn't an issue and the lighter steering has also made the car more flickable. The Volvo's steering on the other hand feels rather large though it feels extremely light at low speeds.

Handling and braking
Volvo S60 Cross Country: 4/5
BMW 320d M sport: 4/5
Handling has always been BMW's forte but as it turns out the 320d M sport is a bit of a letdown. Don't raise your eyebrow please I was as surprised as you are. The suspension is setup perfectly, despite its softer setting it provides great feel and stability around corners and seems to be setup for enthusiastic driving despite offering a great ride. The grip from the Pirellis is fantastic and brakes provide plenty of stopping power and great feel, but it's the steering that lets you down a bit. A light steering is always welcome at low speeds but as the speeds climb you need a heavier steering to keep the car in check. The 3-series steering doesn't weigh up as you go faster and results in a car that is slightly twitchy at high speeds. BMW says this has been done based on customer feedback but a speed sensitive steering is a must in cars like these.
I never thought I would say this but the Volvo feels better to drive than the Bimmer. It feels stable and sure footed at speeds and the AWD eliminates understeer by a fair margin though it isn't as sharp in turn-ins than the BMW, but does feel more surefooted in corners. The steering weighs up as speeds climb thus providing a higher degree of high speed stability. My only grips with the Volvo are the size of the steering which is quite large and a smaller steering would've made the car even easier to drive. And lack of feel from the brakes and maybe a manual handbrake would've made it a bit more exciting, you know AWD plus gravel plus handbrake, you can do the math.

Price and fuel economy
Volvo S60 Cross Country: 4/5
BMW 320d M sport: 3/5
It's like taking an M4 and the Tavor 21 assault rifles, firing them at a tree and judge which leaves more of the tree intact. Not much, if we're honest as both use the same ammunition. So there's no point talking about fuel economy as both manufacturers claim similar numbers. So let's talk about the price. The Volvo S60 CC is priced at Rs 38.9lakh ex-showroom Delhi whereas the BMW 3 Series M Sport Package in particular costs Rs 44.5lakh ex-showroom Delhi, almost five lakh more.

Verdict:
Both cars might be quite similar on paper but are quite different in terms of positioning. The Volvo aims to provide great value for money with an AWD car that has a good amount of power, great driving characteristics, a pliant ride and 201mm of ground clearance, all at a price of Rs 38.9lakh ex-showroom. The BMW 320d M Sport Package on the other hand aims at providing an unparalleled driving experience with its far sportier interiors using faux carbon-fibre and almost Alcantara-like material for the cabin, 20-inch M Sport wheels and a sport steering wheel but despite a well setup suspension, grippy tyres and a gem of a gearbox, the 3-series is let down by its steering feel. In comparison to the Volvo, the five lakh price difference thus gets a little hard to justify for just the sporty design, since the sporty and engaging feel the 3 Series was known for has been toned down considerably. What's more, the Volvo offers more features and is much better equipped to tackle Indian roads. And I think grandma would agree with me.
Recommended Variant :
S60 D4 Momentum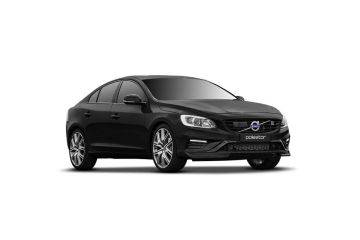 Rs. 38.51 lakh Onwards
Ex-showroom, Delhi
Contact Dealer
View On Road Price