Mercedes-Benz GL350 CDI vs Volkswagen Touareg : Comparison
---
It's the clash of the Titans as the Volkswagen Touareg is pitted against the Mercedes-Benz GL 350 CDI. Both these premium SUVs bring their own merit to the duel and are backed by solid engineering and robust capability. However, when it comes to choosing between the two, it just may be a matter of heeding your heart over your brain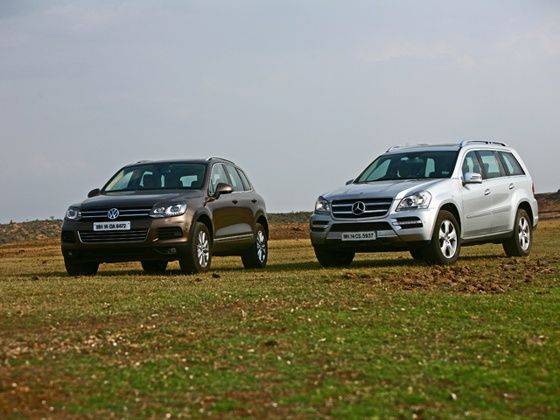 Premium SUVs have a tough task of balancing two distinctly opposite characteristics into a single fine package. After all a premium SUV has to be epitome of comfort on the inside and a tank on the outside. It's a vehicle that has to possess both style and substance and the balance between the two is what makes or breaks a SUV's appeal in the market. Undoubtedly it's a tough job, but premium SUV manufacturers have managed to make this juxtaposition somewhat of an art form and infuse their individual brand values into their products. The end result is impeccably built SUVs that boast of immense capabilities and command respect.
For a customer choosing between such machines can be a daunting task as they are spoilt for choice. Decision making at this strata of SUVs is extremely tough as the purpose and need has to be well defined. A solid amount of thought needs to go into listing one's priorities and all the elements need to be scrutinised and further prioritised before coming to a decision. After all, the only differentiator between such premium machines is solely perspective. To understand this better, we have the face-off between the 2012 Volkswagen Touareg and the Mercedes-Benz GL350 CDI, two elite SUVs that are as different as they are similar.
Visual delight
The first element of assessment has to be visual appeal, since if a vehicle fails at this, then all else is lost in most cases. For premium SUVs, this fact holds even more weight as customers are extremely demanding. The VW badged mud-plugger sticks to the Volkswagen family look that can be seen on the Phaeton all the way down to the Polo. Having said that, the Touareg is a good looking SUV with clean character lines and a rather purposeful macho stance, and thanks to those elements it will still turn heads when it goes by. On the other hand, the larger Mercedes-Benz GL350 CDI manages to make its presence felt just by being there.
Its proportions coupled with the design flair associated with Mercedes-Benz make it the better looking of the two. The large grille dominated by the three-pointed star, the neat lines, chiselled look and muscular stance work heavily in its favour, and if the exterior dimensions don't get you, the uber stylish chiselled look definitely will. The bottom line being that the GL manages to have an aura of aristocracy and that just can't be ignored. With oodles of money, expectations increase and the need for an opulent interior would definitely feature as a major priority.
Step inside the Touareg and you'll find yourself in a first class cabin. It's on par with what you would expect from a luxury car maker and the fit and finish is fantastic. There is just no arguing that fact and you will feel pampered. The mighty GL however borrows heavily from its ML-Class sibling. Having said that, fit and finish is up to the mark and Mercedes-Benz shows its strength of being in the business of pampering its customers with the overall interior treatment. Where the similarity to the ML-Class might strike a negative impact is in association, as GL customers definitely don't want to feel shortchanged and the similarity to the lower priced ML just might lead to such a viewpoint. While on the topic of interiors, there is another element that is constantly brought up, and that has to do with space.
Incidentally, the Mercedes-Benz GL350 CDI wins hands down in this area of expertise for its gargantuan proportions free up a lot of space, which includes the three-row seating plus a 520-litre boot. The GL is crafted to be the ultimate family utility vehicle and its proportions lend to that line of thought. The Touareg also boasts of an airy interior, but its smaller dimensions only allow for two rows of seats and a boot that can fit 580 litres of luggage.
Boys' toys!
When it comes to gizmos and gadgets on board, the Touareg can boast of a rather long list, including bi-xenon headlights, fog lights, roof rails, a power liftgate, cruise control, four-zone automatic climate control, 14-way adjustable front seats, Vienna Leather upholstery, Bluetooth and an eight-speaker sound system with touch screen control, a six-CD changer, USB and iPod connectivity.
The Mercedes-Benz GL350 CDI again proves to be superior on this front as major features include PARKTRONIC, tyre pressure loss warning system, Intelligent light system with bi-xenon headlamps, electric sliding sunroof, electrically folding 3rd row seating, rain sensors, COMAND APS with integrated DVD changer, audio 20 CD with integrated 6-disc changer, reversing camera, Nappa leather upholstery and wood finish trim. Crafted to pamper the senses, both vehicles have enough kit on board to keep you entertained just by pressing buttons!
If it's safety you are looking for, then both vehicles are on par as both seem to offer a list of that seems endless. Being premium SUVs that have been crafted to protect you in the best ways possible each vehicle is fitted with ESP, ABS, ASR, EDL, hill start/descent assist, three-point seatbelts as well as airbags of which the Touareg boasts of having 10 on board and the GL comes fitted with six airbags as standard, though you can opt for more if need be.
The GL also features the PRESAFE and NECKPRO systems where the former works as a preventive occupant protection system when the car detects danger and the latter helps control the head restraints to reduce whiplash. Regardless of choice, you can rest assured that while on board one of these SUVs you are in safe hands, but that doesn't mean you push them to the limit, as these machines also come fitted with powerful engines and the ability to hustle both on and off tarmac.
Core competency
The Touareg is powered by a by a large 3.0-litre V6 TDI diesel unit. The 2967cc engine is capable of pumping out a solid 245 horses between 3800 and 4400rpm and makes a stonking 550Nm of torque between 1750 and 2250rpm. This is mated to an 8-speed automatic gearbox which translates all this power to the road in a devastating manner that will most probably have you sporting an evil grin plastered across your face! Fire up that engine and you will be surprised by the silence despite the large diesel under the hood. Refinement is exactly what you would expect and this motor delivers literally by the truckload.
The Touareg is fast on tarmac and has enough grunt to drive over boulders off the road. The GL 350 CDI also comes with a V6 diesel unit that displaces 2987cc. The engine generates 224hp @ 3800rpm and churns out a solid 510Nm of torque between 1600 and 2800rpm. Mated to the seven-speed 4Matic transmission system, the large GL is capable of going from 0-100km/h in 9.5 seconds and attaining a top speed of 210km/h.
While the figures look extremely close on paper, with the GL only being a few horses short on the Touareg, the translation to real world conditions is immense. While the Touareg feels like a virtual powerhouse on wheels, the GL is more staid and doesn't really surge forward like a locomotive. In fact there is a definite amount of lag when you press the pedal to the metal in the GL and this might not go down well with those looking for a brute SUV. Apart from that, the refinement offered by the GL is worth writing home about and though it isn't the most exciting performer, it does boast of enough grunt to get you just about anywhere you wish to go.
This brings me to the basic element that all SUVs are essentially built for, namely, their ability to go just about anywhere. The Touareg has the genes of a formidable off-roader. The air suspension allows you to control the vehicle's ride height, and when fully extended, the Touareg can literally crawl over boulders, while retaining a solid composer. Add to that, the off-road package on board and the SUV is prepped to handle some rather dire circumstances; after all, the Volkswagen Touareg does boast of solid lineage including its Dakar Rally genes.
The Mercedes-Benz GL 350CDI doesn't have any rally genes to fall back on, but it is a formidable off-roader in its own right as Mercedes-Benz has left literally no stone unturned in insuring such capability. Equipped with its standard specification Off-Road Pro Engineering package, the GL boasts of hill start assist, off-road ABS which allows for better braking on loose surfaces, the AIRMATIC suspension allows for an off-road ground clearance of 307mm and the vehicle can handle a fording depth up to 600mm.
The GL's down hill speed regulation (DSR) system is another feature that adds to its off-roading abilities. The cherry on the cake however is the front double-wishbone suspension and its four-link rear suspension that work in conjunction with the isolated design of the subframes which in turn prevent any major jolts from being transferred. So, in effect you get a smooth ride despite the rough terrain on the outside. Where the Touareg scores however is in having a shorter wheelbase, which allows for better off-roading dynamics as the large GL can become a handful to manage in a tight situation.
In terms of on-road dynamics, both SUVs offer a rather plush ride thanks to the fact that both are fitted with air suspension systems which do a phenomenal job of soaking up road undulations. The GL just manages to pip the Touareg though as it offers a ride that is a little plusher, but in terms of taking corners, the Touareg does a better balancing act. The sheer size of the GL comes into play around fast corners and body roll is slightly more pronounced compared to the Touareg. Having said that, comfort isn't something that you will complain about in either vehicle.
Decision time
While the Touareg does manage to measure up to the GL on numerous accounts, and the GL manages to pip the Touareg on a few, the judgment of which SUV walks away with the trophy in this muscle tussle isn't a black and white answer. After all, each SUV brings its own merits to the table and as I said in the beginning, this is a category where the buyer has to prioritise on their requirement. If you are looking for a great all-rounder that can also work as your large family vehicle, then the GL fits the bill to a T, but if you don't have a large family to ferry around and are looking for a more individualistic vehicle, the Touareg fills those shoes.
On a different note, if price rules your heart then the Touareg is the cheaper alternative, but if brand value and badge is everything to you, then the Mercedes-Benz name is second to none. The bottom line is that while these SUVs offer you everything that you desire, it's entirely up to you to decide on which one suits you best. The good news is you can't go wrong with either choice!
Contact Dealer
View On Road Price